Hi! My name is Hayden Reeve!

You might recognize my last name as I am the daughter of one of the Mamas! I am going to tell you about my experience at YouthWrite®. For a little introduction, it is a non-profit organization with camps for children who love to write. There is also a separate camp for adults who also enjoy writing! Today though, we are going to be discussing the camp for, well, youth!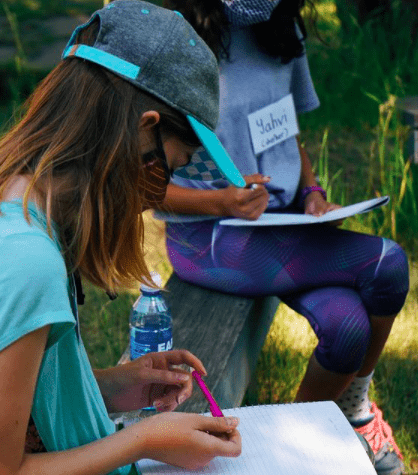 Something that I think is quite important and an absolutely excellent characteristic about YouthWrite is the fact that they have a figuratively speaking, bubble type of deal around them.
At the camp, there is absolutely no place for hate. Not of any kind. One of the first things they tell you is that no racism, homophobia, sexism, etc etc will be ignored and it could result in you being kicked from the camp.
I believe that this is something we all can agree on, making the camp a safe place for anyone. At the camp, I also noticed a lot of things they did to create a safe place for those of any gender, race, etc etc. Overall, they work very hard to make sure (and I cannot say it enough) it's a safe space for everyone.
The supers and the instructors were absolutely a blast! Everyone was kind to everyone. They were ANYTHING but dull. They prided themselves upon making everyone laugh and enjoy the classes they taught.
They prided themselves upon making everyone laugh and enjoy the classes they taught. This brings me to the classes! Each class was different in its own unique way. We were each separated into 3 groups. There are 8 classes that get taught through the entirety of the week, and each group gets 4 of those that they do, throughout the week! I was sorted into group C last year, in which I got; A Picture is Worth a Thousand Words (Comic book creation class!), High Five for the First Five (writing class focused on drawing in your reader with the first 5 pages!), Eye Say (The improv class!!), and Music as a Second Language (The Music class, the one and only!) Each of these was unique and fun in its own ways and gave everyone an opportunity to show off their work and skills!
At first, I was quite nervous – Oh honestly who am I kidding? I was excited! I remember telling myself "I'M GOING TO MEET MY PEOPLE!" and honestly, I did! Everyone there was so excited to show off their work. They were supportive of EVERYTHING! Age difference didn't matter to most either. As a 12-year-old, having the ability to make friends with 15-year-old's, I can calmly say that everyone had very common interests in books and writing things, AND everyone was very unique and wonderful! I have even chatted almost daily with one of the young ladies I met there – she has absolutely become one of my besties! We just GET each other! 
River Valley Experience – July 3-8, 2022
Ages 8-13
Bennett Centre
9703 94 St, Edmonton
Early Bird Prices:
Day Camp Only: $615
Thursday Night Sleepover Option: $655
Elbow River I Experience – July 3-8, 2022
Ages 12-14
FCJ Centre
219 19 Ave SW, Calgary
Early Bird Prices:
Day Camp: $615
Overnight: $715
Elbow River II Experience – July 10-15, 2022
Ages 15-19
FCJ Centre
219 19 Ave SW, Calgary
Early Bird Prices:
Day Camp: $615
Overnight: $715
Register & pay by April 16th to get Early Bird Pricing! 
I am going to finish this blog off with one of my most recent projects outline. As I haven't begun work on it quite yet. I would like to quickly warn however there are VERY sensitive topics being mentioned in the entirety of the project (which if you're wondering, I'm hopefully going to turn into a book, and a video game).
The story begins in 1938 and the true ending brings the reader all the way to 2150
1938 – The corporation "The Beast" is formed by a rich businesswoman by the name of Klarea Larendson with the motto of "Creation of destruction, That's the key to success"
1946 – A young child is born to a poor family and is named Finnigan
1947 – The Beast announces the plans it has to "dominate" the global industries
1948 – The Beast follows up with an announcement only to its employees that has yet to be deciphered by The Resistance
1949 – The Beast manages to conquer most European, Asian, and African countries and claims to have "Plans to conquer most western countries in the 50's" as quoted from a spokesperson. However the government ignores this and sees it as an empty threat with no real meaning. 
1950 – Northern and Southern America are conquered and "The Beast's" plan is set to action, they announce a fine that will need to be paid for all humans to be allowed to exist, Finnigan and his parents don't have the money and are wanted criminals.
1951 – Finnigan's parents have been declared dead. However Finnigan is now requested to be alive when captured. The Beast plans an extra horrible torcher for Finnigan. 
1952 – Finnigan is captured and is given immortality, locked in a room filled with mirrors, and forced to look at an altered expression that is his own. He now looks like all of the things he is afraid of. And to others, he looks like whatever they are most afraid of.
1988 – Finnigan escapes and lives a life full of fear and constant running
2150 – Finnigan finally discovers a way he can die peacefully, and the story is complete.
Shout out to everyone at YouthWrite for being so supportive and great to literally everyone!! I cannot wait to meet everyone at the 2022 Camp – new friends and old! 
This post was created in partnership with YouthWrite; all opinions are our own.