Alberta Mamas is a PR friendly blog. We are always looking for new quality products, services and information to pass along to fellow parents in Alberta!
If you are a business that would like to promote your brand to families, we can help you get in front of your target market! There are various ways that we can work together, including:
Blog Posts
Product Reviews
Social Media Promotion
Live Event Coverage
Event Promotion
We are open to ideas and are able to create custom packages to suit your needs. Please email helloalbertamamas@gmail.com and request our Media Kit for more information. Please note that Alberta Mamas must review your business and product and deem it suitable for our audience. All partner selections are chosen at the discretion of our founders while keeping the integrity and our reader's interests in mind.
Here's a sample of who Alberta Mamas has worked with: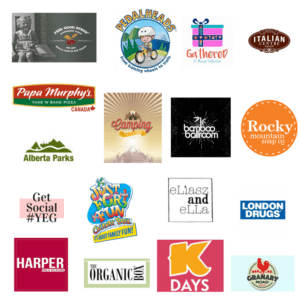 Here's why you should work with us…
"We have been extremely lucky to work with Alberta Mamas for the past two years. A brilliant collective of mamas from all walks of life, they've used their experiences and expertise to build a platform for many to access useful information as well as entertaining content. We have found their partnership invaluable, as they reach out directly to an audience that makes up much of our target market. They are trusted in their network of followers, and their content is curated which builds trust that what is on their site and social channels is personally related and relevant to them. They show a passion for our festival and what we do. They are wonderful at communicating and clarifying our agreements, so we are all prepared and on the same page. They have gone above and beyond each year to get the word out about our festival through not only the Alberta Mamas channels but through their personal ones as well. We hope to partner with Alberta Mamas for a long time to come." -Brianne, Skirts A Fire Festival