So the whole meal planning deal is just not something that I am not especially good at or enjoy. My reasons are: I like cooking on the fly and being adaptable, sometimes it's just not a good day for soup, or salad, or tacos (wait, it's always a good day for tacos), I can be really cheap, and I can also be really lazy or busy so some days we just eat Tim Horton's Chili or Lipton Noodle Soup. In spite of those reasons, I do have a few tricks up my sleeve which make me feel proud – they are healthy, save money, save time, and prevent waste but don't require me to be overly organized or stick to plans.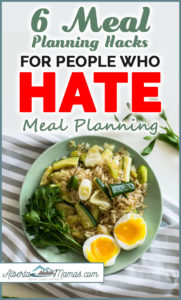 Buy whole roasted chickens from the grocery store – at $8.99 these are often less expensive than raw and you immediately save a whopping $0.87 because you don't even have to turn on the oven! I love using these chickens because they make two meals for my family. Usually on the first night we just carve the breast like a turkey and eat it with rice, veggies and gravy. On day two I use the remaining meat to make chicken and pasta salad, chicken stew, chicken chili etc. you get the idea.
Wait 2-3 days after you 'need' to grocery shop before you finally go – I used to go every week but after being too busy on a couple of occasions learned that it's actually a great hack. You end up being really creative with leftovers, frozen foods, canned foods and things like pastas and rice. So you save money by delaying and even eliminating one shop per month, and you use items that might otherwise continue to sit and go bad. On average this probably saves me $80-100 per month.
Tapas-style Eating – I probably don't need to tell you that little kids can be picky! You make a beautiful meal that is delicious and nutritious and then they turn their noses up at it and go for a bowl of Raisin Bran anyway. Tapas style in our house just means a variety of small cute pieces of healthy foods: cucumbers, cherry tomatoes, carrots, strawberries, grapes, cheese etc. They don't always eat all of it but I can usually save what's left and try again (50% success rate of reintroduction!).This is also a great hack for when the kid's friends are over since who knows what they will eat.
Make Banana Bread Muffins and keep them Freezer – yep, freeze those brown bananas and when you feel like baking, make 3-4 batches. I often make banana muffins and store them in the freezer. Kids love them and you can easily dress them up into healthy cupcakes with cream cheese icing. You can add or substitute in oats, chia and hemp seeds for extra nutritional value and there are hundreds of adaptations for all dietary needs: allergen-free, low-carb and with sugar alternatives. If someone happens to visit you can pop a few muffins in the toaster for a freshly-baked experience. This hack is healthy, saves money and food waste, can be ready in a minute, and provides a perfect school snack on days that you have done hack #2 (nothing left in the pantry).
Here's a paleo, gluten-free, sugar-free recipe that's been a hit in my home: https://www.paleorunningmomma.com/paleo-banana-bread-no-sugar/
Bonus Hack: Banana Bread Muffins with Bailey's and whipping cream on top is a delicious, rustic, and original dessert that will delight your friends and family.
Freeze fruits before they go rotten – Did you buy the really big clamshell of strawberries because it was $5? Then one went rotten and spoiled all the ones around it? As my strawberries or other fruits are on the edge of over-ripeness I quickly trim the bad bits and freeze them, this works well for berries, cherries, pineapple, grapes, kiwi, mango and many more! Then you can use them in smoothies, baking or hack #6 😉
Make Your Own Kombucha – ok, yes, I live in Canmore, and yes, I brew my own Kombucha. But really, Kombucha costs a fortune to buy in stores and it's actually really inexpensive and easy to make at home. It's full of probiotics and offers a growing list of health benefits from immune system boosting, detoxing, weight loss and even Cancer prevention. It tastes a bit like a slightly milder, sweeter Apple Cider Vinegar. One hack for Kombucha is to blend about 1/3 cup with 1 cup of frozen fruit and maybe a little stevia or maple syrup. This masks the sourness a bit and makes it palatable for kids (my kids usually love it). Search your local community forums for someone who has a set-up and is willing to tutor you and provide you with an extra scoby, or hit me up!
What are your favourite "anti-meal planning" hacks?
Hi! I'm Kat, the mom of a wild, adventure-loving Kindergartener named Mac and a spirited, curious 2-year-old named Mia-Rose. 

I run a website called Tinybasecamp.com, 

an online e-commerce business model that offers Canadian parents who wish to work from home a flexible and affordable business opportunity.

 

I live in the beautiful hamlet of Dead Man's Flats in the Rocky Mountains about 5 minutes from Canmore. 

Originally from BC, I have lived in the Bow Valley for the past eight eventful years.