What an easy craft! This week we made a bird feeder out of materials we had laying around.
We have been talking a lot about the environment, recycling and nature lately. My 6 year old has been asking alllllll the questions. Why do people litter? Why do we throw away so much stuff? Why do we drive everywhere? You don't realize the amount of waste you create until you have a kid in Grade One calling you out on every piece of plastic you throw away. I have been smuggling saran-wrap and ziploc bags into the garbage like a rum runner smuggling contraband booze in the 20's.
So we decided to make a bird feeder with things we have laying around the house to a) give him something to do so I don't have to answer questions about my non-compostable plastic containers and b) to show him that we can reuse and re-purpose things.
Disclosure: This post may contain affiliate links, meaning I get a commission if you decide to make a purchase through my links, at no cost to you. As an Amazon Associate I earn from qualifying purchases. Please read the disclosure for more info.
What you will need:
toilet paper roll
plate
butter knife, spoon or spatula
bird seed (an Amazon.ca link, but it is more affordable to go to Canadian Tire)
patience – because they will want to do it all themselves
If you're dealing with allergies, some peanut butter alternatives include sunflower seed butter or softened suet.
Step 1:
Gather supplies ahead of time before you tell your child you are making something. They are impatient and will ask you 10,000,000 questions while you are setting things up.
Pour the bird seed onto a plate to make clean up easier. Don't worry about cleaning off all the toilet paper off the roll. This isn't Pinterest. No one has time for that. 
*Not noted on the supplies list but this would be a good time to make sure you have a glass of wine ready for after you make a mess with the kids. If you sit and drink the wine until your husband gets home he may even clean up for you*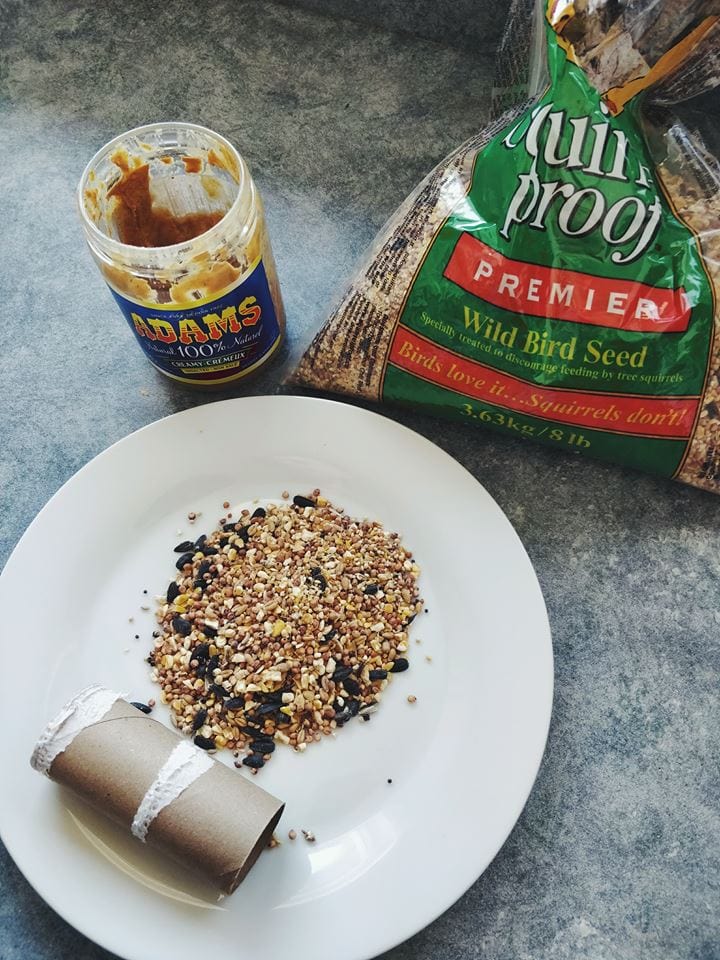 Step 2:
Get them to cover the roll with peanut butter. This works on their fine motor skills, grasping and pinching muscles which help with writing. (That is what you say to your husband when he comes home and sees peanut butter all over the counter and you are on the couch with the wine we mentioned above.)
You may have to hold the roll for them at the end so it doesn't slip onto the floor. No one has time to mop. Unless you have a dog that will come clean up the mess on the floor. Then let the kid do the whole thing.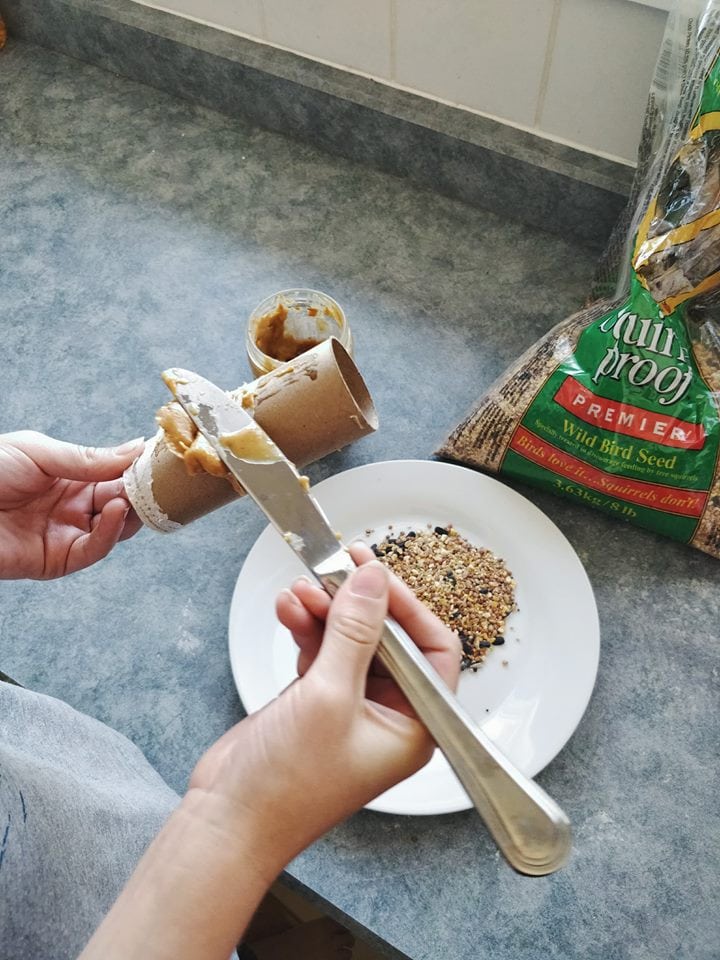 Step 3:
Roll the peanut butter covered roll in the birdseed pressing down so the seeds stick.
Notice how long your kids' fingernails are and how much dirt is under them. Add "bath time" to the list of things your husband needs to do while you help your self to another glass of wine after he gets home.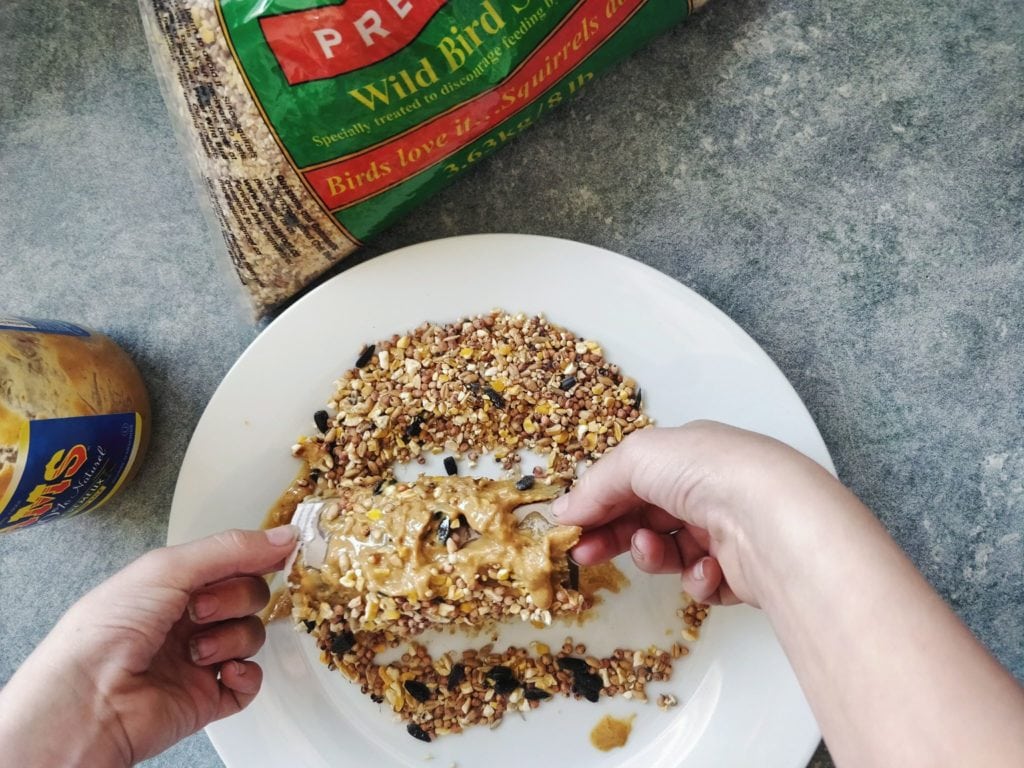 Step 4:
Thread the string through the tube and tie a knot so it can hang in the tree.
This is great practice tying knots with your kids so they don't end up wearing velcro shoes for the rest of their life. Nothing wrong with velcro – it is just really really hard to find velcro shoes when they get past size 3. I'm saving you time and money.
Step 5:
After washing everyone up (no peanut butter fingers on the doorknob, please!), take the cute picture to post later on Instagram to show everyone that you craft with your kids.
#goals #instalove #blessed #albertamamas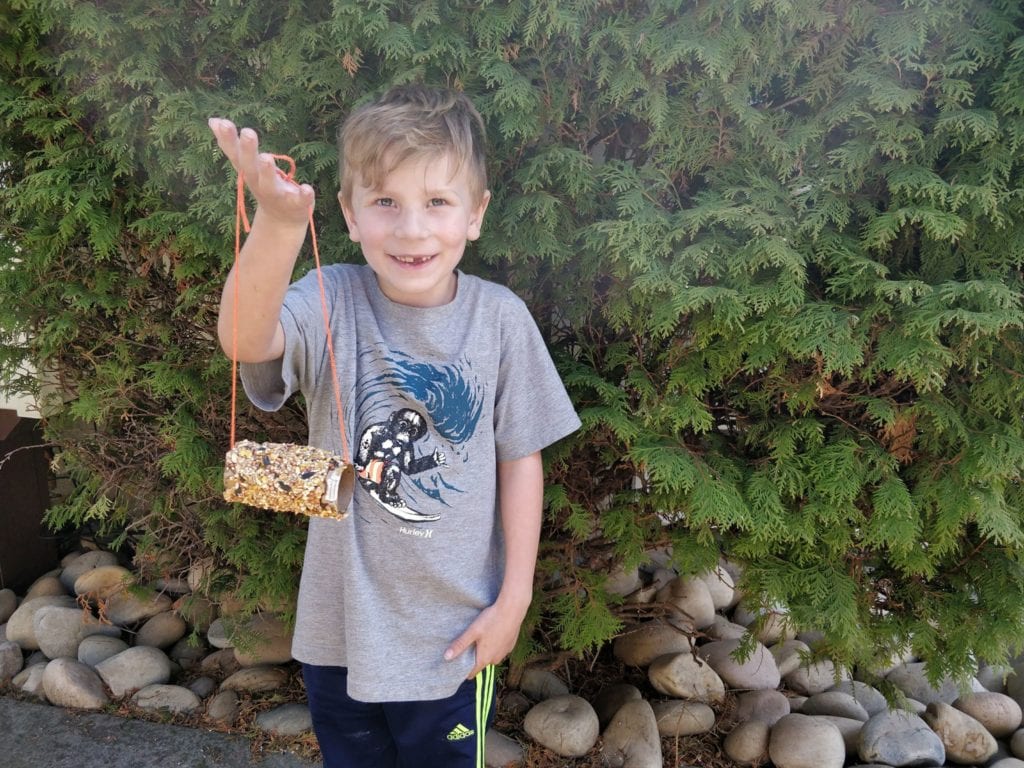 Step 6:
Hang it in the tree in a spot they can see out the window so they aren't asking you to lift them up a million times.
Make sure they are inside to watch the birds eat. No bird will come to the bird feeder when an excited kid yells "BIRD! A BIRD IS HERE EATING! MOM I SEE A BIRD!" every time they come close.
Step 7:
Check the time. The husband is probably home soon so get that wine ready.
Looking For More?
Kids are busy creatures! Here are some more ideas to keep them busy:
Can you make this article better?
We're always looking to improve! Have you noticed a spelling or information error, know of something we left out, or would like to share anything else, reach out to us!