It's Christmas Party Season! We love the holidays and all the opportunities it brings to be with our friends and family and that usually means sharing food together. Although we love attending all the parties we can, sometimes figuring out what dish to bring can be a daunting task especially as our to-do list grows and grows the closer we get to Christmas.
That is why we're excited to partner with Alberta Turkey to bring you TWO easy, quick and delicious dishes you can enjoy at home or bring as a dish to share with your next party.
Turkey doesn't have to mean a big dinner with all the trimmings. This time of year we are all about simple dishes that still have the WOW factor we want which is why we created this turkey meatball recipe. Ground turkey is accessible, cheap, and you can add SO many great flavours to it making it the perfect meat for our meatball dish. Because turkey is so lean, we've added an unexpected twist – mushrooms. The mushrooms may sound like a weird thing to add but don't skip this step! It not only adds flavour but also adds a ton of moisture to the meatballs which is a really tasty trick for such a lean meat. Just make sure to mince them pretty fine so they mix into the meat easier.
Turkey Meatball Appetizer Recipe:
Prep: 10 minutes
Serves: 6-8
Cooking Time: 15 minutes
Meatballs
1 pound ground turkey
1/2 cup minced mushrooms
1/4 cup oats
2 tbls chopped herbs (we used the poultry mix of sage, thyme, and rosemary)
1 garlic clove
1 egg
pinch of salt and pepper
Toppings
pear
chutney of your choice
strong cheese (we chose manchego for this one)
Step 1 – Mince mushrooms and chop herbs.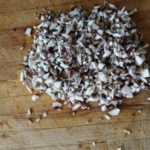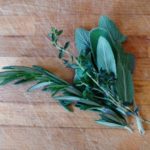 Step 2 – Mix all meatball ingredients together making sure to incorporate it all together but do not over mix.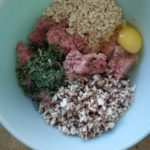 Step 3 – Roll ground turkey mixture together to form meatballs. If you are using the meatballs for an appetizer make sure to make them smaller than you usually would so they fit in your mouth in one bite.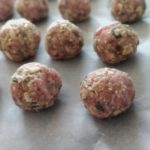 Step 4 – Place meatballs on a baking tray and bake at 375 for 15-20 minutes or until it's not pink inside. Ground turkey does not take long to cook and if you cook it too much it will become dry so check often.
Step 5 – While the meatballs are cooking assemble your pear, chutney and cheese again remembering to cut everything into small, bite-sized pieces.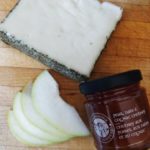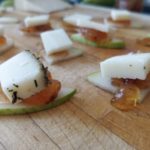 Step 6 – When the meatballs are done and cool enough to touch place them on a plate and put your toppings on top held together with a toothpick.
These are easy to double, work great for an appetizer, or you can serve them family-style at your next meal. If you double the batch of meatballs you make the extra can be frozen and pulled out for a quick, easy weeknight meal.
Our friends at Alberta Turkey want to help you with your holiday shopping so they will be giving one lucky winner a $75 Amazon Giftcard to help with holiday shopping!
To Enter
Visit Alberta Turkey (click HERE) and let us know which recipe you're excited to try.
This post has been created in partnership between Alberta Mamas & Alberta Turkey. As always our opinions are our own!