By Gabriela
I have been a mom of two, under two, for 6 months. My children are 18 months apart, and I enjoy having them close in age. Their needs, however, are quite different. While my youngest was happy to eat and sleep anywhere – and most of the time- for the first couple of months of his life, my toddler was going through a very different stage. She needs to run, jump and play – a lot – to burn off that toddler energy.
As a stay at home mom, daily outings are something I am usually doing by myself. In the beginning, it seemed like quite the undertaking to leave the house with both of the kids by myself. Successfully getting them ready and out of the door was one small part. Where would we go? Would they behave? Is it baby/toddler-friendly? Will my toddler not run in the opposite direction while I feed her sibling? If you're a parent of two under two (or close), I can guarantee you'v e asked yourself all these questions before leaving the house, and sometimes, the idea of staying at home starts to seem like a good one, ha! In reality, though, cabin fever drives everybody crazy, which meant I had to find easy places to go to with two young kids, while flying solo.
When looking for places to go with the kids by myself, I looked for the following things:  A space that has an age appropriate area for toddlers. Helping a toddler climb or
 A space that has an age appropriate area for toddlers. Helping a toddler climb or maneuver around a space, while carrying a baby on my chest or hip, isn't easy. If my toddler is able to play/maneuver independently or with little assistance, it allows me to sit down with my baby, while having the peace of mind that my toddler is safe in the area she is playing in.
 In addition to an age appropriate space, a door/gate to contain my toddler in that said space is wonderful. There are toddler spaces in many indoor playgrounds in the city, however, I find not many of them have a way to enclose that area to keep the toddlers in (and older kids out, sorry). When out with my husband, this is not a problem since he can run around with one kid, and I with the other. When I am solo though, it's nice to know that my toddler is contained, ha!
 A space that is fun and engaging. Playgrounds are fun on their own, but if they offer additional activities that are engaging aside from just running around and burning energy, even better!
 Seating area that is close to the play space so that I am able to feed my baby while keeping an eye on my toddler.
My son is a November baby, so outdoor activities were limited for a while. In the current summer season, we have a lot more outdoor activities we can enjoy, but for the rainy, hotter (or colder) days, my tried, tested and approved list of indoor spaces for the "Two under Two" parent, from the "Two under Two" Mom.
Cafe O Play
Located in the Riverbend area, Café O Play is one of our top visited places. Not too big, it's a perfect place for easy supervision when out solo with two young kids. The play space is surrounded by seating area, where you can enjoy a cup of coffee or yummy foods from their cafe shop, while easily keeping an eye on your toddler…and nursing your youngest at the same time, #multitasking ha! There are bouncers and jumpers available for the little ones that can't quite crawl yet, which is perfect for the mom with younger children. The exit is secured with a release button located at a height that is out of children's reach.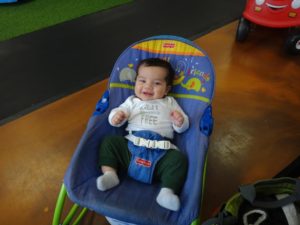 Treehouse Indoor Playground (North Location)
The toddler area in this location is so much fun! It has a ball pit, blocks, slides and a super cute Lady bug themed mini carousel (that rotates very slowly so it's safe). It has a gate that keeps your toddler in that area (see the recurring theme?) and seating area close by, which again, makes for a very easy outings when out with two young kids.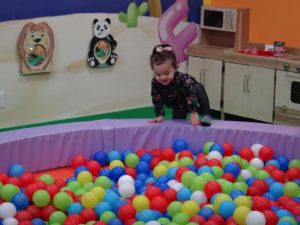 Discovery Land (Telus World of Science)
Discovery Land seems to be a little hidden gem that not many people know about, but It's such a great little space! Meeting all the criteria above, it offers 3 levels of themed areas that are so much fun. It even has one of those floor pianos like in the movie"Big" with Tom Hanks, so I felt like my childhood dream was coming true. One suggestion with this space would be to take a change of clothes for your toddler, as they may get a little wet in the water themed floor level.
Creative Space Edmonton
I recently visited this art studio, and I was so impressed. Though it doesn't fall under a playground category, it's a great indoor space that I found incredibly easy to visit with two young children. It offers children various stations for sensory and artistic exploration, and the activities kept my toddler completely entertained and engaged the entire time. She was so busy that she didn't need me, at all, and I was able to tend to my youngest easily, and even did some sensory exploration with him too.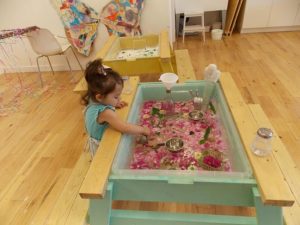 Do you know of any other spots in the city that are "Two under Two" friendly, share them below!
Gabriela is a Peruvian mother of two young children, and lives in Edmonton. Inspired by motherhood, she uses her blog as the platform in which she explores and documents her journey and growth as a mother and woman, through storytelling, pictures, words and DIYs. Blog :
oureverydaysblog.wordpress.com 
Instagram: @our_everydays