Don't get me wrong, camping is great, BUT it can be a large expense to accumulate all of the required supplies. Sleeping on the ground is also not for everyone, myself included! Sometimes it's nice to just pack your essentials and go, especially when travelling with kids. Thankfully Alberta has many alternate ways that you can spend a night in the great outdoors. Read on to learn all about 'glamping' options in Alberta!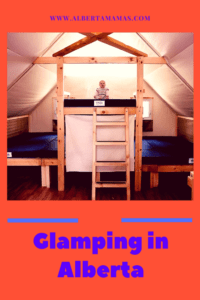 oTENTiks
A Parks Canada exclusive, these accommodations are like a cross between an A-frame cabin and canvas tent on a raised wood floor platform. Units are for up to 6 people, with a maximum of 4 adults. There are no bathrooms or running water inside oTENTiks. A table, beds/sleeping pads, lights and small heater are available in most units. You can enjoy TENTiks in Jasper (Whistlers), Banff (Two Jack Lake & Tunnel Mountain Village 2) & Elk Island (Astotin Lake).
Yurts
Alberta Parks offers a unique experience with yurts! These are insulated, round, tent-like structures mounted on a wooden deck with a vented skylight. Conveniences include lights, an electric heater, electrical outlets for charging your devices, all cooking pots/pans, plates/utensils, a small fridge with freezer, gas BBQ and sleeping areas for 4-8 people. Yurts are available at Miquelon Lake Provincial Park and Pigeon Lake Provincial Park.
Equipped Campsites
A new partnership between Parks Canada and MEC, you can now arrive at an equipped campsite that is all set up and ready for you! This includes a tent, sleeping pads, stove with propane, lantern, camping chairs and more. Please note that some campgrounds may offer slightly different items. You can enjoy equipped campsites in Waterton National Park, Banff National Park and Elk Island National Park.
RV Rentals
This isn't necessarily the cheapest option BUT it could end up saving you thousands of dollars! If you are thinking about buying an RV, test one out first! This is also a great option for people who have no storage options for a trailer or don't have enough time to camp frequently or maintain their own RV. Go RVing has a great directory of RV dealers across Alberta that rent trailers, tent trailers and motorhomes. Some even offer roadside assistance and trailer delivery. Also check out WheelEstate, a new online peer-to-peer marketplace for RV's. It's like Airbnb or VRBO for vacation trailers!
Cabins
For those who prefer a more solid structure, there are lots of cabin rentals across Alberta. My mom and I stay in a cabin every summer as a girl's getaway and here's some of our favourites that include bathrooms and kitchens:
Tipis and Canvas Tents
I've never stayed in a tipi, but I feel like it would be really fun with kids, allow for some cultural experiences and provide more space than a tent. These are the ones on my list to check out: Sundance Lodge (Kananaskis), Old Entrance B'nB (Hinton) & Blackfoot Crossing (south east of Calgary).
Make sure you check out the Comfort Camping Canvas Wall Tents through Alberta Parks located at Dinosaur Provincial Park, Writing on Stone Provincial Park and Wyndham-Carseland Provicial Park. They all include queen beds, futons, a private deck and gas BBQs.
As you search for 'glamping' options in Alberta don't be discouraged if you are having issues finding availability on your chosen dates. Many of these book up quickly, but there are always cancellations so keep your eye on them. Also, you will find more vacancy if you are able to travel midweek or in June or September.
What's your favourite glamping experience? I would love to hear! Connect with us on social media on Twitter, Facebook & Instagram! Need more inspiration? Click here for our post on Our Favourite Campgrounds in Alberta or this post listing the elusive Alberta campground with a pool.