I am that mom. While we all used to have adventures, tips, and fun stuff to share with you, this pandemic has me at a loss.
My family doesn't go anywhere.
The most exciting thing we've done in the last year is a walk in the River Valley, right after that little dump of snow. It was magical, and our COVID pup Missy enjoyed herself immensely. My poor daughter had a hard time getting back up these stairs, cause, well, we don't do anything!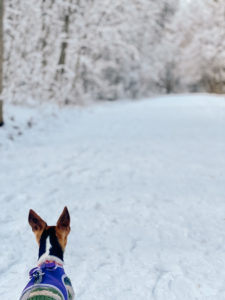 And we checked out one of the Edmonton swings, just you know, for something to do on the weekend.
I don't have the ambition or drive to plan anything. 
My kids spend A LOT of time on their devices. Most of the time it is connected to their friends via Kids Messenger while playing games, and this is essentially their socialization outside of school so I'm not taking that away from them. I want to run away completely. The mountains, the ocean, anywhere but here. But hubs and I both work, and we need to work and we are lucky to work. And we don't really have anywhere to escape to. I also am very cheap and don't want to spend money….cause maybe if I save it, when this is all over we can go somewhere so far away and cool, it's like COVID was just a blip.
We have lots of projects….
Hubs has a truck we need to get on the road, there's yard work I could be doing. Heck, I could be trying my hand at actual gardening like I see a lot of you do. I could be working out like a crazy woman, or baking, or cooking, or cleaning. I see it all the time from our followers and other friends – all the awesome things they're working on – and kudos to you. Do you think that drive would transfer well over text if you tried sending it?
If this all sounds like complaining, I promise it's not.
I just want to share why I don't have much to say lately. So this is me pitching in on the blog with my #RealLife. I know we will get through this and on the other side, I'll feel awful about the way I spent this time, but at this point, I'm just taking it day by day.
I'm still a happy person, don't get me wrong. 
I guess this is my way of coping and making sure I can still put on that Positive Patty Face for my family and job. I just can't put any pressure on myself to be a certain way, or do certain things. I'm just doing what I can, taking what I need and each day that nothing exciting happens, I'm kind of grateful for.  😉