We LOVE Farmer's Markets. There is nothing better than being able to enjoy all the amazing local produce, meet the people growing your food, and finding unique gifts from people in your community. When you buy from a vendor at the market you know where your dollars are going. Plus we promise each vendor does a little happy dance with each purchase. We have written multiple posts declaring our love like this one and we also have a great recipe using the freshest market ingredients here.
One of our favourite markets to visit is Callingwood Farmer's Market who is celebrating 35 years this year making it one of the longest running markets in Edmonton.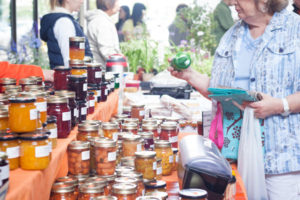 Their season opens on Sunday, May 5, 10-3. The market is Edmonton's original and largest outdoor Sunday farmers' market. All summer long, people head to the market to enjoy the vibrant, open-air atmosphere. The Sunday farmers' market is home to 130-150 vendor tables each week. There is also a condensed version of the market every Wednesday featuring 25-30 vendor tables. The best local vendors offer the finest of locally grown fresh, organic produce and meats, delicious homemade foods, gluten-free options, top quality plants, unique arts, creative crafts, exclusive handmade products and much more!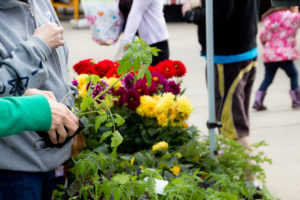 Callingwood Farmers' Market is a wonderful, family-friendly atmosphere. It's a feast for all senses; a great place to bring the kids to enjoy the sights, sounds, smells, tastes and touch of local products. Families often live a fast-paced lifestyle that relies on convenience shopping.  Incorporating a trip to Callingwood Farmers' Market is an excellent experience that connects with local growers and makers, helping children and families see beyond the 'big box' shopping we often use!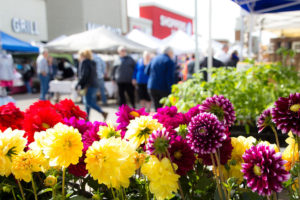 Callingwood Farmers' Market is set up each week in the covered courtyard area of The Marketplace at Callingwood shopping centre, 6655-178 Street in West Edmonton which is great for the unpredictable Alberta weather! Sunday farmers' markets spill out into the East parking lot facing 177 Street. Look for entrances near Callingwood Safeway and Dairy Queen. Parking is free, and they are on convenient bus and bike routes!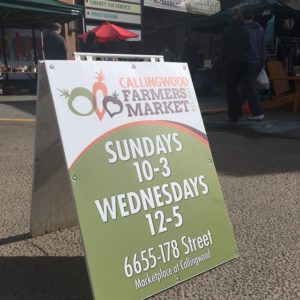 *Disclaimer* Although this is a paid project all opinions are our own. We do often shop at this market so it was a partnership we loved to be a part of.