It's Tanya here, and I'm back with another great family winter resort! Panorama Mountain Resort is perfect for families who want to enjoy a wide variety of winter activities from downhill skiing and boarding to cross country skiing, fat biking, snowshoeing, tubing, and even ice skating on the village rink. It's located 20 minutes southwest of the Town of Invermere in the East Kootenay region of British Columbia. From Calgary, it's a 3.5-hour drive and doable for a normal 2-day weekend. Make it a long weekend though and you'll find the trip a bit more relaxing.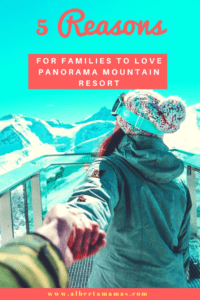 While I could easily list over ten reasons why you'll love Panorama Mountain Resort with your family, below are my top 5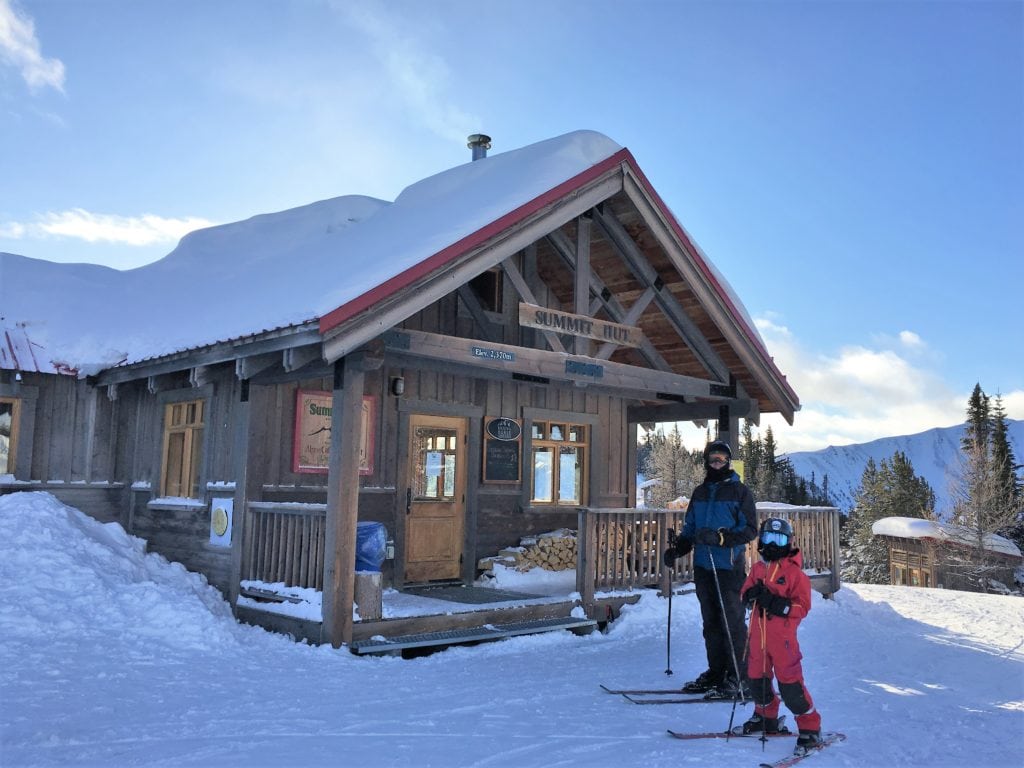 One: Panorama is Much More than a Downhill Ski Resort
We recently enjoyed our first downhill ski trip to Panorama, but we've visited the village many times over the years for cross country skiing (and even to go fat biking last winter.)
While many ski resorts offer cross country skiing or snowshoeing as "options" for the non-skier, Panorama excels at their Nordic offerings with scenic trails. Our favourite is one leading up to a warming cabin called the Hale Hut. We haven't tried snowshoeing at Panorama yet, but you can read more about our adventures cross country skiing and fat biking here in the story I wrote on my own blog, Rockies Family Adventures, last winter: Panorama Mountain Resort  (much more than downhill skiing.)
Other great activities to enjoy at Panorama Mountain Resort:
Tubing – new for the 2017-2018 winter season on Friday and Saturday nights. And what sets this tube park apart from others we've visited is that you can go down on your stomach if you want! You can even take a running start with your tube.
Relaxing in the Panorama Springs Hot Pools at the end of the day – included with lodging on the hill!
Panorama is a "ski-foodie's Paradise!" – Panorama has a European ski village feeling to it with cozy huts spread out around the hill serving fondue, raclette, and other European menu items for the ultimate ski-in lunch experience. Arrange for an après-ski package and enjoy your raclette or fondue party with a guided ski down the mountain after the lifts close for the day. For those who'd rather walk to lunch or dinner, there are several restaurants located in the village for those enjoying the ski-in/ski-out accommodations.
Daily Kids' Programs – The new Après-Kids program is offered daily from 3:30-5:00 pm and activities could include tubing, ice skating on the village rink, heading back up for a few more ski runs on the main run that is open for night skiing, or even snowshoeing on the village trails. The program includes hot chocolate and snacks and does have a cost associated with it. There are also free kids' activities offered daily including movie nights, campfires, and various arts and crafts projects. This is a great compliment to a day spent skiing on the hill (especially for kids who tire out mid-afternoon).
Two: You can Spend the Night in a Real Alpine Village
We really liked the ski-in, ski-out lodging on the hill, and spent two nights at the Panorama Springs Lodge, conveniently close to the Panorama Springs Pools, located in the same building.
We loved arriving Friday night, parking the truck, and then not having to drive again until Sunday afternoon. Everything we needed for the weekend was right outside our door with all restaurants a short walk away. We were first on the lifts in the morning, got to enjoy the pools and tubing in the afternoon, and loved eating on the hill in the evening.
Truly, there is nothing more relaxing than staying right on a ski hill for your winter vacation. And should you get tired of downhill skiing early in the day? No problem, because there are cross country trails right outside your door as well. Don't like the ski conditions the day you're there? Go snowshoeing or fat biking instead. And if you just want to ski for a half day, there are plenty of other activities to keep you occupied without committing to a full day on the slopes.
Three: Panorama is Great for Beginners and Families with Young Children
There are two magic carpets for progression of skills when first introducing the kids to the basic ski techniques. From the carpets, skiers can move up to the Silver Platter and the beautiful beginner run off it. It's the perfect intermediate step from bunny hill to actual green runs.
From the Silver Platter, families can move up to the Discovery Quad with its short green runs and the awesome "Discovery Zone," with a special tree course for the kids. It is a guaranteed crowd pleaser for all children, no matter how experienced at skiing. From the Discovery Quad, families will want to move up to the Mile 1 Express Quad and follow the easiest way down.
Panorama also offers a great child care program for families of little ones who might not want to ski the whole day. They accept babies as well as young as 18 months!
Four: There is a fabulous Terrain Park off the Toby Double Chair
There is a large terrain park off the Mile 1 Express Quad but my 9-year old won't be ready for that one for quite some time yet! Fortunately, we discovered a more "secret terrain park" off the small Toby Double Chair near the bottom of the hill. This terrain park had the typical boxes and rails, but also had several jumps my son loved. And what we parents loved most was that the terrain park had its own dedicated lift for fast efficient laps of the park. There were only a handful of other people on the Toby Chair, all using the park. In an hour we easily lapped the terrain park a dozen times.
Five: Panorama is an Awesome Day Trip Destination from the Columbia Valley
For families spending time in nearby Radium Hot Springs or Invermere, Panorama is a great destination for a fun winter day trip. Park in the lower parking lot and enjoy a free ride to the Upper Village on the Village Gondola (which will be special enough for young children without even setting foot on the ski hill). Have lunch at one of the restaurants in the Village (we loved the Picnic coffee shop) and then take the gondola back down. Half day outing complete.
Panorama is also a great place to bring the beginner skiers in your family for a day of affordable skiing with Discovery Zone lift tickets. These tickets give you access to the Discovery Quad, Silver Platter, Red Carpet, and Little Ripper Carpet. And at $29 for children ages 6-12, it's quite a deal! (Adults are $49 which is still affordable for downhill skiing).
And finally, as mentioned earlier, the Panorama Nordic Centre is worth a visit if you want to check out the cross-country trails for skiing, fat biking, or snowshoeing.
Other Areas that Stood out to us at Panorama:
Panorama is a great hill for cold ski days. Stop in at one of three huts spread out around the hill, grab something warm to drink, and then ski on to the next hut or cabin.
Parents with babies or toddlers will love the amenities in the Village. Skip the crowded day lodge and head to the Picnic coffee shop instead with a great breakfast and lunch menu, locally brewed Kicking Horse coffee, and a cozy fireplace to warm up by.
The hill has great grooming first thing in the morning. (some of the best we've seen at a resort and appreciated on some of the steep black runs).
My husband liked the lift-accessed backcountry style skiing in the Taynton Bowl (with the security that comes from skiing big lines in avalanche-controlled terrain).
There are easy ways off most chairs with groomed cat tracks, winding traverses, or groomed blue/black runs.
My son loved finding the secret tree house with slide on the lower mountain (look for the Secret Forest on the map).
All parents will love that there are bathrooms everywhere spread out around the hill near every chairlift.
To find out more about this amazing resort, please visit the Panorama Mountain Resort website.
Tanya Koob is a seasoned blogger over at Family Adventures in the Canadian Rockies and has graciously agreed to be our "Ski Contributor" this season for Alberta Mamas. You can read her other ski stories by following the links below:
5 Reasons for Families to Love Nakiska Ski Area in Kananaskis
5 Reasons for Families to Love Lake Louise Ski Resort