In the summer of 2000, my boyfriend at the time, now my husband and I were living together and I convinced him (begrudgingly) to get a puppy. I had been on the Humane Societies website and saw that they had four American Eskimo puppies. I fell absolutely in love with a photo of one, then named Indy. I went to meet him all by myself. He was the runt of the litter. All ears and we named him Buddy.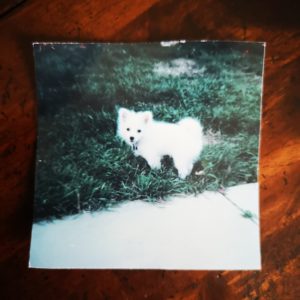 As I mentioned my husband wasn't completely on board, he'd never had a pet and was crazy allergic to cats. For all their fur, American Eskimos are said to be hypoallergenic and he didn't have an issue with Buddy. Actually, he came to be a big fan.
Buddy was our first "child" you see. He was our snuggle muffin, and the first part of our little family. Yes, we did dress him up once for Halloween.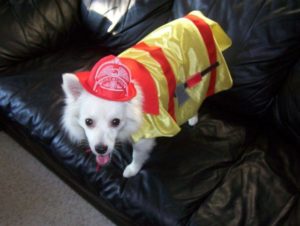 It's a story to this day that Buddy is the reason we are together. We actually broke up for a bit, I moved into my own place and we shared custody of Buddy. That probably sounds odd but we both loved him so every second weekend or so I'd have to see my ex to let him have Buddy for the weekend. One time I saw him and realized I needed to smarten up. Within months of getting back together he caught me up good by asking me to marry him. I moved back in and our little family was all together again. I wouldn't have had to see him at all if it wasn't for Buddy.
Then we decided he needed a friend. Someone to keep him company while we were at work. We wanted another American Eskimo, so we found a breeder outside of the city and brought home Sully.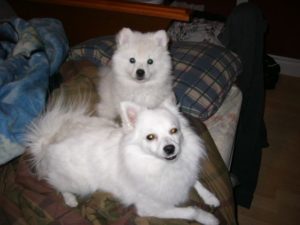 Now we had two little monkeys. They were about three years apart and became pretty good buddies. Then we got married and the kids came along.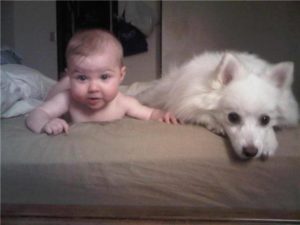 We did our best to acclimatize the dogs to the kids. As anyone who brings kids into the world in a pet home or pets into the world in a kid home can attest to, this takes some time. But they all got used to one another and naturally, the kids fell in love with their "Fur Siblings".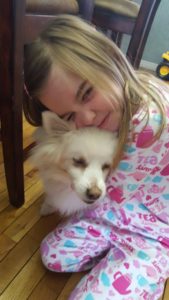 Unfortunately, in March 2016 we had to say goodbye to our Buddy.
This was incredibly hard for me. He had many medical issues and was absolutely in pain most of the time. But he was my first real pet. We had had him for 16 years, and the kids had only know the world with him in it. I prepared them for this. I talked to them about his pain. We spent a whole day just snuggling and loving him, and took pictures.
I had never had to say goodbye to a pet before. I'd certainly never had to be the one to actually decide what was best for a pet. And I am just naturally a very emotional person. This was hands down the hardest thing I have had to do in my life and even as I'm writing this I miss him so much. My daughter still cries sometimes when she starts thinking of him, she misses him and so we miss him together. Talk about our memories of him.
Dogs love with everything they have. They don't judge you. They're always so glad to see you. They want nothing more than to just be with you. I'm so grateful for him. What he taught me, the way he fits in my story and what he taught my kids.
Yes, it still hurts , even three years later, and I miss him but I wouldn't trade those 16 years for anything in the world.