Have you heard of this awesome book?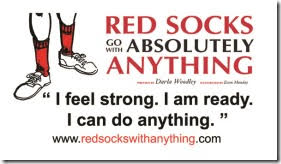 It has a fantastic positive message that started with a quirky family tradition revolving around red socks. Also, when books are purchased, additional copies of the book are printed and donated to a school, local charity and/or organization.
Red Socks Go With Absolutely Anything demonstrates how a simple pair of red socks can give someone special a boost and confidence when they are feeling down or out of their comfort zone. In this story we find a youngster called Sunshine, who is experiencing a series of events over the course of their young lifetime. Some moments seem bigger than others to an adult, but they are daunting in the eyes of a child at the time.  At each turn, when our Sunshine begins to fill with doubt, we notice the mother's subtle but powerful gesture of wearing a pair of red socks to show her support. With each event Sunshine comes to realize that love and encouragement creates a feeling of being strong, ready and able to do anything.
The message is "… one that will speak to youngsters from their earliest and most intimidating moments, and will carry them throughout their lives in a wonderfully empowering way…" (Children's Literary Classics).  
"This is not a book that you sit down, read from cover to cover and then kiss the kid goodnight and forget about it. You talk and talk, and support and change yourself in order to become better parent, because of the inspiration the book gives and because you can't just be indifferent, after creating this great vision in your children…"(BookOwly, Book Blogger).  
Enter to win a Red Socks Go With Anything Prize Pack!
Including a casebound copy of the book, a paperback copy to be donated to the winner's favorite charity/cause, Red Socks mug, Red Socks plush, inspirational blanket & more, valued at approx $260!
a Rafflecopter giveaway