Turkey may be the star of the meal this weekend but we thought we would have some fun and share with you a fun, easy pumpkin spice cocktail to serve your guests!
My husband and I do a thing called Cocktail Monday (you can see some of our ideas by following me on Instagram here or searching the #cocktailMonday hashtag) where each week we take turns making a cocktail. We love how it starts the week with some fun and it has become a great way to connect and hang out just the two of us every week.
This week my Husband made the most delicious Pumpkin Spice Cocktail. I'm not a huge PSL fan  usually because I find them too sweet and pumpkiny (not a word but you know what I mean) but this drink was a more mellow pumpkin flavour which I liked a lot.
For this cocktail you make your own Pumpkin Butter so you control the sweetness! We used Gin but if you wanted a less fragrant, juniper tasting drink you can substitute Rum or Vodka as well.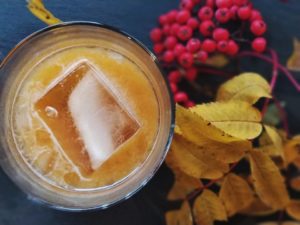 Pumpkin Spice Cocktail Recipe:
2 oz Gin
1/2 oz lemon juice
2 tbls pumpkin butter (recipe below)
Pour all ingredients into a shaker. Shake with ice until fully mixed and pour over ice. Enjoy!
Pumpkin Butter Recipe:
1 can pumpkin puree
1 tsp nutmeg
1 tsp cinnamon
1/2 c sugar (or more if you like it sweeter)
1/4 c maple syrup
2 tbls lemon juice
Combine everything in a sauce pan and bring to a boil stirring often. Reduce to simmer for 10 minutes and then remove from heat. The pumpkin butter can be stored in a glass jar in the fridge for a few days. It is also great on toast, in smoothies, and as a dip with apples.