The Mamas love local and we hate grocery shopping.
So, when we learned about truLocal at the Edmonton Home and Garden show, we were intrigued!
Upon further investigation we learned that the basic idea is that they source LOCAL meat and deliver it to your door. Yes, it is subscription based BUT you choose your frequency. You can skip boxes – even pause or cancel at any time – no strings!
It was a real treat getting the box and seeing exactly where the items came from in Alberta. For example these DELISH steaks from Fort MacLeod.
And when I say delish, I mean it. For example, I cooked the chicken we received the same way I always do. My husband AND the kids all asked me what I did different – it was literally just the meat.
They ship your products in refrigerated coolers so that even if you are not home, your products stay frozen. AND they use environmentally conscious packaging. 
The bottom line is we are impressed. Anything that can help us spend less time grocery shopping, make meals easier AND know that it's all coming from Alberta gets an A in our books!
FEATURE PHOTO: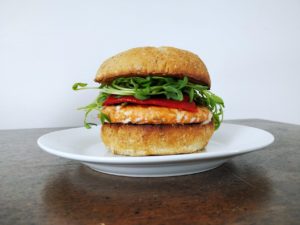 Salmon Burger made by Mama Deanne. Check out her thoughts on our Instagram!
Review the options, peruse the site and then try it for yourself using the discount code below!
truLOCAL DISCOUNT CODE:
ALBERTAMAMAS10 – this will give YOU $25 off of the regular sized box and $10 off of the small sized box!
Want to see some of the products?
Want to have some of these delicious products delivered to your door?
The Alberta Mamas were gifted a box in exchange for sharing truLocal with our followers and friends. As always, all opinions stated are our own.