The girls and I roasted a big beautiful Alberta Turkey a few nights ago! We intentionally got a bigger bird than needed so that we all had plenty of yummy leftovers to take home- basically a #momwin. I decided to try a quick weeknight creation with our turkey leftovers and made a Canadian comfort food dish, poutine! Check out the recipe below…
Festive Turkey Poutine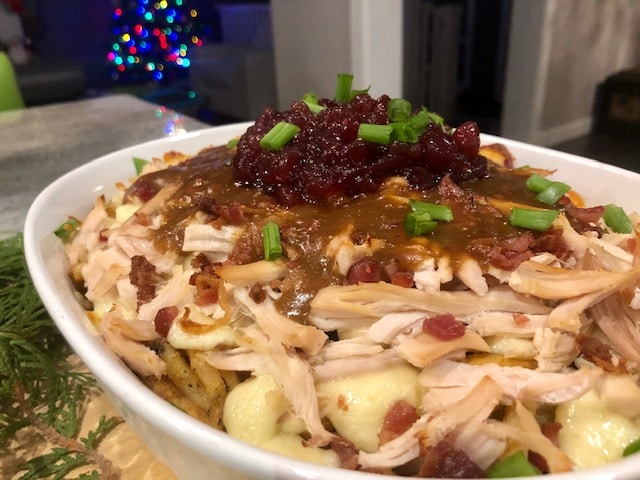 Ingredients:
Fries- home made if you have time, but I just used a frozen oven baked variety from M&M Meats!
Bacon- cooked and crumbled
Cheese Curds
Green Onions- washed and sliced
Leftover Cranberry Sauce
Leftover Gravy
Leftover Turkey- cut into smaller pieces

Method:
This is so easy! Just cook the fries in the oven. Once they are done transfer to an oven safe baking dish. Top the fries with cheese, turkey, gravy and bacon. Put the dish in the oven for about 10 minutes at 350 or until cheese starts to get brown and bubbly. Top with a dollop of cranberry sauce and fresh green onions. Serve immediately.
What do you do with your turkey leftovers?