by Laura-Lise Wong
Oh, the sunshine is here and I for one am feeling glorious!!!  I live for the summers in Edmonton with the kids.  Don't get me wrong; Edmontonians know how to make the most out of our winters and there are numerous festivals and activities to attend embracing the snow and ice, but the winter months can definitely feel long when your kids are still under the age of five or so.  I find even more so having boys that would rather be outside all day but get too cold in those winter months.  There are only so many indoor activities before they start climbing the walls… literally.  But oh summer… the sandy floors and dirty bath water that combine to make easy bedtimes.  Well, that just makes me swoon.
So what are your favorite things to do in the city with the kids when those warm temperatures hit?  Of course being famous for being Festival City is a great start.  I mean there is seriously a new festival going on almost every single week (or numerous ones at a time to choose from).  The City of Edmonton website is a great place to start if you are in search of a list of festivals in Edmonton for the year.  Then there are all of the Farmer's Markets with their amazing array of produce that you don't see in your average supermarket: red carrots, a rainbow of heirloom tomatoes, purple cauliflower, stinging nettles, green garlic, watermelon radishes, quail eggs, maitake mushrooms, and much, much more.
However, for me, it is the core of the city itself that I adore!  Packing up the kids, hopping on the bus (and the LRT which is their personal favorite) and making it an all day adventure.  Whether it is to Whyte Ave to leisurely stroll through the shops full of unique little trinkets (and of course a trip to the Gummi Boutique to pick out a few sweets).  Or up to the Legislature Building with its many fountains and wading pools; stopping at one or a few of the food trucks in the area.  Then there is Churchill Square with its own refreshing pool and fountain.  As well as, the daily free activities that they have going on that actually start at their Spring Break kick off and run all summer long.  My kids ask to go downtown pretty much every day in the summer.  Tip: A great spot to grab some snacks if you are at Churchill is the Three Bananas Cafe.  They have the most amazing breakfast croissants, a wonderful selection of lattes, and some seriously yummy thin crust pizzas that the kids will devour.
BUT I had to save my personal favorite for last.  It is the one that pleases everyone you are with I promise…  The Italian Centre and Giovanni Caboto Park!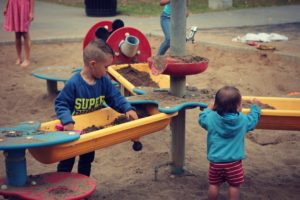 Little Italy is in itself a breath of fresh air.  The history, the culture, the people.  From the beautiful plants and flowers pouring out from Zocalo to the friendly Italian gentleman that sit out in front of Spinelli's chatting that always greet you with a warm hello and a smile.  You will have an at home feeling as soon as you step foot in that area.  The kids love going to the supermarket to walk around marveling at all of the produce and endless varieties of olives and cheeses and nuts.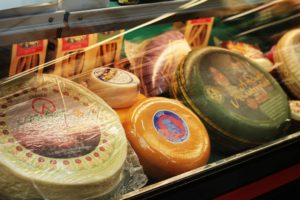 Then we make our way to Spinelli's where they press their faces on the glass wide eyed trying to decide what dessert treat they want.  (I of course always get a cannoli)  We grab some pizza and paninis (loaded up with fresh cut capicola, genoa salami, mortadella and provolone cheese), our desserts and a Caffe Freddo for the adults (all at an incredibly great price I might add) and head over to the park to spend the next few hours picnicing in the sunshine.
Anyone with little kids knows how much easier it is to eat when you can plop them down on a blanket and have a picnic outdoors.  The park is amazing.  There is a gorgeous fountain in the center that just gives off such a peaceful vibe with the sound of the flowing water.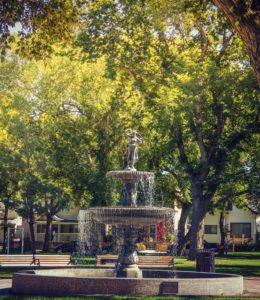 The trees are huge and provide many shaded areas.  The community does a great job in keeping the park clean.  They have a little spray area which is perfect for toddlers who might get overwhelmed at some of the larger spray parks.  There is a fun little "mud station" that they spend hours at mixing the sand and water around.  And the rest of the park is equipped with numerous play structures that are fit for younger children with the ground being that soft shock-absorbing surface under the equipment.  And in the summer months, they have a green shack program running which is great for the older kids.  No matter what age you can easily spend the entire day there with everyone happy, having fun and snacking on great food.  Oh and if you haven't been to the "Viva Italia: Viva Edmonton" yet the event takes place the last Sunday of August and continues to draw Edmontonians to Little Italy.   Viva Summer!!
Lise is a mom to two very rambunctious boys.  Justin Danger age 5 and Hendrix Ruckus age 2. She's a WAHM who runs "If You Have The Vision Designs" You can also find her on Twitter & Instagram.