Are you heading on a family beach vacation with your kids? Before you get to relax, you have a few things to do! Okay, 'a few things'
is probably an understatement. As a mama, I know first-hand that it's a LOT of work to pack for a vacation with the kids. Rest assured, soon you'll be on the beach with a cocktail in hand and won't have to worry that you forgot anything.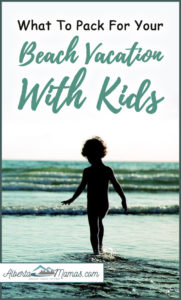 Here is a great packing list of what to bring for your kids on a beach holiday.
I've compiled this travel with kids packing list from experience of travelling with my two girls since they were born. We've been on many family vacations including Hawaii, Mexico, Caribbean, and Europe and our experience is there are some basic things we need to pack regardless of where we go. This kids packing list is geared toward children aged 2 and up, as babies are a whole other list that I'll get to another day! (Diapers, wipes, bottles, pacifiers oh my! You need a private jet to carry all that stuff with you!)
Packing List for a Beach Resort Vacation with Kids
Underwear. Always bring double the underwear than days you are gone. Kids go through a lot of underwear!
Sleepwear. Most resorts have air conditioning, so opt for sleepwear that is light but cozy. Cotton is best for hot countries.
Sundresses (for girls). So easy to slip on and off, plus light and airy for those hot temperatures!
Shorts and tees. Always bring 2 extra than you think you need. Things get wet or dirty and your resort may not have laundry service (or it will be very expensive!)
Lots of swimsuits. Always bring at least 4-5 bathing suits. In humid climates things seem to take forever to dry, so having extra suits for your kids is smart!
Swimsuit covers for the girls. Most resorts require guests to wear a cover when dining and that goes for the kids too. Covers are also great to cover those shoulders from the hot sun. Walmart or Justice always has really cute swim covers and they are fairly inexpensive.
Flip flops or easy slip-on shoes. Shoes that are easy to slip on and off are great for the kids to wear on the beach or around the pool.
Sandals or comfy shoes. Great for the kids to use for excursions or evenings.
Water shoes. Water shoes or even Crocs are a must for beaches that have rocks in the water.
Inflatable pool toys. I always recommend packing a couple of inflatables for the pool. They don't take a lot of room in your suitcase and provide a lot of entertainment for the kiddos. Usually you are able to buy inflatables at the resort or a store nearby, having a couple of small items with you will be a saving grace when you arrive!
Pail / shovels and a few small beach toys. We usually bring a pails and small beach toys for our kids. In our suitcase we simply pack clothing in the pails so they don't take up a lot of room. This provides a lot of fun at the beach and saves you from hunting around the resort trying to buy something. Plus, I think the last thing you want to do after hours of travelling is go shopping!
Blanky and favourite stuffy. If possible, bring a few small items that are your children's lovies. These will provide a lot of comfort as kids are so little and travelling can be hard on them. Being in a foreign country, the days of sun, sand and swimming will tucker them out; their lovies will soothe them!
Hats and sunglasses. Bring at least 2 hats and 2 pairs of sunglasses. Hats get wet, sunglasses get lost. You will be happy you have more than one of each!
Load up your technology with favorite shows / movies / games. If you are travelling to a country that has a native language other than English, do not count on the television in your hotel room to have programming in English! If your kids enjoy watching a show to relax, or if you need that distraction for some down-time, plan ahead and load up your phone / tablets with some good shows or games that your kids can relax with.
Travel sized activities. You can get some really fun, travel sized games, crafts and activities from any dollar store. Travel sized play packs, colouring books or even PlayDoh will keep your kids busy in restaurants or when they need some quiet time after a busy day. Crayola makes some great travel products, as well as MasterMind Toys has great travel section.
Wipes and sanitizer. Those little hands love to touch everything! You can get travel sized wipes from any drug store or department store. Pack a few of them in your luggage, and also pack a couple small bottles of sanitizer. Be sure to wipe the plane seat arms and trays down too! It will help with keeping your family healthy while you travel!
Sunscreen and after-sun care. We have found that some of the sunscreen brands here in Canada do not work the same as in tropical countries. I recommend speaking to your pharmacist or skin-care expert about the best brand. Better yet, when you arrive to your resort find a place to purchase sunscreen from that country whether it's in a local store or the gift shop. Even though it's more expensive, it will protect your children.Here is a great article about the issues with sunscreen. Worst Sunscreen of 2018 for Kids Have Innaccurate SPF Labels. Further to that, this article explains why you should reconsider using sunscreens from North America.
Travel packs of laundry detergent. The last thing you want to be doing on vacation is laundry, but carrying a few small travel packs of detergent will help you in a pinch for washing kids bathing suits, underwear or any stains out of clothing.
Kids medication such as Advil, Tylenol, Gravol, eye drops and anti-itch cream. Many countries do not carry the same medication brands that we do here in Canada. Be proactive and bring your own brands. I would also advise on bringing extra medication in case your child gets sick or has an ailment and goes through it quickly. This has happened to us a couple of times when we've traveled and it was difficult to find the medication that we needed for our child.
Mosquito repellent and anti-itch cream. All that sunshine and fun comes at a price, mosquitos or sand flies! Do not leave home without some sort of kid-safe mosquito repellent and anti-itch remedies if they do get bitten.
One last thing, for kids that are younger, it's worthwhile bringing a light umbrella stroller for the airport or longer walks exploring around your destination.
Have you travelled on a beach vacation with your kids? What would you add to this packing list? Leave a note for me in the comments below!
Jody is a mom to two highly energetic daughters. She owns a marketing firm in Edmonton, www.makinamarketing.com, and is a travel blogger at www.worktravelrepeat.ca.You can find her on Twitter @holajody and Instagram @jodyninahyeg.