Each month, we play 10 questions with one of Alberta's most interesting mamas. This week we hear from Parkland County's Amber Ozero, who owns and operates Good Morning Honey, along with her husband Richard. You can find Good Morning Honey on Facebook and Instagram, or connect in person at Callingwood Farmers Market, 124 St. Grand Market, and Millwoods Farmers Market in Edmonton. 
1. How did your career path evolve from working as an editor/videographer/reporter for major media companies in Western Canada, to owning and operating Good Morning Honey along with your husband? 
After having two kids under two, I decided to put my television career on hold and be a stay at home mom. We moved to a farm and I really enjoyed being with my kids and living the country life. It was my husband Richard's idea to get into beekeeping. He was very passionate about it and before I knew it, so was I! It was a natural progression. I take care of marketing, promotions, farmers markets, event planning, website and social media along with any other jobs that need doing like pouring, labelling and delivering honey!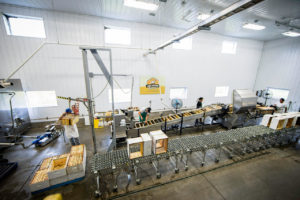 2. What is the most rewarding aspect of running a family owned and operated business?  
Seeing what you can accomplish when you work together.
3. How does a typical day unfold in the Ozero household? 
Richard heads down to the shop (a short one minute walk!) to get things going for the day. I usually answer emails and plan out social media posts while having morning coffee. It all depends on the weather and the time of year as to what happens next! Some days are busier than others but there never seems to be a lack of things to do. Richard takes care of the beekeeping. I'm often filling orders, delivering orders, cleaning, doing paperwork, organizing, promoting, loading up for farmers markets, organizing events on our farm like long table dinners and Open Farm Days. 
4. Can you describe your parenting philosophy?
Now that we have teenagers, I'm a big believer in honesty and straight talk. I think that having an open dialogue about what is going on in their lives is important. Being a teenager is tough and I want my kids to know that they can come to me with any problem they might have.  
5. You can recommend one book to Alberta Mamas readers. Which title do you choose? 
Taking time to read a novel is something I struggle with! I read a lot of news and articles online. The only time I seem to squeeze novels in, is on vacation. I just started The Guernsey Literary and Potato Peel Pie Society. My Mom recommended it to me. 
6. It's Sunday morning. How are you spending the day? 
I like to make crepes or maybe bacon and eggs. Most likely two coffees on a Sunday! Last week, we hopped in the 57 Chev and went antiquing and out for lunch and a movie. That was a pretty good Sunday. 
7. What do you like most about living in Parkland County? 
The people! We love our neighbours and all the farmers that we work with. It's a great place to live and operate a business. 
8.  Who do you find most interesting to follow on social media? 
@Thediymommy and @Brickbubble. 
9. What's one thing about you that might surprise others?
I beat Gord Bamford (country recording artist) in a singing competition in grade two! (He obviously did more with his singing that I did!!!) 
10. What would you tell people who want to know more about Good Morning Honey? 
We are very passionate about bees and honey! We take great pride in our beekeeping practices and in our family business. Richard and I are big believers in working with local businesses and other entrepreneurs and feel fortunate to have the support from our amazing customers!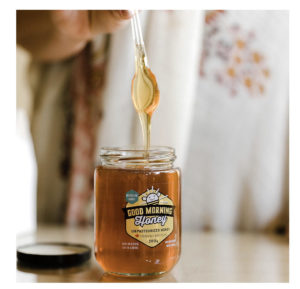 Kirsten Clark is a high school English teacher, a reader, a writer, a runner, a podcast junkie, a lover of good food, and, most importantly, a mom. She lives in Beaverlodge with her husband and son, a curious and energetic toddler, who keeps his parents on their toes!  Connect with her on Instagram @kirstenlanae , and at thefaucet.net, where she blogs every Monday, no matter what.