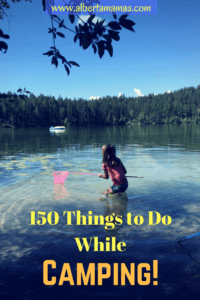 Our friends at Camping Passport, have put together a list to keep you inspired while camping this summer! In the spirit of Canada's 150th Birthday, there's a total of 150 things to do, so dive in and enjoy the last month of summer while it's still here!
Hiking
Biking
Horse back riding
Rent a paddle boat
Canoeing/Kayaking
Rainbow Scavenger Hunt – Find an item that matches each colour of the rainbow!
Alphabet Scavenger Hunt – Find an item that starts with each letter of the alphabet
Build a tipi
Try all the flavours at the ice cream shop
Fishing
Go exploring with a fishing net
Do a treasure hunt by hiding small items around the campsite for the kids to find
Water balloon fight
Water balloon baseball! Don't have a bat? Use a pool noodle!
Go to the pool
Go to the beach
Catch frogs
Build a sand castle
Write your names in the sand along with the date and take a picture!
Paint some pet rocks
Build an Inukshuk
Blow bubbles
Make a tin can telephone
Memory game. When sitting around the fire take turns adding to the list of what you would pack for camping. "When I go camping I'm going to bring marshmallows." Then the next person "When I go camping I'm going to bring marshmallows and chocolate" and so on!
Chop wood
Haul wood
Collect kindling
Leaf rubbings
Scope out the historical sites
Bingo
Tic Tac toe with sticks and stones
If you haven't done so yet, download your Camping Passport App! Available on the App Store and Google Play
Build a wind chime with sticks, leaves and stones. Or maybe you can find shells at the beach to use!
Go berry picking
Find some cool shapes in the clouds
Wood whittling
Identify the birds you hear
Identify the plants you see
Star gazing
Make a wish on a shooting star
See an outdoor movie
See an outdoor concert
Play horseshoes
Build a slingshot with elastic bands and sticks
Use those same elastic bands to make a natural paintbrush by attaching different types of foliage to a stick!
Mini golf
Play frisbee
See if there's a frisbee golf course nearby
Everybody show off your hoola hooping moves (this is particularly hilarious if the adults get involved!)
String up the hoola hoops in trees and use them as targets to launch pool noodles through
Climb a tree
Make a ring toss game out of glow sticks
Nature art
Decorate your very own walking stick with ribbon, yarn, paint, beads, etc.!
See how many different animal tracks you can find and see if you can figure out who they belong to
Build a stick tower, how high can you make it?!
Build a stick raft, does it float?!
Nature weaving. Lots of beautiful examples here on Pinterest
Squirt gun race using solo cups. Poke a hole in the bottom of the cup, hang it on a string so that it lays horizontally, now you can squirt water into them to make them slide along the string!
Play rhythm cups with more solo cups
Make a fairy garden
Make a wire wrapping craft with rocks
Obstacle course. String some rope between trees and see if you can manoeuvre through without touching them
Play the parachute game but with a beach towel and a beach ball! Better yet use a water balloon and see how many times you can toss it before it breaks!
Nature names – Use leaves, sticks, etc. to spell out your names!
Scope out the other sites at the campground. Is there one you'd like to try next time? If so be sure to make a note in your Camping Passport App!
Enter your current trip in your Camping Passpost App!
Meet your neighbours
Do yoga! What better place than the great outdoors?!
Bring a big piece of fabric the kids can colour. We found this one at IKEA. When it's all filled in frame a piece of it as a souvenir!
Tell ghost/campfire stories
Try a new recipe. One of our favourites is ham, swiss cheese and apple pie filling in a sandwich maker over the fire. Yummmm!
Take a nap!
Read a good book. One of the most recent books I read which I LOVED was"Wild" by Cheryl Strayed.
Enjoy a nice peaceful morning coffee outdoors. Don't rush, there's no hurry to get anywhere!
Sing songs around the campfire, bonus if somebody has a guitar!
Go on a photography walk, how creative can you get?! Remember to change your perspective, get down low to try to imagine how the ants and spiders see things, get up high for a bird's eye view!
Skip rocks
Watermelon eating contest. Great way to meet the neighbours, ask if they want to join you!
Fill a basin of water and go bobbing for apples.
String apples up in a tree and see who can take the first bite, do this blindfolded for added difficulty!
Make campfire banana splits! Leaving the peel on, cut the banana length wise, stuff it full of chocolate chips, marshmallows, peanut butter, any other topping you can think of… wrap in tin foil and place over the fire to melt! When it's ready eat with a spoon!
Make campfire cones! Same as above but this time use waffle or sugar cones. The stuffing possibilities are endless!
Pick wildflowers
Make a flower crown
Play cards
Play boardgames
Have extra packing room? Bring some lawn games like Giant Jenga or Yardzee
Visit the visitor centre
Play balloon tennis using blown up balloons and fly swatters
Put on a puppet show
Make a grateful journal
Fly a kite
Roll down a hill
Play in a river
Collect river rocks
Play charades
Find a farmer's market
Bean bag toss
Play hide and seek
Collect bugs
Go for ice cream again!
Make a lemonade stand
Go on a picnic
Do a random act of kindness such as haul wood for somebody!
Make your own little spa, soak your toes in warm water while enjoying your favourite drink!
Visit a waterfall
Dance in the rain
Jump in puddles
Feed the ducks
Play beach volleyball
Learn a card trick
Learn a magic trick
Make a nature bird feeder! Tie string around a pinecone, roll in suet or lard, cover in birdseed and hang in a tree for the birds to enjoy!
Put on a talent show (you've been working on that hoola hooping right?!)
String together pop can tabs to make a bracelet
Collect bottle caps and make a wind chime out of them
Set up a pyramid of cans and try knocking them over with a ball or use a pool noodle like a javelin to knock them over.
Set up lawn bowling with empty cans
Play catch
Tubing
Waterskiing
Float down a river in a tube
Invent a new drink
Try paddle boarding
Try yoga paddle boarding!
Find a Parks Canada Red Chair and take a picture with it!
Move out of the camper one night and sleep under the stars!
See some fireworks
Go white water rafting
Wake up super early and watch the sun rise
Stay up late and watch the sun set
Go to a petting zoo
Make a list of 150 things you love about Canada!
Build a campfire
Practice lighting a fire without using matches or a lighter
Wherever you are, take a moment to check in. Take a deep breath, be grateful, enjoy the moment!
Roast marshamallows
Make S'mores
Make Bannock in a Bag! Before leaving home, put 3 cups of flour, 2 tbsp. baking soda and half of a tsp. of salt into a large Ziploc bag. Seal and shake. When you're ready on site add half of a cup of lard or softened butter and 1.5 cups of water and then while still in the bag have the kids squish it all together. Now you can either bake for 15-20 minutes in foil packs (sprayed with non-stick spray or oil) over the fire or wrap around a hot dog and bake it that way!
After dark give the kids some sparklers to play with
Visit a look out point
Take the kids to the park
Go on a leisurely walk and see where you end up. You're camping, no need to be anywhere at any specific time!
Even if you have a camper do the dishes outside! We always do and it makes this boring task way more fun!
Get out the colouring books, this can be relaxing and some good down time for kids and even "kids at heart" as well!
Put the kids to bed!
Have a drink by the fire, maybe sneak another snack that you didn't want the kids to have!
Sleep!! Maybe even sleep in a little, but not too much so that you can…
Wake up and do it all over again!!
What's your favourite camping activity?
Leanne is the creator of Camping Passport, a new app that lets you plan, review and evaluate your camping trips all from your phone! You can download it directly here from the App Store or Google Play.