by Sue Em, 
Brunch is no longer a thing just for high-flying singles who were able to sleep-in until 11 on Sundays. Thankfully. Otherwise those of us with kids would never get out there.
Part of the fun of 'training' my littles to eat-out in a social setting, our family frequently goes to restaurants and one of our favorite times to eat-out is definitely WEEKEND BRUNCH!
In this article, I've gathered up 5 of our favourites in Calgary. I've picked these because they offer different styles – we don't always want a greasy brunch – so there should be something different to pick from depending on the style of brunch you're feeling up to on any given day.
Your a-typical greasy spoon with some great portions served in a vintage booth-style dining experience (or you can sit at the bar). Don't be fooled by the dimly-lit interiors of this cozy little place. The portions are enormous and the meals are delicious. I would definitely go for an huevos rancheros meal here, don't hold the bacon (or beef sausage). The milkshakes are themselves a good reason to come to this place. There is nearly always a wait – but not to worry – they have coffee served outside to keep you warm and calm your nerves while waiting.
The kids had their meals with whipped cream portions which seem pretty generous too. This was a huge hit with my little guy….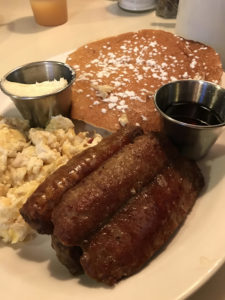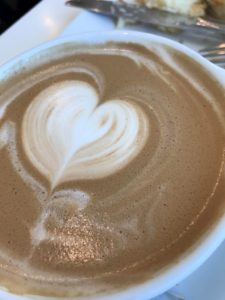 Tucked away in the neighbourhood of Aspen Landing in the Southwest end of Calgary, is the Ladybug Cafe. Recently changed ownership as the previous owners retired, but the management is still keeping up the great work of the old guard. You can get a pretty delicious coffee here but the Ladybug Cafe really feels like a French Patisserie with its glass display case of everything from croissants, to macarons or eclairs. It also serves up a delectable selection of crepes – savory and sweet – and each description tops the other you will have difficulty choosing (so a return visit will be required).
Besides their crepes, they also have some savoury dishes like Salmon Pasta and French Onion Soup (bien sûr). So this place really works well for a later lunch too. My favourite thing to have here is their Crepe with Smoked Salmon – fresh and tasty!
For added flair, they have amazing coffee artists who make fun pictures out of the coffee foam in your cup before serving you. We've had Olaf, Mickey, and your above-average smiley face.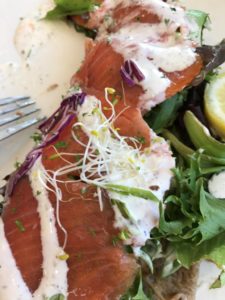 A popular place with the dinner crowd, Ten Foot Henry is also a great place to share a family brunch.
A number of things keep this place at the top of my list. Firstly, the menu keeps changing according to the season and what's fresh! I love the element of surprise and the way the chefs combine interesting ingredients together to make their scrumptious dishes.
Secondly, they offer all dishes to share tapas style so you can try a little bit of everything (or hoard a dish – although you won't be too popular if you do that!). My one kid can be relatively picky but this place always has something he loves or will tolerate and that is good enough for me.
DO NOT SKIP DESSERT if you go here. The creme brulee custards are to die for.
Red's (Calgary Ramsay, 4rth or Kensington)
I'd like to say that Red's is a bog-standard diner for brunch but it really is much much more.
Our family has a huge appreciation for milkshakes and Red's never lets us down (at either location). The staff is always friendly – even when they are busy – so that is definitely a bonus, because who would ever want to be treated like only a number?
Their fare is generous and super delicious. Not as greasy – which makes you feel healthier – enough to want more!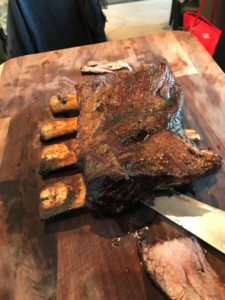 This is the jewel of the crown – because we love steak (we are Albertans after all).
This Brazilian steakhouse in downtown Calgary is always a hit for a special occasion meal – it is fancier than your average greasy spoon and provides a good alternative that's still affordable.
Who would say no to all-you-can-eat steak? Not us. You can dine from Pampa's salad bar – fresh vegetables, pasta salads, and fruits in abundance. Since it's brunch, they also serve some Brazilian breakfast dishes. But it is the meat that you've come here for. The servers (gauchos) come to each table with skewers of meats and you say no or yes accordingly. When you have had enough or need a break, you turn the disc on your table to red and when you are ready to start again, go green.
The meats are delicious, and the portions are, well, all-you-can-eat.
Not included in the buffet price is dessert! There are some real delectables to try if you have any space left – so leave room!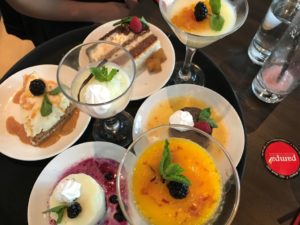 Definitely one of our favorite places in Calgary for brunch!
What's your favorite brunch place in YYC?
Sue Em writes because she loves words. Her blog missusemwrites.wordpress.com is where she writes about all sorts of interests including crafting, books, writing, hiking, and food. Sometimes it is an opportunity for her to write about herself in the third person. Sue is a mama originally from Singapore who now calls Calgary, Alberta home. She enjoys life as a busy person who loves wearing many 'hats' – educator, homemaker, chef, maker, artist, traveler, and mom. You can also find her on Instagram @missusem. In real life, you can sometimes find her in Calgary working as a presenter and facilitator at the Telus Spark Science Centre. Because yes, she loves science too.