After what has seemed like a never-ending winter, summer has finally arrived! After being stuck inside all winter, Albertans definitely know how to take advantage of our short summer months. Along with longer days come festivals, food trucks, day trips and weekends exploring our beautiful province. The downside? All of these things can be financially draining for a family.
We love doing as many activities as we can in the summer months, but we want to do it on a budget! We've teamed up with Servus Credit Union to put together some of our favourite ways to save money this summer while still enjoying everything our province has to offer.
Frugality at food festivals
From food truck events to Taste of Edmonton or The Edmonton Heritage Festival, your food bill can add up quick. Save money by pre-purchasing tickets in advance at early bird pricing. Our family also likes to take a look at the menus ahead of time so we can plan what we would like to try once we arrive. This helps eliminate the feeling of being overwhelmed once you get there. Also, always pack a water bottle so you don't have to buy one when we get there. This saves more tickets for dessert!
Day trips on a dime
Albertans have so many fun little spots in the province to take the family for the day to enjoy our beautiful landscape and it's all for free! Pack a lunch and head out early to get a great picnic spot. Some of our favourite day trip spots (depending on where you live) are: Elk Island National Park, Kananaskis Upper & Lower Lake, Wabamun, Blackfalds (they have a great new outdoor pool area!), Discovery Canyon in Red Deer and Sylvan Lake.
Save money in the mountains
Planning a trip to the mountains? Great choice! Bring your bikes and enjoy the trails throughout Jasper and Banff as a free activity. Or, as soon as you get to town, stop by the Visitor Centre and talk to park staff about easy hikes for your children's age and ability. They also have a ton of maps and resources for you to pick up, with many of them offering coupons for local restaurants. If you are at a National Historic Site such as Cave and Basin in Banff, ask the Canada Parks employee at the front desk for an activity book for the kids. Once the kids complete it they can return it to the front desk for a souvenir prize.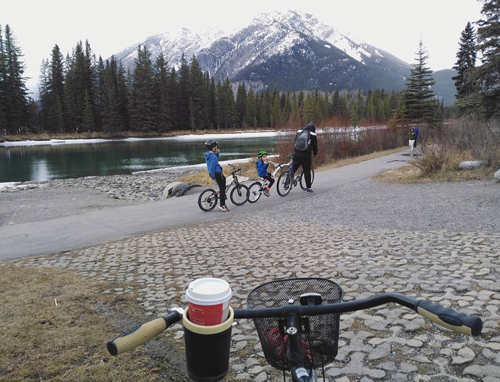 Staycation savings
We have so much going on in our city, you don't even need to travel to enjoy summer! We love the events like the Edmonton International Street Performers Festival because of all the shows put on right in the streets. Park and ride the LRT or CTrain (which every kid loves riding!), and for a modest amount you can enjoy world-class performers from around the globe right in the heart of the city. Having snacks packed will keep younger children entertained while watching the shows, allowing everyone to enjoy the festival longer. If possible, try to get to larger festivals during the week to avoid larger crowds and lineups. The kids will enjoy it better if they can see the whole show unobstructed. If crowds aren't your thing you can enjoy a staycation by simply finding a new spray park you haven't been to yet! Stop off at your local grocery store (we love the Italian Centre) to pick up lunch from the deli and spend the day keeping cool in the water.
Wander your local farmers' market
Farmers' markets have started to pop up everywhere! Many of them have started bringing out activities for families to entice them to come out. From petting zoos and bouncy castles to bike tune-ups and live entertainment, you can easily spend the afternoon wandering the market. Look up your favorite market online or on Facebook to see any special events and activities they have coming up.
Want to test out some of our tips? We've listed some of our favourite events to attend below!
This article was written in partnership with Servus Credit Union. The thoughts and opinions expressed are our own. #partner
Listen and Watch the spots below!
Edmonton
Calgary