It's winter in Alberta, which means peak season for staying indoors watching movies, reading books, and cooking delicious recipes. But getting outside is still important, even in the middle of winter. After all, who doesn't feel better after some fresh air and sunshine? This roundup of five winter activities for kids will give you some inspiration to get your family outside!
About Kirsten
Kirsten Clark is a college instructor and academic strategist, a writer, a reader, a runner, a podcast junkie, and, most importantly, a mom. Kirsten lives in Beaverlodge with her husband and son, a curious and energetic toddler, who keeps his parents on their toes! Connect with her on Instagram @kirstenlanae and at thefaucet.net, where she blogs every Monday, no matter what.
Outdoor Winter Activities with Kids
1. Frozen Sun Catchers
Take Them Outside created these beautiful sun catchers, saying "Do you need extra motivation to get outside when the temperature drops below freezing?  Perhaps this craft will be just the thing to get you and your kids outside."
2. Ice Lanterns
So cool from Little Pine Learners!
"Try making beautiful ice lanterns. Freeze them during the day and illuminate them at night! You can make a single lantern or a bunch of them at one time."
3. Easy Snow Painting
Have fun with Surviving a Teacher's Salary's snow painting.
"My kids LOVE playing in the snow but when we add color to all that beautiful white ice outside it really adds a creative element to their sensory play! This post will take you step by step on how to easily make your own kid's snow painting art recipe!"
4. Snow Volcano Experiment
Growing a Jeweled Rose says "Making a snow volcano is really easy . . . Make sure you have lots of baking soda and vinegar on hand, because your kids will want to make their volcano erupt again & again!"
5. Freezing Bubbles
Make the freezing cold worth venturing out with this activity from No Stress Homeschooling.
"Have you ever experienced -33C weather? Its fantastic! Now before you think I am crazy, I will explain and show you our impromptu freezing bubbles winter activities."
Bonus: 6. Rent an Ice Fishing Shack
Alberta Mamas' own Kim wrote about renting an ice fishing shack for a change of scene by staying in "a rustic shack with everything we could possibly need- including scented candles! All we needed to show up with was our bedding and some food. Make sure all adults have current fishing licenses."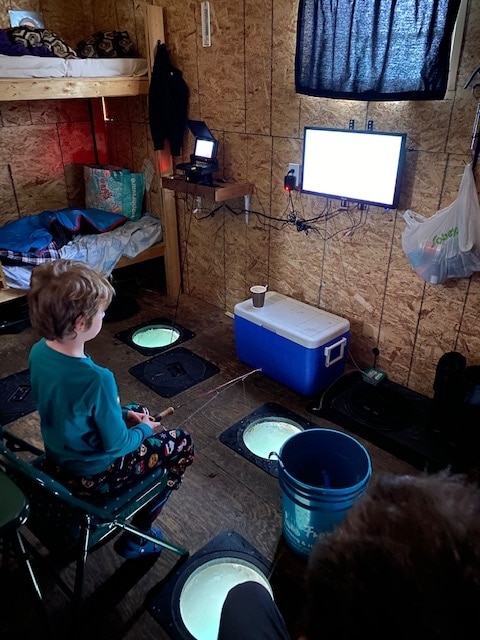 Even More Ideas
The fun isn't limited to this list! Check out some other Alberta Mamas thoughts on winter fun:
If you don't want to go outside (or can't cajole the kids into it), here are 20 activities to keep them busy, and another 9 that are independent play.