Tips For Heading To Heritage Days
Heritage Days is easily one of my favourite festivals in Edmonton. I take the kids every year and we have a good time! What's not to love? Learning about other cultures (from the people who live in our city!), taking in some beautiful performances and of course ALL THE FOOD! There is so much to enjoy we spend all day there, or until the kids have had enough.
The festival runs:
Saturday August 4 Noon – 9 pm
Sunday August 5 10 am – 9 pm
Monday August 6 10 am – 8 pm (7 pm ticket sales end, 8 pm park closes)
1.Take public transit. Okay maybe this isn't a tip since its basically a requirement since there is no parking at the festival. You have the option of Kiss and Ride (someone drops you off) or you can take the bus. ETS costs is $6 round trip for an adult and free for children under 12. You can find full information about shuttles from LRT stations, neighbourhood Festival specific routes and park and ride locations HERE on the City Of Edmonton website.  If you are concerned about your stroller you can actually rent strollers, wagons and wheelchairs there!
2.Wear comfy clothes and shoes. Last year when I took the kids, an app on my phone told me that we walked over 8km! Wear shoes that are comfortable and clothes that you can eat in. Ha ha!
3.How to save some money. Who doesn't love saving a little bit of cash? You can save a bit on your budget if you go with friends. This way, not only are you getting quality time in, but you can share plates of food to save a bit. Food tickets are $1 each.  You can also buy tickets in advance for a 5% discount at:
Servus Credit Unions

Save On Food stores

Tix on the Square
4. Plan where you want to go. Check out the interactive google map where you can click on each pavillion and it will tell you all about it or you can download the PDF version of the map.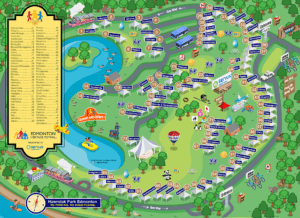 5. Let the kids play. Spend some time in the the Servus Credit Union Tent or the Fly EIA tent where there is fun activities happening. The kids get to play games, colour, make crafts and even win some prizes. It's a nice break for them to be engaged in play for a moment. There is also the park to play in and activities at some of the pavillions. We learned last year that my oldest is actually really good at the Chinese Singing Bowl!
6. Bring a backpack. I highly recommend a backpack for numerous reasons. First you can put sunscreen and bug spray in there (tip in itself!), you also have a place to put any fun stuff you buy at pavillions and crafts your kids make, all while having your hands free.
7. HAVE FUN! Okay again maybe not a tip, but worthy of noting. There is so much to do and it can be overwhelming. I like to go to a few pavillions and then plan the next year to go to new ones I haven't gone to before. Attempting to go to them all in one day is a bit much!