There's a lot happening in our province if we take a look outside the city. The range roads and small towns hold a lot of overlooked treasures in our province. There are small museums and bigger museums and historical structures and farms.
I'm new to the farming world and had no idea what a "pulse" was until about 2 weeks ago. In the spirit of "everyone loves a road trip" and also wanting to expose my kids to life outside of the city I've decided to spend my summer on small weekend road trips around the province. Some will be a weekend away, and others will be a Sunday in the car seeing how far we can get with the intent of getting home before supper.
With the car packed with snacks, lunch, water, sunscreen and an empty cooler, we headed out on our first day trip to Innisfail to attend the Edgar Farms Asparagus Festival. That's right, an Asparagus Festival.
Getting There
Innisfail is approximately 2 hours from Edmonton (give or take a few mins), just over 1 hour from Calgary and approximately 30 mins from Red Deer making this a perfect "in the middle" road trip from the major centres in Alberta. If you're coming from up north, it will definitely be an overnight trip, and might be something you can do on your way to do if you're camping or visiting for a few days.
About Edgar Farms
Edgar Farms is family run and has been operational in Alberta since 1907. They have been producing asparagus since the 1980's and what started as an experiment along with their other garden vegetables has become one of the largest asparagus farms in Alberta. Asparagus is not an easy product to grow, especially in Alberta as it needs heat to grow (lots of it) and if you haven't noticed, it's pretty cold here for a good chunk of the year. After harvesting asparagus for 30+ years the Edgars now have 28 acres of asparagus that they pick from May to early June. Despite being told that it was impossible to grow the Edgars now sell their asparagus at farmers markets across Alberta!
Edgar Farms Asparagus Festival
Three weekends a year the Edgars open their farm for the Asparagus Festival. It's the perfect event for foodies and families with interactive activities (picking asparagus) and areas for kids to play.
The details
Cost: $5 per person. Children under 5 are free
Location: From the QE2
Dates: May 26, June 2, June 9, 2019.
Time: 10-4
What to bring: bring a cooler, cash for the entry fee (but they accept credit cards and debit at the country store) and sunscreen
When you arrive I'd suggest taking the wagon ride first. The guided tour will give you a little bit of the farm history and some context around what makes this area and farm so special, but also, the best part of the festival which is seeing how asparagus grows and how they harvest it. If you've never seen asparagus grow, it's really weird, but also kinda cool. They look like little fingers growing out of the ground.
Part of the tour includes picking some asparagus and the difference between hand picking (what they do at Edgar Farms) and mass harvesting does to the taste and the growth of asparagus. Since Edgar Farms snaps the asparagus when they pick it, as a consumer you don't have the hard whitish part at the bottom as you find in the asparagus at the grocery store. Once we picked our own asparagus (just pick one…we need to save some for the rest of the tours) you can eat it raw… right there. What better way to show kids about food than seeing it grow and eating it raw after they've picked it.
Once the wagon ride brings you back, there are lots of activities for the kids. There's face painting ($5), colouring sheets, farm animals, planting peas (that you get to take home), games and for the tiny kids, a little pea pit (which is great if you have sensory kids). One of the things that my kids enjoyed was the bundling of asparagus. I'm not sure why they enjoyed it so much, maybe because it was so different, but it's kinda relaxing too 🤷🏻‍♀️?
Essentially you weigh one pound of asparagus and learn how they put the little elastics on them.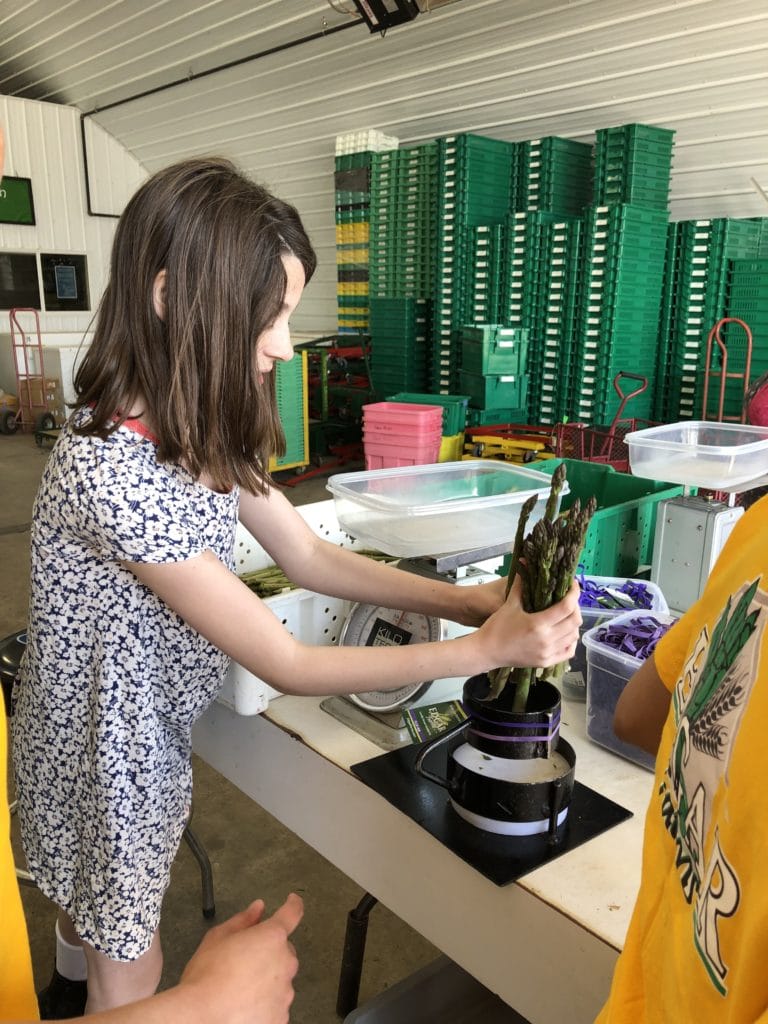 For the grownups, there's a small artisan market, a food stands and a place for you to buy asparagus and other delicious items. I HIGHLY recommend the pies, we brought some home and had them for supper and were delicious. When you're out and about on these road trips it's always a good idea to bring a cooler and ice packs in case you stop by a farm and pick up some delicious homemade food.
Since we were 2 hours from home I didn't see the point of driving for 2 hours for 1 stop, because, well it's a small adventure. As we headed up the highway we stopped for milkshakes at Peters Drive in on gasoline alley and then popped into Sylvan Lake for a quick walk (ie: leg stretch and to burn off some kid steam) along the lake as it was such a beautiful day.
Then we were back on the road to Edmonton arriving home just in time for supper, which was our delicious pie from Edgar Farms.
Our next trips include some exploring around Kneehill County and Medicine Hat, but would love some suggestions around central Alberta that are great for one day road trips! Please let us know in the comments!