The cold weather and the snow are here to stay. Boost your immunity with my favourite natural products!
Before I get to my go- to products let's talk about a few ways you can boost your immunity without needing to purchase anything.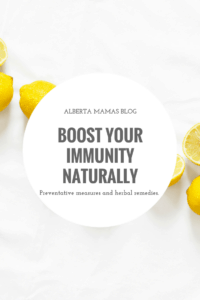 Get rest. Our bodies require a little more rest in the cold and dark evenings of the late fall/winter months. When you body gets enough rest it can work on the bacteria/virus that's attacking your system better.
Exercise. Move throughout your day, without overdoing it. According to Medline Plus exercise can help flush out bacteria from the lungs and airways.
Eat Well. This one seems obvious of course, but try to eat balanced meals with nutrients to keep your body running at optimal.
Still feel an itchy throat coming on? Try our my favourite natural immune boosters.
A probiotic. These are full of good gut bacteria. Studies are starting to show that a lot of our immunity is in our gut flora and if it's not running at top notch, it compromises our immune systems. I actually tend to switch my brands often on this one. I like switching up the brands and the potency. I recommend getting one from your health food store that needs to be stored in the fridge. The shelf ones don't work as well. *My opinion*. These refrigerated ones can cost between $40-$70.
Feel Good Syrup. Locally made in Alberta, this elderberry syrup is a great immune booster. And tastes really good too. 1 tbsp 3/4 times a week to maintain immunity and I use it daily when I feel a little run down to get that extra boost. One bottle is about $20.
Traditional Medicinals Teas. I like the sampler pack myself but you can buy just the one for sore throats or colds etc. Cost per box is about $9-$16.
St. Francis Deep Immunity. A very powerful immune boosting product, recommended to me by my Naturopathic Doctor last year when I was in a series of being sick after sick for four straight months. I was better within days!
Last week one of the Alberta Mamas had the flu and two days later I got the same flu. I took all of these four and I never ended up with the fever, extreme chills or any vomiting! Of course everyone reacts differently and make sure to check with your health are provider to see if these may interact with anything you are taking.
Take care and be well!