The long awaited Borden Pool is set to open today in Edmonton! There have been a few setbacks, but it's kind of understandable because this is the first of its kind in Canada. The pool water is treated in a completely natural way! There's no chemicals added to the water, making it a really unique outdoor pool experience.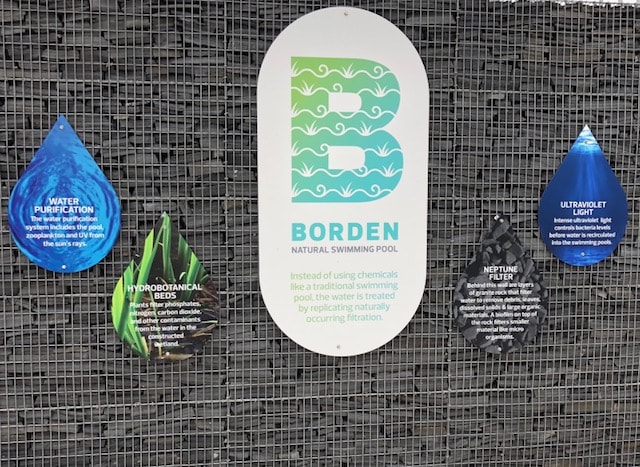 We checked it out this past Friday and it was impressive for a number of reasons:
The water feels good! You know when you go swimming and your kid splashes you and it burns your eyes? Not here! It's kind of like swimming in a lake, without the weeds. The temperature is cooler than most pools, to attract animals and foster plant life for the filtration process, but that didn't stop us.
Soft skin afterwards. As we were getting out of the pool a thunderstorm was rolling in, so everyone was evacuated from the pool deck where the showers are. This left no option for rinsing off. Not a problem though with no icky chemicals to remove. Our skin was soft, not itchy at all and our bathing suits didn't stink of chlorine! Another plus, us blonde haired mamas don't have to worry about wrecking our chemically treated hair;)
The design is really cool. If you appreciate modern lines and natural materials you will like this place. It's beautiful! The entire compound is walled by stacked stone, there's tiled murals in the floor, sleek bathrooms and change rooms as well as an homage to the old pool with a section of old tile wall left behind.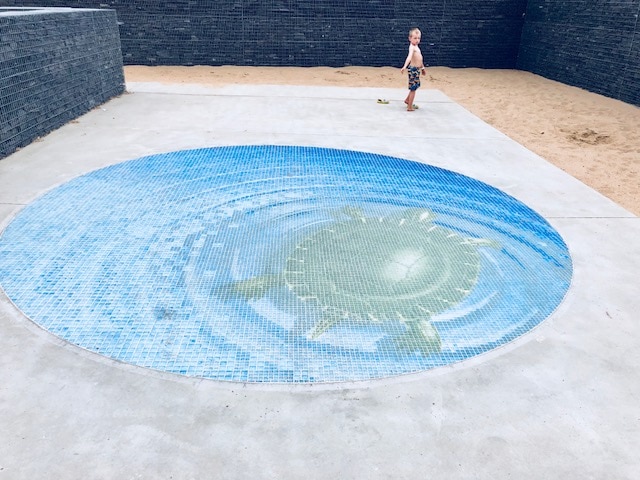 There's sand! Kids will love the opportunity to play in the sand, with lots of free play areas. Beach volleyball lovers will be impressed with the court!
Huge umbrellas and lounging areas. We liked the comfy loungers and massive umbrellas that provided much needed shade on deck.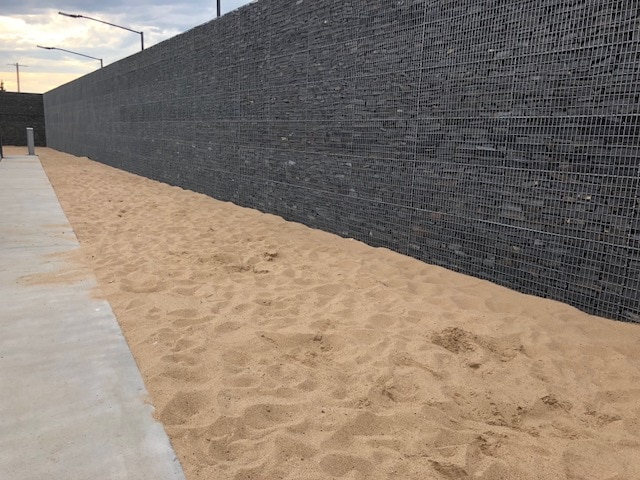 The concept is pretty cool too! There's a shallower kiddie pool and then a main pool which has a beach style entry that gradually gets deeper. The water is filtered in a separate tank (not for swimming) that works with plants, microorganisms, healthy bacteria, rocks, sand and UV rays.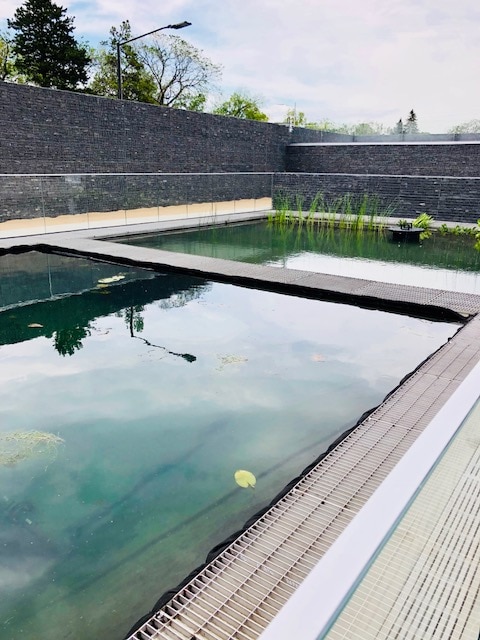 What You Need to Know!
The pool is sensitive to phosphate. This is naturally on our skin but especially when we wear certain sunscreens, lotions, hair products or use soaps and laundry detergents.
Taking a head to toe cleansing shower is mandatory before entering the pool- hair included.
Sunscreen, if applying after your shower, needs to be phosphate free. Staff have some on hand at the desk as well if needed.
No cotton materials allowed, approved swimwear only.
Like all pools, no glass containers are permitted. Water bottles must be empty prior to entering.
Tell staff immediately if there might be an accidental contamination- like urine, vomit or feces.
If we want to see this concept thrive and perhaps be implemented in other locations, it's up to us to treat it right!
Borden Natural Swimming Pool opens to the public Wednesday July 11 at noon. It's across the street from the horse races at Northlands and there is a huge parking lot. Make a day of it and enjoy the beautiful Borden Playground and picnic spaces post swim. As with all City of Edmonton Outdoor Pools, admission is free for summer 2018. So, you really have no reason not to try it!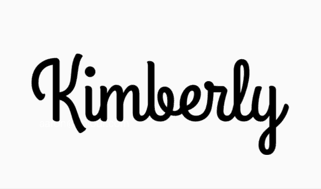 Kim Ouellette is a wife and mom to 5 year old who lives in Edmonton Alberta. She is passionate about travel and creating experiences with her family and friends both locally and internationally. You can find her on Instagram at @kimouelletteyeg.