I can't believe I have lived in Alberta my entire life and had not camped at Pigeon Lake! Only an hour and a half from Edmonton, this is a popular spot for camping, water sports, fishing and more. My family and I enjoyed 3 nights at Pigeon Lake Provincial Park recently. Here are some tips if you've never been!
This place is huge! There are well over 200 sites. If you are looking to be close to the 2 playgrounds, the beach, and want power then loops A, B and F are your best picks. Loop F is actually fully serviced and includes power, water and sewer. Loop C, D and E offer some sites with lake views and are close to a lovely trail that goes along the shore cliff. Loops D and E are non-powered and quite quiet. Within the campground there are also many group sites. Most sites are well spaced apart and offer great treed privacy.
If you are not into tenting or don't have an RV you can still enjoy a sleepover in this park by reserving one of 8 Yurts that are located in Loop C. What the heck is a Yurt, you ask? It is so cool! They are fully furnished circular units that have soft sided walls and a pointed roof with skylight! All of the Yurts are built on a platform with deck area and a BBQ while there is a private fire pit just below. Most of these sites also have a lake view. I'm debating ditching my trailer for a weekend to try this unique lodging opportunity!
Pigeon Lake Campground has the best bathroom/shower house I have ever seen! It's huge, clean and the doors have beautiful nature photography on them. Another thing that I noticed was that the  regular bathrooms had flush toilets and sinks. This is huge when camping with kids!
The beach area is large and includes a nearby boat launch and dock. The sand is not fine, but more like pebbles and there is an area of grass as well. We didn't venture in the water as it was very windy when we visited and the water was cold in mid June! Just beside the beach area is a large playground and huge grassy recreation area. Tons of families were utilizing the area to picnic, throw a ball around and explore the playground equipment. There is also a concession building in this area, but we noticed a sign stating it would be closed this season.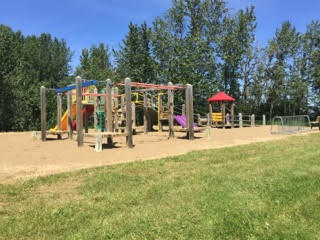 There is no shortage of activities in this park. You can explore the many trails, pick up a Discovery Backpack at the office or call Lot 7 Bike rentals and they will drop a bike off at your campsite! A friend and I tried the tandem bike, something we have never done, and had so much fun. We were also impressed with the variety of Discovery Backpacks and number of activities in them. We rented the pond dipping kit and it was stuffed full of fun ideas.
If you happen to visit for the third Saturday in July you'll catch the Parks Day celebrations. Expect a variety of interpreter-lead activities at the Pigeon Lake Campground Day Use Area.
There are actually 2 Alberta Parks campgrounds on the shores of Pigeon Lake: Zeiner is smaller and when we drove through we found the sites much less treed than Pigeon. The first circle "A" in Zeiner has decent tree coverage (but no power). There are also field type sites, which would be good for groups or large units that need a pull through. We saw some walk in tenting sites as well as a section along the lake (with power). These are open, but have a beautiful view. Take note though that it could become a concern when camping without a/c or during a big storm. Take the kids for ice cream, sold at the office on site here.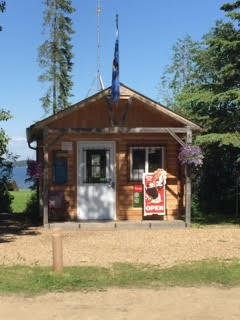 The next time you are exploring Central Alberta, give Pigeon Lake a try! You can check out available campsite on the Alberta Parks Reserve System here.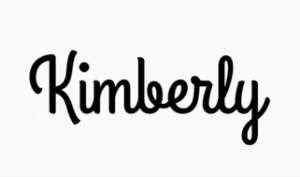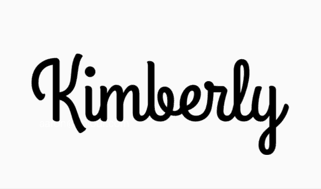 *I am an Alberta Parks Ambassador and as such I encourage families to get outdoors and explore Alberta Parks across our province. All opinions are my own.