Updated: September 12, 2023
I don't when Corn Mazes became such a thing but we are so glad they did! Over the past few years Corn Mazes have popped up everywhere. You can't go through the Fall season without visiting one with the kids, so we've compiled a list of our favourite ones across Alberta!
Map of Alberta Corn Mazes
We've made finding corn mazes close to you or your travels with this handy map! Go ahead and plan a corn maze tour, even!
Northern Alberta
Be sure to check out the farm-fresh produce and Joosed Moose Winery items while you're at this Grande Prairie based corn maze.
Location: 63061A Township Road 722, Grande Prairie County No. 1, Alberta
Visit this 18 acre Corn Maze located in High Prairie and while you're there wander down the scenic riverside trail, and check out the haunted hay bail maze, too.
Location: Box 1965, #73507, Range Road #163, High Prairie
Get lost in this 15 acre corn maze, take home a few sun flowers (all proceeds donated to the Stollery Children's Hospital), and explore the store while the kids play some yard games.
Location: South of Hwy 685 on Range Rd 260, Brownvale
Opening in mid-September on the weekends, this corn maze is in town to raise funds for the Kinette Club of Smoky Lake.
Location: Across from George McDougall Hospital in Smoky Lake
Edmonton & Area
There are a few corn mazes here! The largest one is 7 acres plus there a couple of smaller ones which include the Mindbender Corn Maze and the Super Corny Kids Maze. Other activities on site include bunnyville, petting zoo, a fun play area and more.
Location: 56311 Lily Lake Road, Bon Accord
You'll love getting lost in this Corn Maze that's for sure! Other fun activities include a petting zoo, jumping pillows, a games area, pedal carts, and more. While you're there make sure you catch a ride on the corn cob express too!
Location: 26171 Garden Valley Road, Spruce Grove
This busy family adventure farm has a corn maze, sunflower patch, pedal cart track, ziplines, sandbox with lots of yellow trucks, a wild west nerf ball game, playground, sheep, snack wagon, and more!
Location: 19409 TWP 512, Tofield
Central Alberta
You might want to make sure you have a few hours set aside when you visit this Corn Maze! Other activities are aplenty and include farm animals, and adventure course, giant games, duck races, a slide barn and so. much. more.
Location: Site 6, Box 9, RR 1. Take Exit 422B on QE2 – 4.8km (3miles)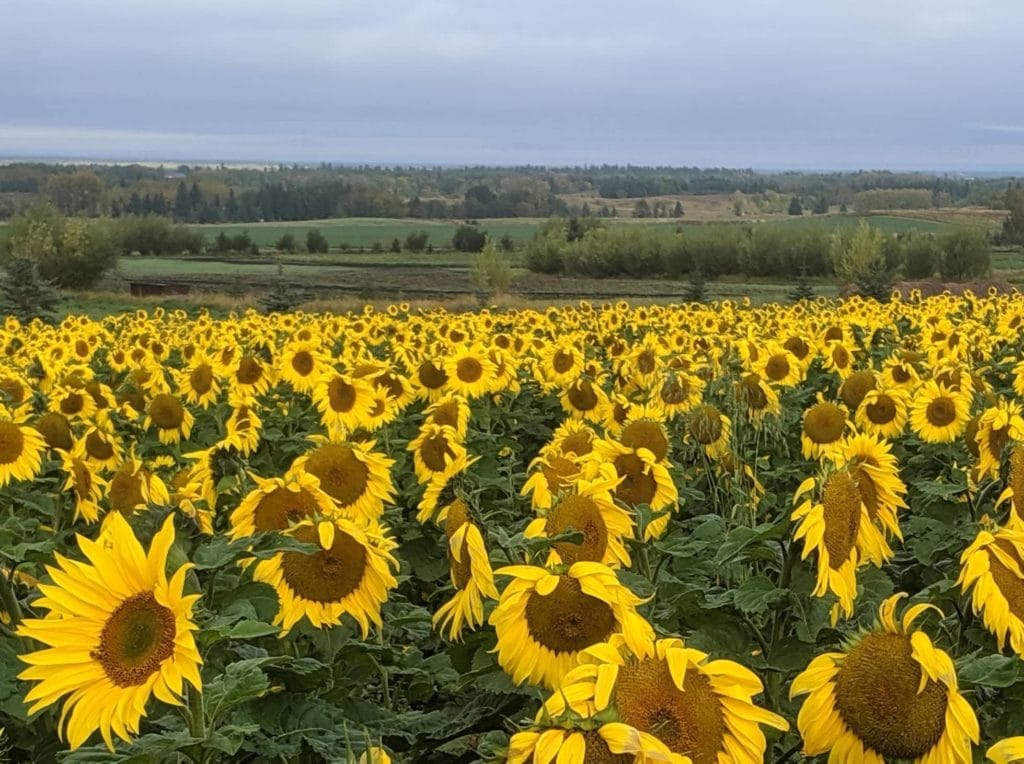 Known for the Bowden Sun Maze, Eagle Creek has several mazes to explore, including the only organic corn maze in the province. You can also check out the willow tree maze, and there is a lilac labyrinth and a cotoneaster maze growing to explore in the future.
Location: 34530 Range Road #14, Red Deer County
Zero extras at this corn maze, but you still get more than what you paid for – admission is free! Be sure to pack water and check the weather. They will close if it's too rainy/muddy.
Location: Hwy 897, just north of Paradise Valley
Fuel up on a burger and fries before venturing out into the 5 acre corn maze, exploring the sunflower field, and playing a round on the professionally designed mini golf course.
Location: 5225 Highway 10 East, Drumheller
Only open on weekends in September, the Zajic corn maze brings in donations for the Wainwright Food Bank and fundraises for the Wainwright Handivan Society (raising over $13,000 the last few years!).
Location: 52°54'33.8″N 110°35'00.9″W or use this Google Pin; Range Rd 50, 1/2 mile north of Township Road 454.
Calgary & Area
Aside from the corn maze you can also check out the miniature train ($), jumping pillow, petting zoo, and more!
Location: 284022 Township Road 224, Rockyview, Alberta
Southern Alberta
Visit this Corn Maze for some aMAZEing fun! Activities available (aside from the Corn Maze) include Giant Dominos, The Human Hamster, Pasture Putt Golf, the Corny Sandbox, ponies, bunnies, and goats.
Location: Just south of Brooks city limits, at the end of Industrial Road, just off of Highway 873.
Go for a ride on the cow train, take a couple of trips down the giant slide, and the petting zoo is just a few other activities that you can do with the family when visiting this Corn Maze.
Location: Range Road 224, Lethbridge, Alberta
Other posts you may be interested in:
Be sure to check out some of our other posts!
Can you make this article better?
We're always looking to improve! Have you noticed a spelling or information error, know of something we left out, or would like to share anything else, reach out to us!