Updated May 2023
There is almost nothing better than a family road trip – except the incredible number of stops you have to take. Turn those pit stops into sightseeing with points of interest like the world's largest sausage, fishing lure, and teepee, or a real-life UFO landing pad – talk about must-see roadside attractions!
In honour of all things weird, here's our ultimate list of all things roadside in Alberta. Not all of these "big things" are truly "giant" or "World's Largest", but they certainly make great roadside attractions in Alberta.
"World's Largest" Trip Plans
Feeling overwhelmed by this list? We know there are so many roadside stops to make across Alberta. We're working on creating specific road trips for different parts of the province. Check out what we've got:
Giant Alberta Attractions Map
As we try to do with all our "All Alberta" content, we've split up the roadside attractions into regions.
North: anything outside of the Capital (Edmonton) Region north of Highway 16
Capital Region: the greater Edmonton Area
Central: South of Highway 16, north of Highway 9 to the east and Highway 1 to the west
Calgary Region: the greater Calgary area
South: anything south of Highway 1 to the west or Highway 9 to the east
Rocky Mountains: In general, west of Highway 22 up to Highway 11, where Highway 40 becomes the cutoff to Grande Cache – but, like geology, it's hard to draw a straight line.
Use this map to help find giant Alberta monuments along your next road trip.
Northern Alberta Landmarks
Going roughly from west to east, these roadside attractions are located north of Highway 16 in Alberta. Be sure to check out our North East Alberta Road Side Attractions day trip plan.
1. Mozzy the Mosquito – Rainbow Lake
Made of an old pump jack we wouldn't drive an hour and a half west of High River to Rainbow Lake just to see this, but if you ever get a photo of it and want to share, we'd love to post it here!
2. World's Biggest Beaver – Beaverlodge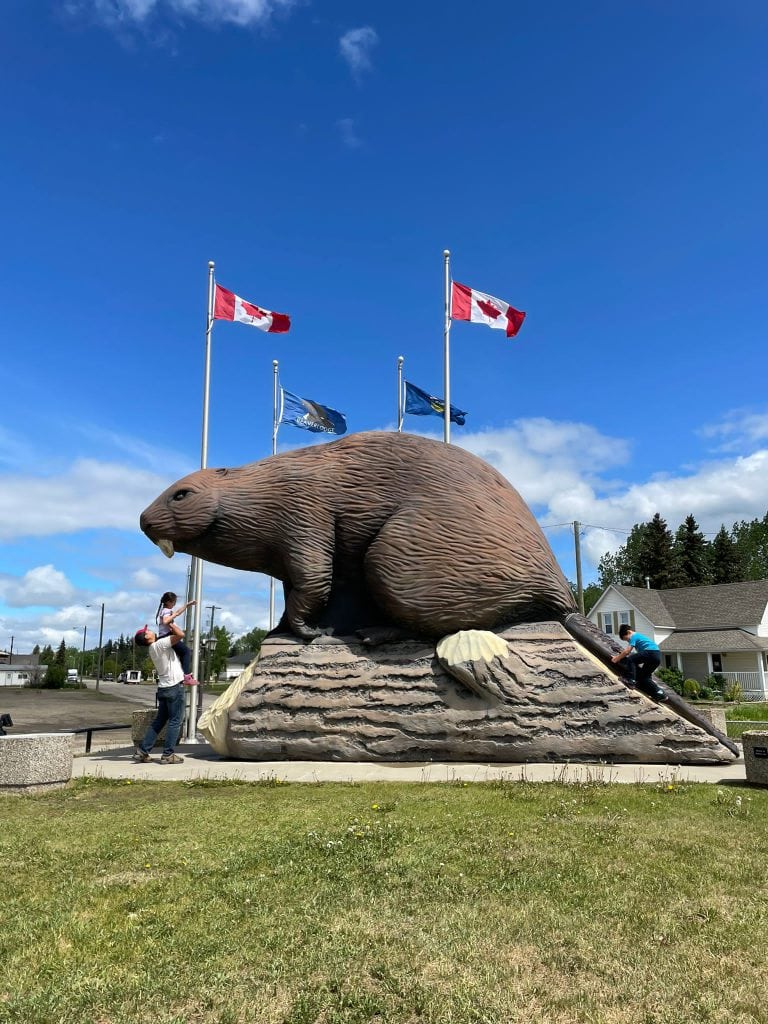 Worth a detour just to get photos of your kids climbing a giant beaver, head an hour west of Grande Prairie to Beaverlodge to see the 15 foot tall giant beaver.
3. Sundial & 4. Trumpeter Swan – Grande Prairie
Snap a photo of the 40 foot sundial at Centre 2000 (catch it lit up at night!) and the Trumpeter Swan statue in Grande Prairie.
5. World's Largest Railroad Spike – Hines Creek
Located at the historical northwest end of the rail line, this village built the World's Largest Spike in 1992.
6. Bull and Rider – Brownvale
The 15 foot tall statue outside the Brownvale North Peace Agricultural Museum was original built for the Alberta Pavilion at Expo 86.
7. 12 Foot Davis Statue – Peace River
The name says it all – this wooden statue of "12 Foot Davis" who struck it rich on gold found on a 12 foot land claim.
8. World's Largest Bee – Fahler
Built in 1990 by a local welder, Fahler lays claim to the world's largest bee statue.
9. Syncrude Giants of Mining – Mildred Lake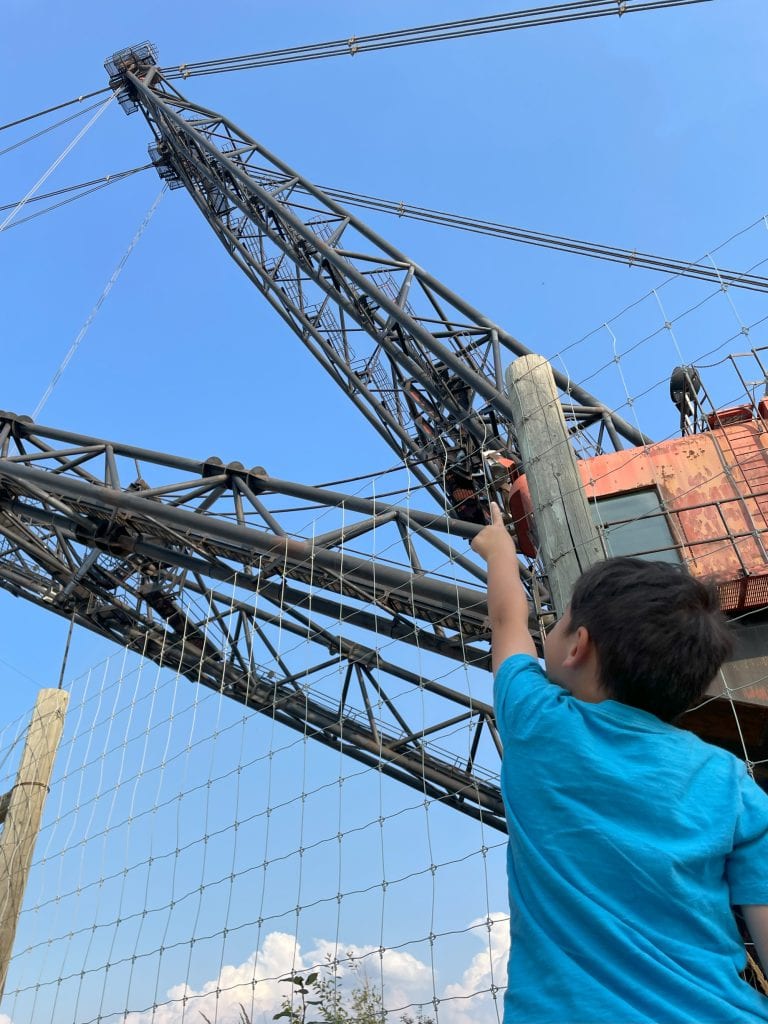 30 minutes north of Fort McMurray, be awestruck by exactly how massive the machines they use at site are (and these ones were retired for being too small!).
10. Wilderness Sculpture – Swan Hills
The metal sculpture of a mother swan protecting her nest of five eggs from a grizzly bear is located by the Tourism Information Centre as you enter the village of Swan Hills from the south.
11. World's Largest Wagon Wheel and Pick Axe – Fort Assiniboine
The 7m tall wagon wheel and 6m pick axe are located next to the Fort Assiniboine Museum in the middle of the hamlet.
12. Aaron the Giant Blue Heron – Barrhead
Created in 1984 and the official mascot of Barrhead, Aaron the 8 foot tall Blue Heron either sits at corner of 50 Street and 49 Street or in "Gazebo Park" after he received some maintenance in 2022.
13. Grain Elevator Sundial – Sangudo
Also serving as the "Welcome to" sign for the hamlet, the Sangudo sundial is shaped like a grain elevator and would make a nice stop to stretch your legs on the drive from Grande Prairie to Edmonton.
14. World's Largest Working Weathervane – Westlock
Stop by the Alberta Tractor Museum in Westlock and see the world's largest working weathervane with a real tractor on the top! The museum is open year round, but always double check the hours and their social media (they're active!) before heading out.
15. Sunflower – Thorhild
Located in the Sunflower Memorial Park, this flower on a stick let's you check off another "random landmark", but I don't think I'd make a side trip just to see it.
16. World's Largest Oil Derrick – Redwater
This red tower is impressively massive. Read up on it and the town's history at the covered picnic shelter next to it, known as the Legacy Interpretive Centre.
17. Record Setting Pumpkins – Smoky Lake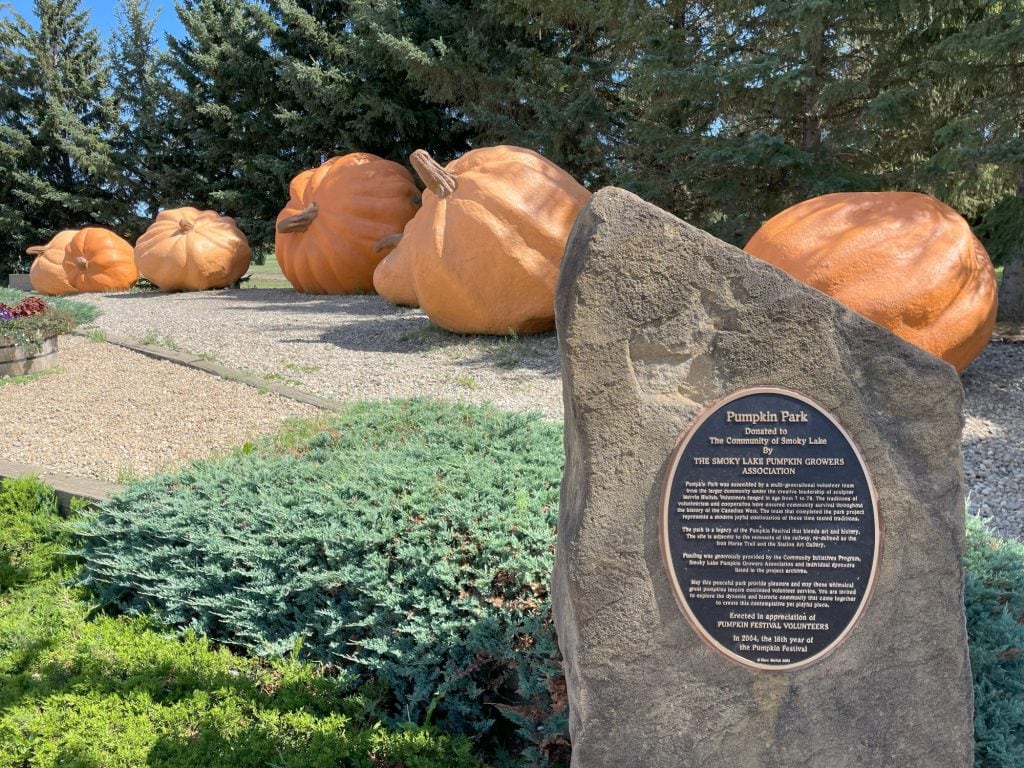 A half dozen giant pumpkins are on the edge of the parking lot for the haunted CN Museum (free admission). Stop by around 11am to hear the ghost flush the toilet!
18. World's Largest Mallard Duck – Andrew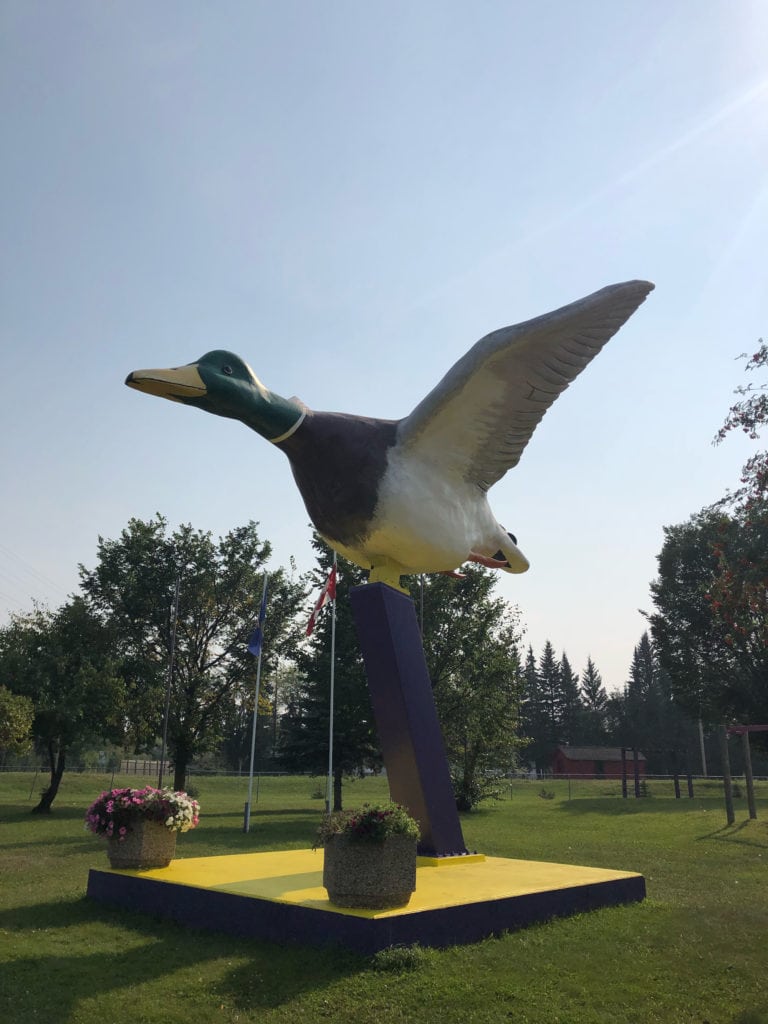 Nestled in the small town of Andrew, this 23 foot wing-span Mallard Duck sits in the town square next to the local campground.
The World's Largest Mallard Duck is part of our North East Alberta Road Side Attractions day trip which starts in Edmonton.
19. World's Largest Ukrainian Sausage – Mundare
Go ahead, make the joke. But make sure to grab a photo to prove you've visited the 42 foot tall giant ring of meat. While you're in town stop in at Stawnichy's for the real deal kielbasa.
The World's Largest Sausage in Mundare is part of our North East Alberta Road Side Attractions day trip which starts in Edmonton.
20. World's Largest Mushrooms – Vilna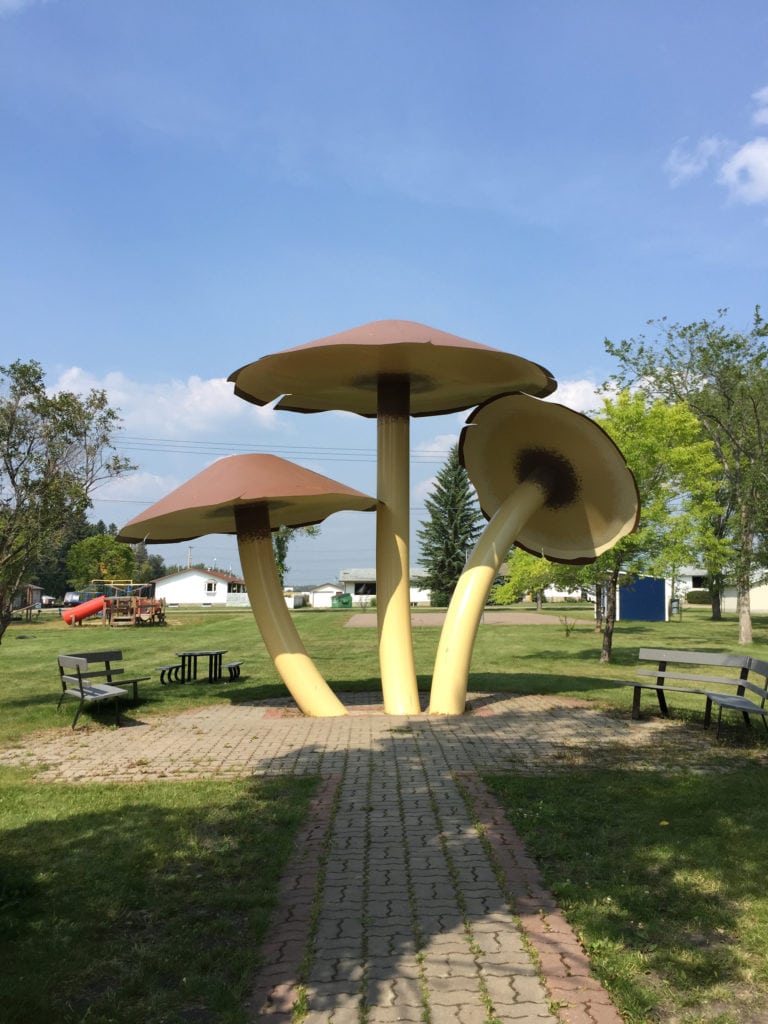 Over 20 feet tall, these mushrooms are in the Historic Village of Vilna (be sure to check out main street, which has had a big makeover in recent years).
These giant mushrooms are part of our North East Alberta Road Side Attractions day trip which starts in Edmonton.
21. David Thompson Monument – Lac la Biche
Placed on the lakeshore to mark the town's bicentenial (200 years!) is the David Thompson Monument. Be sure to visit the Sir Winston Churchill Provincial Park while you're in the area.
22. UFO Landing Pad – St Paul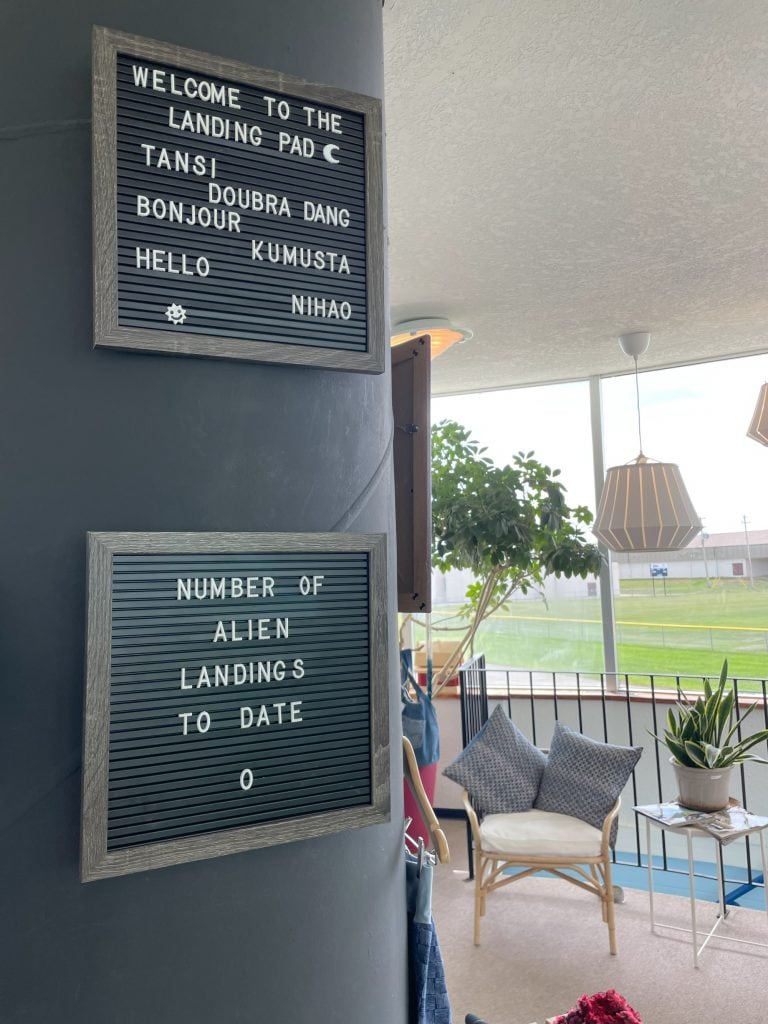 Built to mark the Canadian centennial, the UFO Landing Pad and visitor centre in St Paul is a great spot to stretch your legs. If you're a fan of small town museums the St Paul Museum is one of the best we've visited – be sure to get a copy of the scavenger hunt for the kids.
23. World's Largest Pyrogy – Glendon
Spell it perogy, pyrogy, pyrohy, or varenyky that dough wrapped mashed potato dumpling is a staple of Ukrainian cooking. Grab a photo with the World's Largest Perogy and burn off some energy at the playground in Glendon. There's also public toilets at the end of the parking lot.
The giant perogy is part of our North East Alberta Road Side Attractions day trip which starts in Edmonton.
24. Angus Shaw Statue – Bonnyville
Made of local cedar, the Angus Shaw statue is located next to the 13 building Bonnyville & District Museum (family admission is only $10 in 2023).
25. Can Duck – Ardmore
The next time you're driving along Highway 28 between Bonnyville and Cold Lake take a brief detour to see the Can Duck outside the Ardmore community hall. It's sure to make you smile!
26. Peter Fidler Statue – Elk Point
The chainsaw-carved 32-foot tall Peter Fidler statue, a Hudson Bay fur trader and surveyor, commemorates the bi-centennial of Elk Point in 1992. It is located at the north end of town next to the Elk Point Welcome sign.
27. World's Largest Chuckwagon – Dewberry
It's hard to find details on this Chuckwagon, and none of the Mamas have made it out for a visit yet. Please share your experience with us! It looks like the best time to visit would be during the Chuckwagon races in June.
Capital Region (Edmonton and Area) Roadside Attractions
The Edmonton Region has a good share of "really big things" to visit in Alberta, with a number of record holders.
28. 737 Airplane – Villeneuve
Located on the north side of Highway 633, the old Bowing 737 plane sits in a field next to the Villeneuve Airport.
29. Airplane Weathervane – Morinville
Find this unusual weathervane on the west side of Highway 2 a couple kilometres south of Morinville.
30. World's Largest Badminton Racket – St Albert
Just down the road from the Fire Hall and RCMP Station (don't speed! – but serious, don't, St Albert loves their photo radar), the big red racket marks the entrance to the Red Willow Badminton Centre.
31. West Edmonton Mall – Edmonton
Dethroned from "World's Largest Shopping Mall" in 2004, WEM still holds the records for world's largest indoor lake, indoor wave pool, and parking lot. If you just want a photo of the mall it's most photographic from the west, but we suggest you head indoors to see everything it has to offer.
32. World's Largest Cowboy Boot – Edmonton
Built in 1989 for Western Boot Factory, One Stop Biker Shop is now home to the almost 40 foot tall boot.
33. Giant Baseball Bat – Edmonton
Dethroned in 2014 after holding the "world's largest" title for only ten years, the giant metal bat stands 14.9 meters tall at a the northeast corner of a busy intersection. Look closely and maybe Street View where you're going to park before heading to take photos here.
34. Giant Milk Bottle – Edmonton
The story behind the milk bottle is worth a read! Once you know the history, go visit it the next time you're at an event at the EXPO Centre.
35. Muttart Conservatory – Edmonton
While it doesn't hold any records, the four glass pyramids are pretty unique! Be sure to go inside to check out the three permanent biomes and fourth rotating exhibit, or cross the street and walk across the Tawatina pedestrian bridge.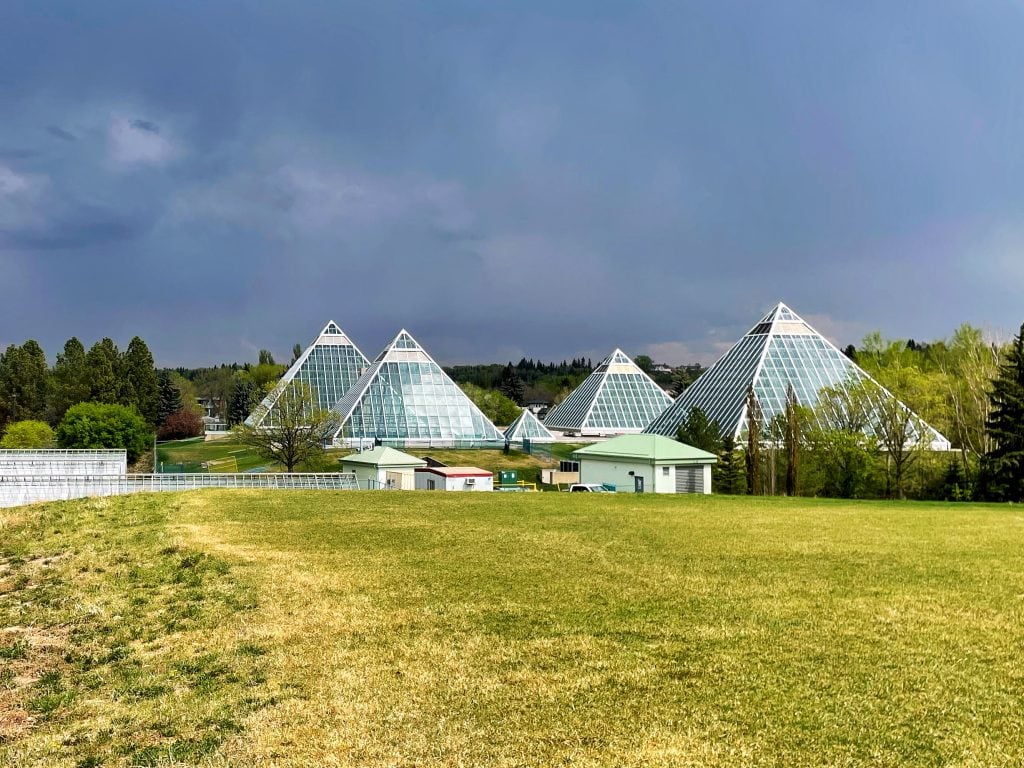 36. Dove of Peace – Edmonton
Located in Gallagher Park behind the Muttart Conservatory, the Dove of Peace was commissioned for the 1984 visit by Pope John Paul II, and was refurbished in 2022 for Pop Francis' visit.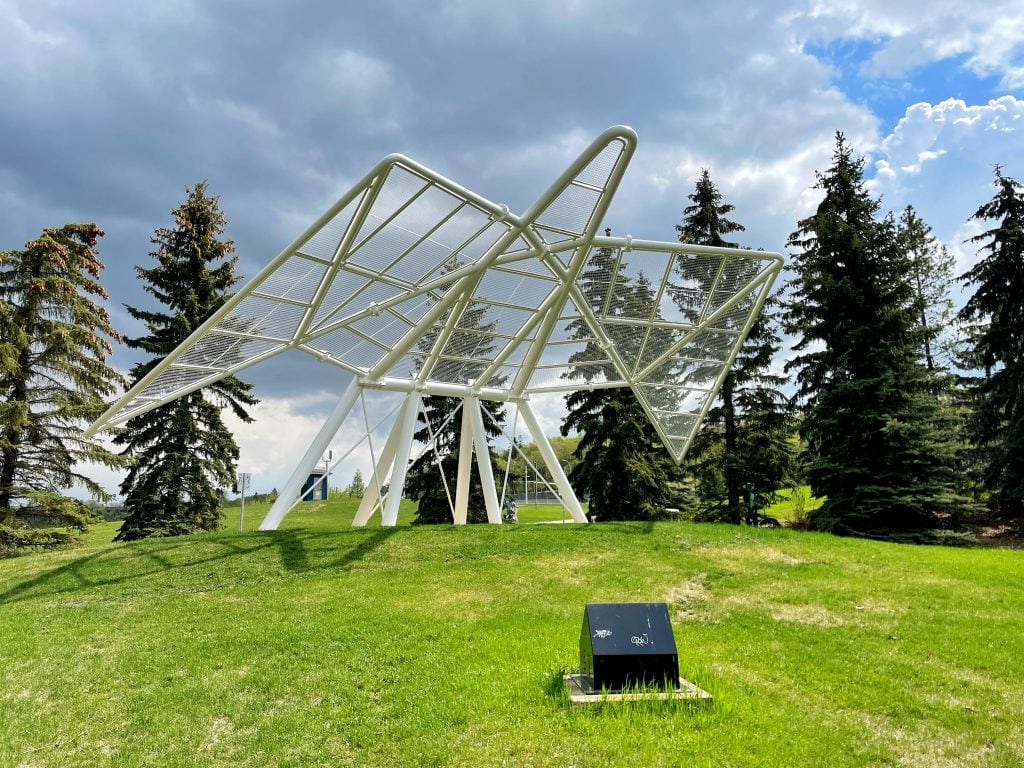 37. World's Largest Replica Stanley Cup – Edmonton
Built to celebrate Hockey Alberta's centennial and United Cycle's 80th birthday, this massive monument to hockey stands in the parking lot of United Cycle and Old Strathcona Antique Mall.
Central Alberta Attractions
We're calling the area south of Highway 16, north of Highway 9 to the east and Highway 1 to the west "Central Alberta". With over 25 photo stop worthy landmarks, there are plenty of way points to stretch your legs at on your next road trip in the area!
38. Eddie the Squirrel – Edson
Across the street from the skate park, Eddie the Squirrel Jr. lives in the center of the park – as a good squirrel should. I love how this "nutty" little town embraced the rodent!
39. Paul Bunyan's Bowling Ball – Drayton Valley
While it looks like concrete in photos, the "bowling ball" is natural! This boulder was dug out of from Anderson's Sand & Gravel. It was a product of nature and it was this spherical when they pulled it out! It weighs 36, 650 Ibs (16, 583 Kg).
40. Giant Dragonfly – Wabamun
Made from aircraft wings, a light pole, and propane tanks, the nearly 10m Giant Dragonfly at the entrance to Wabamun is a sight to behold. It has been beautifully painted and is mounted high in the sky facing north – which can make photos tricky. Best to come early or late in the day if it's sunny, or you'll just get a dragonfly silhouette.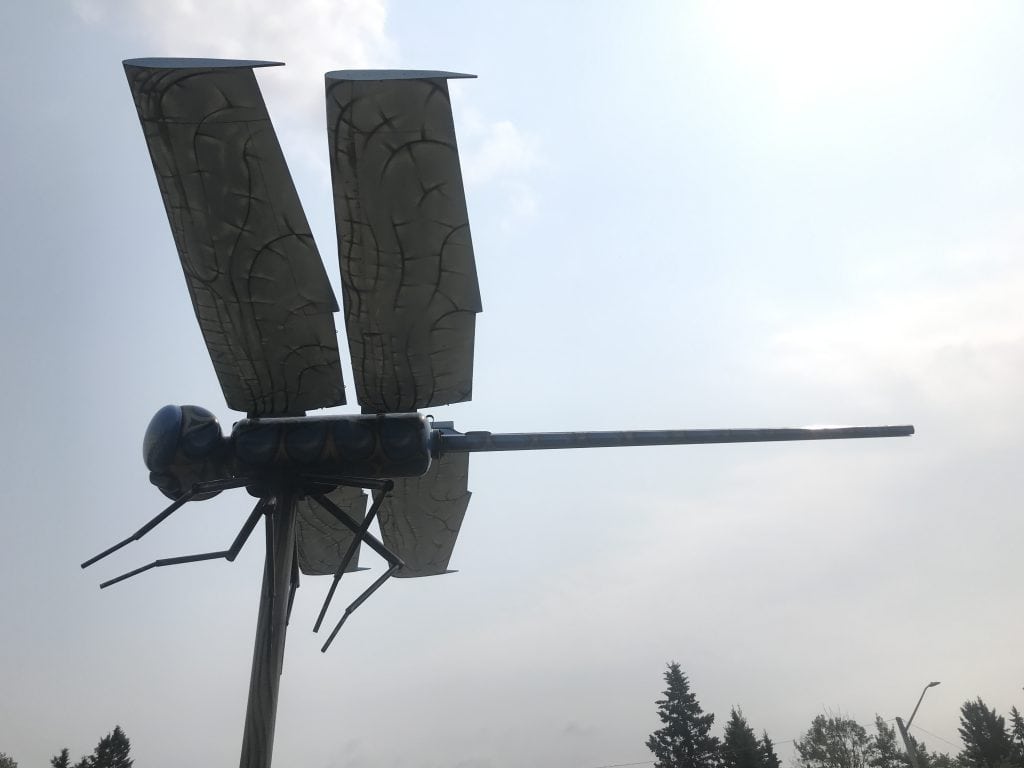 41. World's Largest Pysanka (Easter) Egg – Vegreville
I feel like this is one of the most famous landmarks in Alberta. At least for anyone in Edmonton, when you mention giant roadside attractions, one of the first things mentioned is Vegreville's Giant Easter Egg. If you visit in the summer, check out the "borrow a boat" program!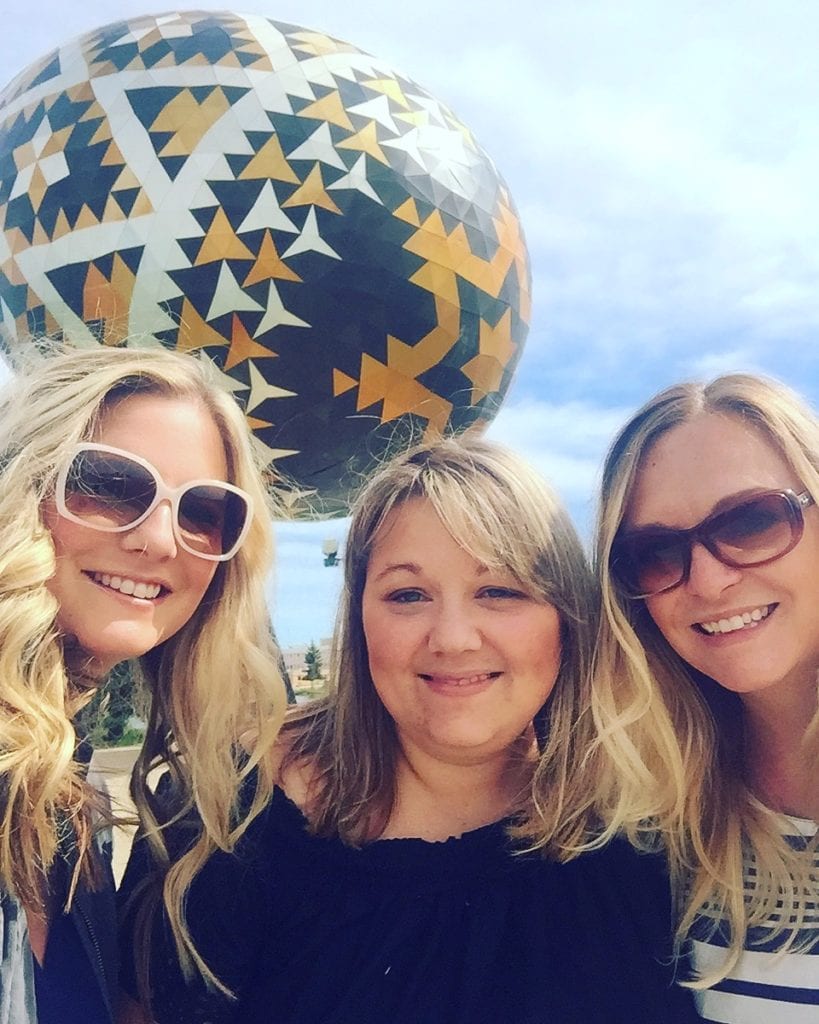 42. Ernie the Cut Bank Penguin – Innisfree
Gifted to the town after filming "Cut Bank" there, this 27 foot tall penguin is a reproduction of the one in Cut Bank, Montana.
43. World's Largest Sundial – Lloydminster
While Guinness gives the record to a sundial in Italy, this 197 diameter sundial in Bud Miller All Season Park looks best from above, but play a round of disc golf with it in the background.
44. Suzie, the World's Largest Softball – Chauvin
Suzie the Softball is on the side of the highway, nestled in with some trees. If you drive down 53 Street a little there is a playground on one side and a skate park on the other.
45. World's Largest Buffalo – Wainwright
Located just off the highway, the giant buffalo statue was erected in 1965 in honour of Buffalo National Park. Yes, we know they're bison. You tell that to Wainwright!
46. Brown Eyed Susan – Hughenden
47. Giant Mosquito – Galahad
48. Canada's Largest Baseball Glove – Heisler
49. World's Largest Lamp – Donalda
50. Alberta's Largest Northern Pike – Rochan Sands
51. "The Legacy" – World's Largest Bucking Saddle Bronc and Rider – Ponoka
52. World's Largest Fishing Lure – Lacombe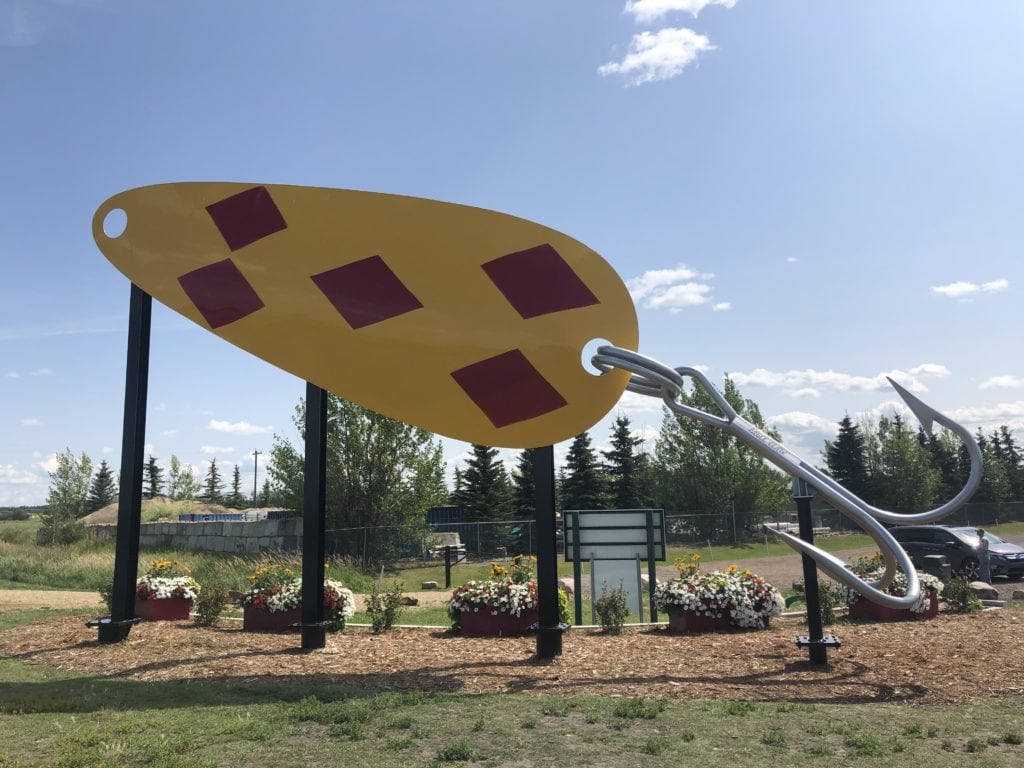 53. Giant Cream Can – Markerville
54. World's Largest Animated Grizzly Bear – Innisfail
55. Giant Gopher (Clem T. Gofur) – Torrington
56. Giant Golf Tee – Trochu
57. Squirt the Skunk – Beiseker
58. World's Largest Dinosaur – Drumheller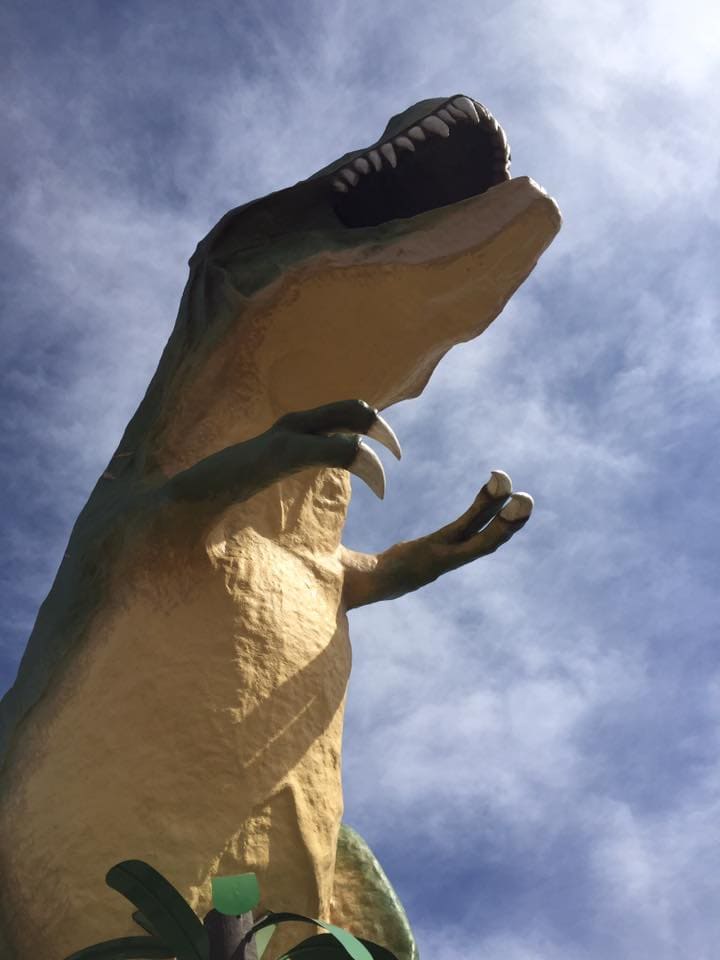 59. Miner – Rosedale
60. Last Wooden Tipple in Canada – Atlas Coal Mine
61. World's Largest Geese – Hanna
62. Giant Crown – Coronation
63. Centennial Clock Tower – Oyen
Calgary Area Points of Interest
Calgary is a town of statues and art, but not a lot of "really big stuff" – and some of the big things have long since lost their title. They still make good points of interest, a way to spend the day around town with kids, or a place to stretch your legs.
What to see: Giant statue of a cowboy called "Men of Vision"
Where to see it: Cochrane Ranche Park
Things to See in Southern Alberta
What to see: 18 foot Pinto MacBean (bean)
Where to see it: Highway 3 at 206 7 Avenue.
What to see: Saami's Tepee: Worlds tallest Tepee
Where to see it: 15 Eagle Birth Rd SW, just off HWY 1
What to see: Giant Corn Stalk
Where to see it: Northwest corner of Highway 3 and 50th Street
What to see: A replica Star Treks Starship Enterprise ( Starship FX6-1995-A)
Where to see it: West side of Highway 23, just south of Centre Street
Landmarks in the Alberta Rocky Mountains
An eastern border for the Rocky Mountains is hard to define, but in general we say this area is west of Highway 22 until you reach Highway 11, where Highway 40 becomes the cutoff until Grande Cache – but, like geology, it's hard to draw a straight line.
World's (Former) Largest Piggy Bank – Coleman
While it lost the title in 2015 to a pig in Germany, this retired "gauge air driven thermos bottle mine locomotive" is located in Flumerfelt Park in historic Coleman. Enjoy the playground in the park or explore The Miner's Path. Pick up an interpretive pamphlet that describes the old mine site from the Crowsnest Museum before hitting the trail.
Rocky the Big Horn Ram – Grande Cache
A block down the road from A&W, Rocky shares his park with the cenotaph and a picnic bench. If you're looking to stretch your legs head a bit deeper into town and check out Labyrinth Park.
More Unique Alberta Destinations to Explore
If this list wasn't long enough for you, be sure to check out some of these other Don't Miss Attractions in Alberta:
Drumheller's dinosaurs: these colourful cartoonish dinosaurs are all over town!
37 murals in the Village of Legal
Thanks for checking out our massive guide to roadside attractions in Alberta! Please be sure to follow us on social media (Facebook, Instagram, Twitter, and Pinterest) for more.