I think it is fair to say that "winter" has firmly planted her feet into Alberta…. Cue the sighs, the darkness, the static in my hair, the dry skin, the list goes on! To me, there is nothing better than having a warm weather trip during winter to look forward to. My family likes to stay in Alberta and explore during the warmer months, usually on the cheap in our trailer, but come November-April we always try to find some way to escape.
A few years ago I met Donna, owner of Connections Family Travel, and my trip planning has drastically changed for the better. In my entire life I had never used a travel agent/advisor… I've learned that I was missing out! We decided to interview Donna and find out just how a travel agent/advisor can help you book your next family vacation.
So, how can a travel agent help?
Vacations can be expensive and you want to make sure that you are getting good value for your vacation dollars. A family travel agent is a great option for:
Families who know the destination they want to visit but don't have time to research and plan their trip, scouring websites and reviews can become a full time job/obsession! 
Families that know what they want to do and have basically planned their trip but want a second opinion on flights, hotels, train or driving plans. 
Families that want to get away but don't know what destination would be a good match for them. 

In your experience, what kinds of things have you seen go wrong on vacations?
The most common issue is people booking an all-inclusive vacation strictly because it was cheap; the resorts often end up not being kid friendly or the rooms that are on sale are the farthest away from the beach. Clients will show up at a hotel and the room isn't the one they paid for or there's something awful like mildew every where. If it looks too good to be true, it often is in travel! Misreading the date on red eye flights is another one – the flight is a day earlier than they had thought and travellers often miss their flight. Travel agents can let you know why certain rooms/resorts are so cheap, and we'll remind you of your flight details, when you can checkin and trip specific things like the airline baggage policies.
What's considered a good deal? How do you know if you are paying too much?
The best deals for almost all destinations are during off season – there can be as much as $1000 per person difference for some destinations! Sometimes that may be because it's hurricane or rainy season. Research more than one airline and more than one hotel at your destination and you'll find a price for the destination (or have a travel advisor do this for you). Keep in mind one 4* hotel may cost more than another because of extra amenities or proximity to local attractions. A travel advisor can help you with those details.
Ok, the question most families want to know…. If you want to start planning a family trip to Disneyland, how much should you expect to pay?
A family of 4 going for 5 nights during summer vacation from Edmonton can expect to spend around $4800. That's for airfare, a hotel within walking distance, 3 days at the parks and $100 a day for food/treats for a family with kids 9 & under (kids 10 yrs and older pay adult pricing for park tickets). Luckily Disney has brought back their Canadian Residents ticket offer which is saving families 25% on their tickets!
Let's talk about off the beaten path holidays? Is Costa Rica one of them? What about staying at a hostel with kids?
Destinations like Costa Rica do have all- inclusives but it requires a bit of planning if you want to get out and explore the country. There will be some days with lots of travel, so it's good to know every family members limits and plan the trip with that in mind. You may not get to see everything in one visit – it's more of an introduction of the country and the culture to your family. When your kids are older you might want to go back again, or the trip may inspire your kids to return when they are old enough to travel on their own. The same is true of European destinations; it's impossible to see it all in one trip unless you are taking a few months to live there.
With hostels all depends on the kids; some can handle being around people all the time. But, if your child(ren) need quiet and lots of personal space it may not be a great idea. Bed & Breakfasts would be a better option for those families.
How do you stay up to date with traveller's needs and travel trends?
I attend supplier events whenever possible, like Anaheim Tourism or WestJet Vacations for example, to learn about new resorts or activities that they offer. I try to travel at least once a year to a family friendly destination to see the hotels and all-inclusive properties for myself. This really helps me know which hotels are a good fit for families with young kids or teenagers that like to get out and explore the destination. This year I went to the Dominican Republic and Cabo San Lucas. My time was spent visiting 4-5 properties a day, checking out the rooms, beaches, pools, kids clubs, finding out how they handle food allergies and special diets, if they have pack'n plays, strollers, high chairs and other toddler necessities. This makes me well equipped to recommend certain resorts to families, because the internet doesn't always tell you these things!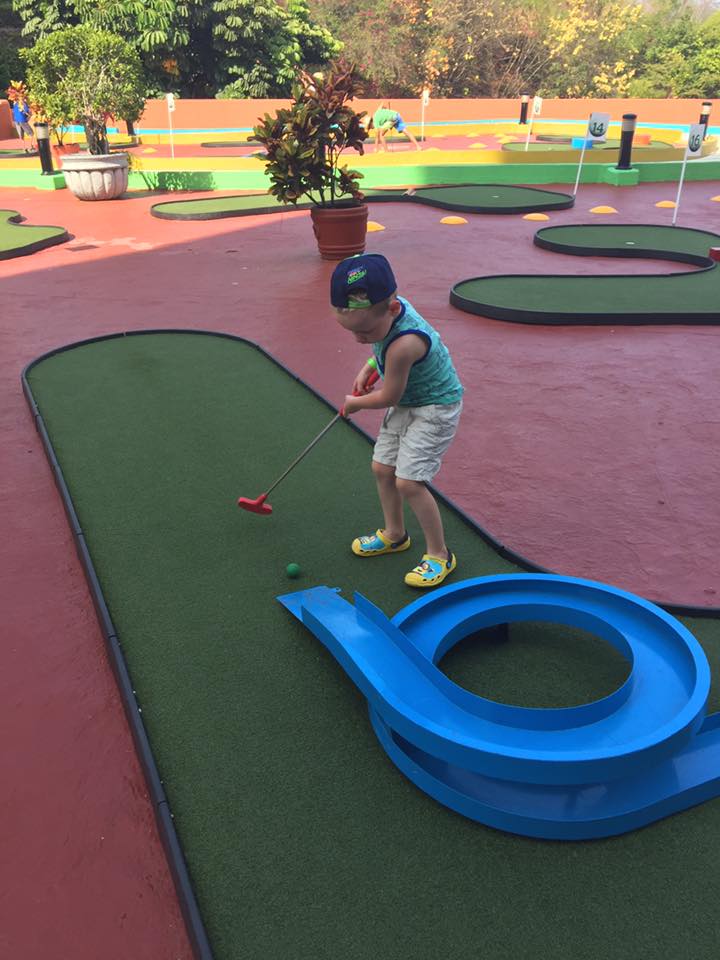 Why is it a great idea for families to work with you?
By working with me, young families will have someone to help answer all those questions like: "Do I need to bring all of the diapers, or can I buy them once I arrive?" I can also help clients find hotels that are family friendly and not party central during spring break. I also save families time by doing the research, being on hold to make the reservations and I'm someone in their corner if something unexpected should happen while they are away. I'm available to problem solve while families relax by the pool or make that new flight booking for them when they're missing a connection because of a delayed flight. 
Because I am also a mom who has travelled extensively with my children, I understand how important it is to know the details. Things like which airlines and airports will let you take your stroller all the way to the plane gate, which hotels will accept grocery deliveries so your fridge will be stocked when you arrive, even which hotels will have milk available for bedtime (they don't all do this). I also know that time is a premium when you are a parent, the last thing you want to do is add another task to the list during your day. Planning a vacation should be fun, not stressful and I can hep with that. 

How do people pay for your services?
My fees are dependant on the complexity of the trip planning and how much of my involvement they are needing. For example if a family is planing a simple all-inclusive vacation, I charge a deposit to cover my time researching resorts that are a good match for their family. If they book their trip through me I apply that deposit to their vacation package. 
Where are the best places to travel with kids?
Palm Springs and Phoenix are great destinations for families with young kids. There are lots of private homes available for rent or family friendly hotels. The food is similar to what your kids would eat at home. Flights are short for families in Alberta and there are some great activities for young kids at these destinations. For a beach vacation, Mexico is very family friendly and you can get flights that are under 6 hours from Edmonton and Calgary. 
For older kids, if your family likes being outdoors and active, The Bend Oregon is amazing! You can go caving, whitewater rafting, even drive in dune buggies! Jamaica is a fun island for families to explore. And any country in Europe as well! If your kids love Harry Potter you could plan a trip around locations where the movies were filmed and visit the Warner Brothers Studio Tour in London. 

What is the best part of your job?
I love seeing vacation photos and hearing stories of my client's trips! I can talk travel for hours, but helping families create those "remember when" moments that they'll share at family dinners for years to come is why I love my job!
Contact Connections Family Travel and get planning your winter getaway today!

When not busy researching, problem solving and obsessing over trip details, you'll find Donna chauffeuring her boys to various sports activities, running, enjoying a cup (or three) of coffee, and slowly improving her golf game. Oh, and working hard planning your perfect vacation of course.
*This is a sponsored post