It's Tanya here and I'm back with another one of family's favourite ski resorts. This time, we're moving into BC and I'll be telling you all about how awesome ski-in, ski-out holidays can be. I'll warn you up front though that staying on a ski hill raises the bar for all future ski vacations.
Fernie Alpine Resort is located minutes outside the small mountain town of Fernie in SE British Columbia, a 3-hour drive south of Calgary. And while this may sound like a distance that requires an extended multi-day trip, Calgary families routinely make the drive for a two-night weekend to ski at this amazing hill.
5 Reasons for Families to Love Fernie Alpine Resort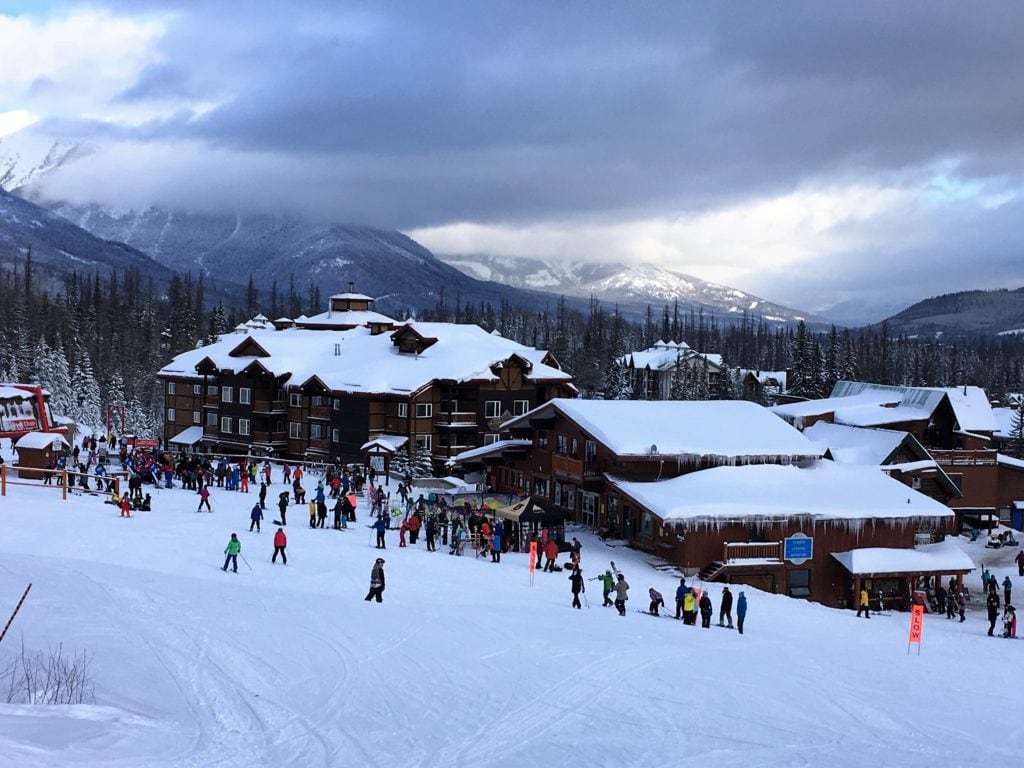 One: Fernie is a Fantastic Hill for Novice Skiers and Families with Young Kids
I was pleasantly surprised by our first family visit to Fernie when I realized that there were two dedicated beginner chairlifts accessing the easiest green and blue runs on the hill, almost all groomed with gradual slopes. And these aren't just cute little "bunny hill" type runs either. The beginner/novice terrain accessed off the Deer and Elk Chairs is extremely fun for the whole family, and the runs are a decent length to really get some solid turns and practice in.
Highlights off the Deer and Elk Chairs:
The Minute Maid Kids' Trails off the Deer Chair – Twisty winding tree runs that resemble a luge track, aimed at the young (and young at heart, if your skis are short enough.)
The Terrain Park off the Deer Chair – This is one of the best beginner terrain parks I've seen, and it was the first one I let my son try. He loved the small box jumps that required little to no special skills. And don't worry about older kids or teens finding it boring, because there are plenty of intermediate features in the park as well.
The Elk Run off the Elk Quad – This green run is longer than the ones accessed off the Deer Chair (and a great progression step before moving higher up the mountain.) It is fun for the whole family, and kids love the trees along the side of the run. Trust me, try to keep your kids out of the trees. (It won't happen.)
And from the main Elk run, make sure you find the tunnels accessed via "Holiday" (green) or "Holo Hike" (blue.) You get to ski through two tunnels that children love!! – I think they're fun too and seek them out at least once or twice a visit. When you get tired of the crowds on the main Elk run, head over to "Dipsy" and "Lower Lizard," both groomed beginner runs but with a third of the traffic found on Elk.
"Power Trip" off the Elk Quad. This narrow intermediate run resembles a half pipe with trees bordering the edges. It is insanely fun for kids who can ski at an intermediate level on non-groomed terrain with a few bumps.
"Incline Trail" off the Elk Quad. This narrow run has several fun rollers that you get to ski over, and my son said it was like skiing on a bike pump track. And it's still a groomed green run that most kids will have few difficulties with.
Two: Amazing Intermediate Terrain and Opportunities for Progression
When you've mastered the Deer and Elk chairs as a family, take the next step with a ride up the Timber Bowl Express Quad where you can warm up and enjoy the views at the Lost Boys Café. Then, ski down "Falling Star," one of the best "true intermediate" runs on the hill with consistent grooming first thing each morning. There are a few steep pitches (and one narrow section,) but it's the easiest intermediate run on the upper mountain. – And if you make it to the top of the White Pass Quad, you can enjoy the entire 5 km descent off "Falling Star," the longest run on the mountain.
Beyond "Falling Star," there will always be several other groomed intermediate runs spread around the hill each day. We recently discovered a groomed black run called "The North Ridge" as well off the Boomerang Chair that was glorious for another progression towards steeper terrain.
Three: Kids' Saturday Night Pool Parties at Lizard Creek Lodge
We recently stayed at Lizard Creek, and my 8-year old son said the pool party was a highlight of his weekend. Families can register their children for this activity (even if not staying at Lizard Creek) which includes supervised time in the outdoor slope side swimming pool, a bbq dinner, and movie night. Add this to a day on the hill, and your kids will sleep very well!
More information can be found at this link to the Fernie Alpine Resort website, and note that there is a cost associate with this activity.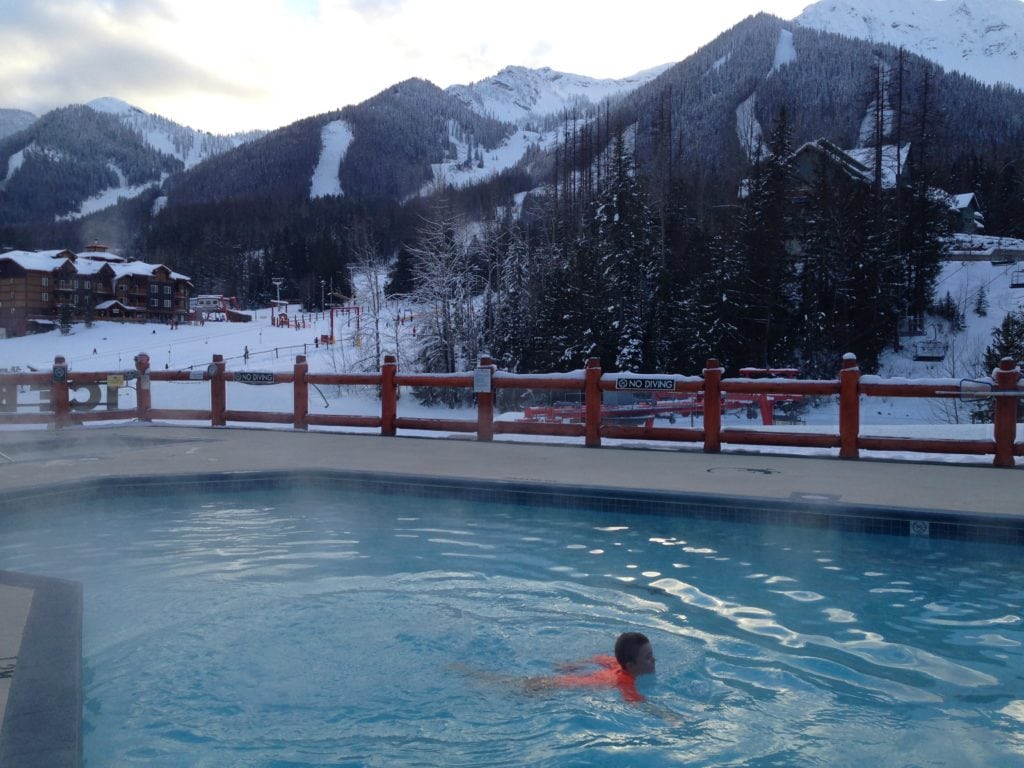 Four: Free Night Skiing for Kids on the Mighty Moose Platter Lift Every Saturday
Skiing on the Mighty Moose is free for kids 17 and under Saturday nights from 4-9pm. It is also included with your day's lift ticket. Adults not skiing during the day can pay $19.95 +tax for access to the Mighty Moose in the evening.
This beginner slope is fun for kids, and it's a great way to get back out on the hill for an hour or two before bed (especially if you stopped skiing earlier in the afternoon for naps or rest time.)
Five: Ski-in, Ski-out Lodging on the Hill
Stay at the Fernie Alpine Resort Village and enjoy the slope side swimming pool and hot tub (if staying at Lizard Creek Lodge,) on-hill restaurants and pubs (all family-friendly and some with live entertainment), and other activities in the après-ski hours.
We love staying right on the hill so that we can easily be first on the slopes in the morning, accessing the day's best snow and grooming. We also love being able to go back to our condo for lunch rather than trying to find a table in a crowded day lodge. Finally, renting a condo on the hill allows us to cook our own meals, saving money.
And I'm sure we can all appreciate having a condo with actual bedrooms and closed doors rather than staying in a hotel for a night (and hiding in the bathroom or hallway while the kids try to fall asleep at night)!
Follow this link to read more about the different accommodation options in Fernie. And follow this link to find out more about ski vacations, hot deals, and package specials.

We've never had a bad weekend in Fernie, and we plan annual ski trips here which are always a highlight of our winter.
Tanya
Tanya is an active Calgary-based mom and an outdoor family travel blogger over at Family Adventures in the Canadian Rockies.
Read my previous Alberta Mama ski stories here:
5 Reasons for Families to Love Nakiska Ski Area in Kananaskis