One of the best things is when your kids can actually play board games! For me, my son was about 3-4 when we started playing some simple games together and ever since it has been so much fun. Board games are such a great way to bond as a family, learn new skills like problem solving, planning and strategy, practice emerging skills like counting and taking turns and the ever so important: learning to lose and be ok with it.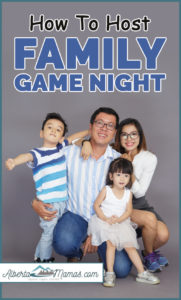 During these extra cold months family game night offers a great way to pass some time inside. So, grab some snacks, turn off the phones, turn on some music and try one of the kid friendly games we suggest below!
Games for Your First Family Game Night
Connect 4
Dominoes
Snakes & Ladders
Jenga
Trouble
Candyland
Checkers
War
Memory
Matching
Battleship
Uno
Bingo
Monopoly Junior
Gooey Louie (gross, but little kids love it)
Catan Junior
Sorry
Operation
Sequence for Kids
What's That Smell?
Ticket to Ride

Tips for Playing Board Games with Kids
Start small. Younger children easily get overwhelmed with games, set a time and stop when you see them getting agitated.
Try cooperative games. At first games where everyone is a winner or everyone has to work together are a safe bet.You can always modify a game to make it this way, or do teams.
Modify the rules to suit the ages and developmental ability of your kids. For example, we love playing UNO but we deal only 5 cards at the start to make it more manageable.
Emphasize that the point of playing board games is not to win, it is to have fun. Sometimes adults need to remember this one too;)
Check for used board games at second hand stores, Facebook Marketplace or garage sales, there are usually tons. Just make sure that they have all the pieces!
What's your favourite kids board game?