Which person are you? The person who meal preps for the week on Sunday or, the person who is now panicking because "what on earth am I going to make"?
I'm perpetually person two. I'm not prepared, I don't enjoy meal prepping or even cooking. Depending on what is going on at home with kids activities and work, our life can get a little chaotic. This is where Simply Supper has saved my life at least 3-4 times in the last month. Instead of reaching for Skip the Dishes or Papa Johns app, I've actually had a homemade meal in my house instead of take-out. When I say it's been a game changer for this mess of a human (that's me), it would be an understatement.
\\\\
How does Simply Supper work?
Simply Supper has three ways to help your supper time routine a little less messy.
You Assemble

– book a time to assemble your meals yourself at one of the two Edmonton locations. These sessions take about 45 mins, and are great to include your kids as a way of including them in the cooking process.

We Assemble

– you choose your meals, and Simply Supper preps them for you & you pick them up

Fresh to Go

– this is great if you live in the neighbourhood (Riverbend or Albany Square in Edmonton). If you're on your way home and need supper stat, pick up a freshly packaged meal to cook when you get home.

Ready to Go

– Simply Supper has frozen meals in their freezers. Pop into one of the two locations and pick some up to save for a weeknight you know you're going to be strapped for time.
Cooking with Kids
As a perpetually "OMG WHAT ARE WE GOING TO EAT" person, it's nice to be able to take the time and meal prep at Simply Supper. Yes, the pick-up option is easy, but putting the time into at least prepping it feels good. My youngest came with me to meal prep (those are her cute little hands in the picture), and she LOVED it. She's old enough to measure, schmoosh, stir and shake; and if your kids are old enough to do any of those things, they're old enough to meal prep with you at Simply Supper.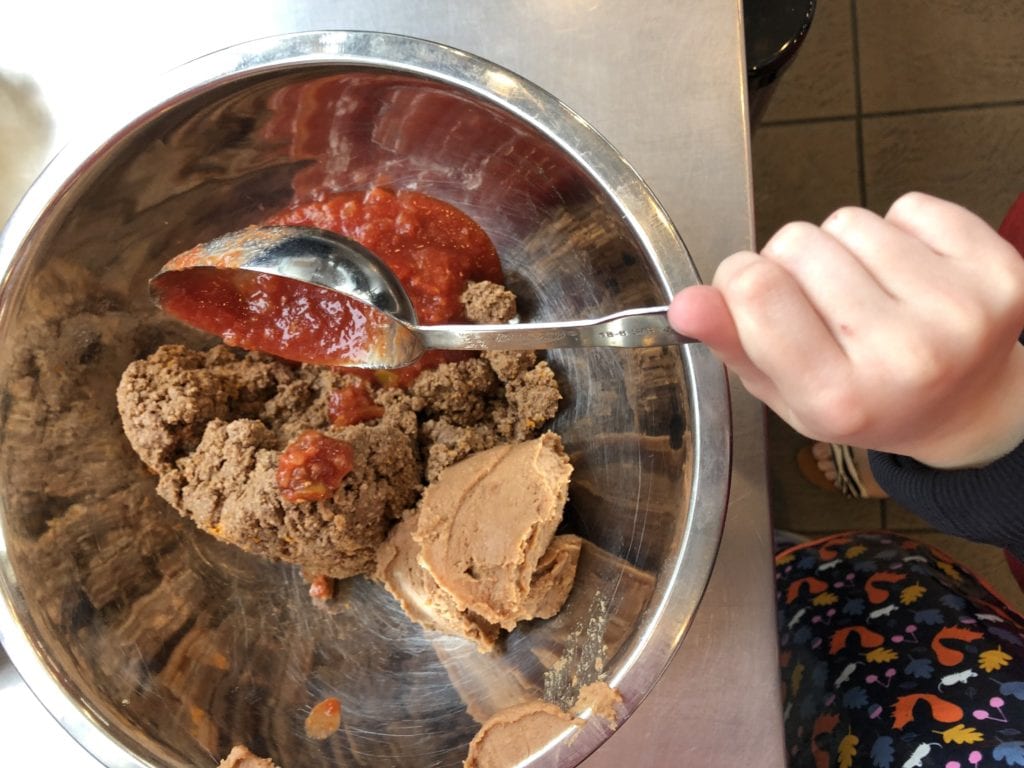 We prepared three meals from the July menu: beef and bean burritos, ginger citrus power bowls and Asian grilled chicken. In all, we were there about an hour (45mins to an hour is typical).
The ingredients for the meal prep are all fresh, and plentiful. The Asian chicken had SO many ingredients and I'm thinking, there's no way I would make this at home. Having everything laid out for you with instructions means that all the real time-consuming parts of prepping ingredients are done.
The other great part of assembling the meal yourself is that you can leave out an ingredient. If you don't like corn, no worries…don't add it in.
Best Baby Shower Gift Ever
Aside from this being the best gift for yourself and your family, you know who else needs easy meals because they have a new baby in their house? Your friend/co-worker that just had a baby. They need this. Onesies are nice. Food is better.
Now that we are all making appointments to get some meal prep done, Simply Supper has offered two ways for you to save (told you we love them).
Use the code ABMAMA20 to get $20 off your session of "You Assemble" or "We Assemble" Coupon expired July 31, 2019
Enter to win a $50 Gift Card! Contest ends July 25th and winner must be in Edmonton to assemble or pick up the meals.
*This post was created in partnership with Simply Supper. As always, all opinions expressed are our own. We never endorse a product or service that we haven't tried.