Healthy Holiday Recipe Roundup
Holidays are the time of year we get together. Usually getting together with friends and family over feasts and parties.
For me I struggle with the fact that every time I go to one of these parties and potluck there is often a lot of heavy food. Delicious but heavy. Which of course, there is absolutely nothing wrong with enjoying ourselves.
I just like to have a few lighter or healthier options to have in addition to my heavy, rich or sugar filled foods! Being a vegetarian personally I've struggled a bit because often the only things there are for me to eat are some sad veggies in a plastic container and sweets. So, I'm often the one bringing an alternative or healthier option (because then I get to eat it!)
Here is a round up of some of my favourite Healthy Holiday Recipes.
Eat Yourself Skinny's Winter Kale and Quinoa Salad. The beautiful pomegranate seeds and kale make a festive color scheme!
Well Plated's Stuffed Butternut Squash. This is a great dinner time dish. with lots of warming goodness.             
3. Spend With Pennies Cranberry Feta Pinwheels would be a great potluck party recipe!
4. My own Rosemary Goat Cheese Quiche! I realize I may be partial here but it's really good…….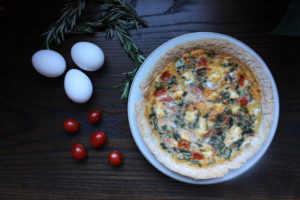 5. Healthy Seasonal Recipe's Cranberry and Goat Cheese Flatbreads. Oh man I love cranberry and goat cheese.
6. A simple meat and cheese board. Add veggies like tomatoes and healthy dips like hummus and you are all set!
Happy Holidays!!!!