You've watched the moms from #IMomSoHard on Facebook through their many tales of being a mom, and it's definitely something that all of us Alberta Mamas can relate to.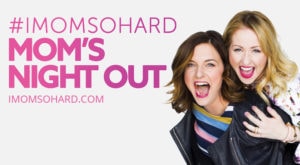 #IMomSoHard is coming to Edmonton & Calgary in October
Kristin and Jen will be live at the Edmonton Winspear Center October 17th and at the Jack Singer Concert Hall at Arts Commons in Calgary Oct 18th  and they will be sharing the good, the bad and everything in between about motherhood.
The live performance reflects the casual conversations about motherhood that have made their series so popular
Tickets for the Edmonton & Calgary show go on sale to the public August 31st however, if you use promo code "WINE" you can get them during the presale.
Prices range from $47.50 – $57.50  in Calgary and$47.75 – $57.75  in Edmonton.