Located a little over an hour and a half northeast of Edmonton is where you will find Métis Crossing, Alberta's first major Métis Cultural Interpretive destination.
Métis Crossing Experiences
I recently had the chance to visit Métis Crossing with my two oldest kids to check out the Cultural Interpretive Centre and join the "Tales from the Trapline" experience, one of the signature experiences offered at Métis Crossing. This immersive experience is a great way to learn about the distinct Indigenous story of the Métis people and is an experience like no other.
Tales from the Trapline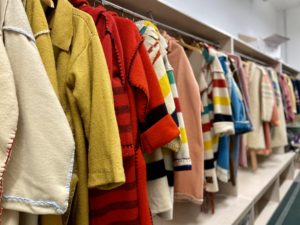 When we arrived, we checked into The Lodge at Métis Crossing, the brand new boutique luxury lodge built next to Interpretive Centre, and where we headed to get ready for the "Tales from the Trapline" experience.
We first met with our guides Lilyrose (also one of the knowledge holders at Métis Crossing) and Danielle to pick out a Capote for each of us to wear. A Capote is a traditional Métis coat worn in the winter, and it is made of blankets and tied together with a sash.
After we were all fitted, we then went and grabbed our snowshoes to head out onto the trails to begin our "Tales from the Trapline" experience.
Both Lilyrose and Danielle taught us many things. We learned about the animal tracks we saw along the trails, the best seasons to trap animals, and the different snares and traps used.
As we explored, we learned about the berries and plants that were gathered and used for food and medicine and which plants and bark made for good fire starters. We also learned how to build a survival shelter, which was used while the Métis people were out on the traplines.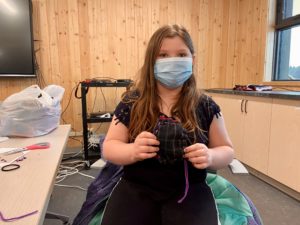 Afterwards, we headed back to the Interpretive Centre, where we made a traditional pouch which can be used to gather and keep the many berries, plants, and other finds when out on the trails. What I loved the most was hearing the traditional stories behind how everything was done.
Cultural Interpretive Centre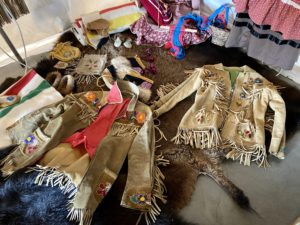 There are many things to explore and experience when visiting the Cultural Interpretive Centre, which includes:
Riverside Skating Rink (bring your own skates, rentals not available)
Snow Tubing on the Riverbank (tubes included)
Snowshoeing (rentals available, Adult pricing: $25 full-day, $15 per half-day. Youth pricing: $20 full-day, $12 half-day )
Cross-country Skiing (bring your own skis, rentals not available)
Métis Cultural Exhibits
Gift Shop
Because we spent the night in their new lodge, we had the chance to explore the Interpretive Centre with Danielle, our guide from the day before.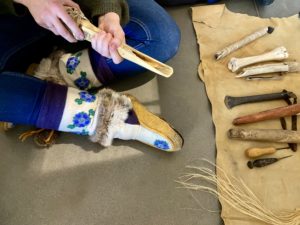 Here we learned about how the Métis people skinned and prepared their furs, which takes many steps with fascinating facts like how each animal has the exact amount of brain matter needed when tanning the hide. And how each part of an animal is used right down to the bones, which become tools.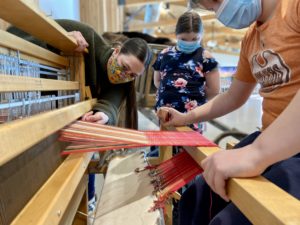 There is also a large loom set up in the Interpretive Centre where you can weave your own line in the large sash that is being weaved, like a guest book signature but in fibre form.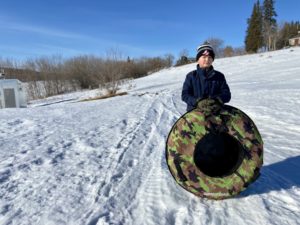 Our last hours spent at Métis Crossing were snow tubing, which was a great way to end our visit. There was so much to explore and learn during our visit that I know we'll be back soon because as the seasons change, so do the experiences – and we can't wait.
To plan your visit to Métis Crossing you can visit their website at www.metiscrossing.com. Next week I'll be posting a review about our say at The Lodge, and how truly amazing it was.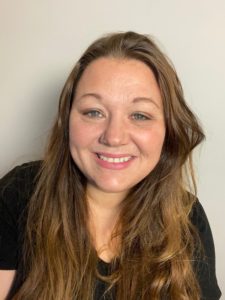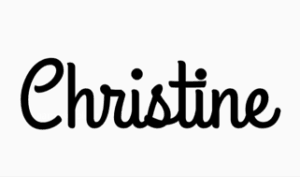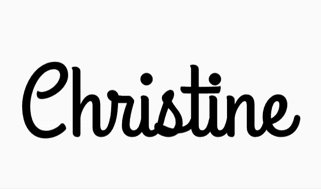 Christine Bruckmann is one of the founding members of Alberta Mamas and is known to everyone as the research ninja. You can also find her writing on her blog Just Another Edmonton Mommy.
This post was created in partnership with Metis Crossing; all opinions are my own.