I make semi-regular trips to Canmore, and when I drive past the Canmore Reservoir, past the turquoise blue water framed by the Rocky Mountains, I've seen the paddleboarders out there looking so cool and standing on their boards in one of the most beautiful places in the world and I keep thinking, "I want to do that."
I finally had my chance to paddleboard otherwise known as SUP (the term SUP refers to stand up paddleboarding) after the Rocky Mountain Soap Women's Run this past May, and now I'm convinced everyone needs to have a go because it was a) not as hard as I thought* b) really peaceful out on the reservoir! If every parent doesn't need to spend some time out alone (or with friends) on a lake in Alberta, who does?
*I must preface this with I'm not athletic, or coordinated, and am more likely to be found in my house than out being active in nature.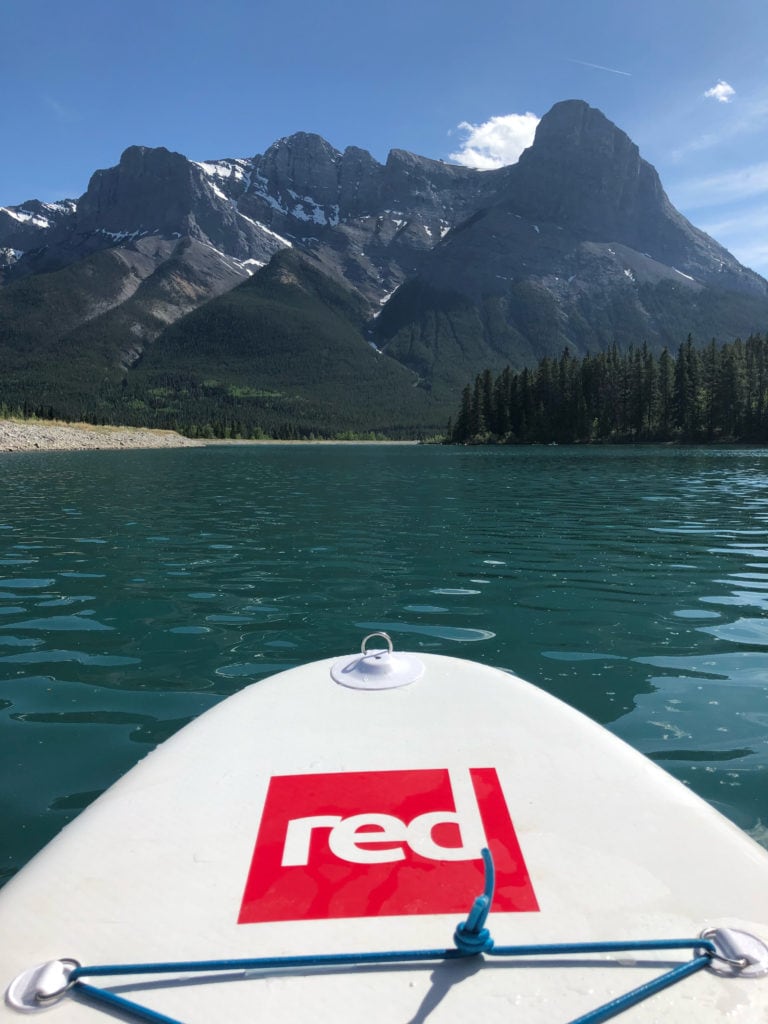 Upon my return home, I googled all the places that I can go paddleboarding in my hometown and where you can rent a board (they're quite expensive to buy if you're not planning on going out on the regular) and there are loads of places where you can paddleboard in Alberta! So let's get out on those beautiful Albertan lakes!
Banff/Canmore
Bow Valley SUP
This is the company I rented from and they were great. This company rents out the SUP boards as well as teaches lessons. Bow Valley SUP has lessons for newbies as well as sunset tours (which I now have to add to my list) and SUP yoga for those that are way more coordinated than I ever will be.  The Bow Valley SUP website is really great listing the places to go paddleboarding (the Canmore Reservoir, Goat Pond, Johnson Lake and Two Jack Lake) with descriptions of the difficulties of SUP-ing in that lake.
Calgary
MEC – know how to SUP and just need a rental? MEC rents paddleboards for $35/day and $175/week.
Undercurrents have lots of different classes from beginner classes to SUP Yoga as well as classes for those that are ready for something a little more difficult like paddleboarding on a river. Beginner paddleboard classes are $79 and you can register online. Beginner classes include the paddleboard and all the gear you might need.
Every Thursday get in the water with Auqabatics and learn to SUP. Thursday classes are 2.5 hours and include all the gear you need for $85. If you're a SUP pro, there are also classes for river paddleboarding where you'll learn to paddleboard on the slow-moving Bow River.
Edmonton
MEC
Rent a paddleboard from either the Downtown or the South Edmonton Common location for $35
The City of Edmonton hosts paddleboard classes for a range of ages, some for the 50+, families, and adults. Lessons are $48 and take place at Rundle Park. All paddleboard equipment is provided, you'll just need to bring yourself and some warm clothes (I'm guessing in case you fall in!).  The City of Edmonton also has SuP Yoga lessons as well for ages 10+ and take places at the Kinsman Sports Centre.
Starting in July River Valley Adventures are offering classes in Edmonton for beginners in a 2-hour lesson. There isnt' a lot on their website about this activity, but stay tuned for updates.
While they don't offer lessons the Leduc Boat Club offers SuP rentals for $25/hour
Jasper
If you're looking for just rentals Translucid Adventures rents paddleboards on Lake Edith for $35/hour and also do some really interesting tours for SuP-ers that have a little more experience including date SuP-ing (so fun).
Another company called Pure Outdoors will rent you a paddleboard, but again they don't offer lessons. They do mention on their website that they will be able to point you in the right direction for the best places to paddleboard in the Jasper area.
Red Deer
Serving central Alberta, Snowcoast offers private and group lessons starting at $65 for the private lesson and take place at Gull Lake or Sylvan Lake and can take anywhere from 1.5hrs to 2.5hrs. Price includes all the gear you will need for your adventure.