Have you heard of Pink Shirt Day? On February 28th show your support and take a stand against cyberbullying by wearing pink!
There's a few big reasons why I can get behind Pink Shirt Day. Here's Why:
If you think cyberbullying isn't a thing, think again. 1 in 5 kids are affected by it. (source: pinkshirtday.ca)
It is impossible to escape/avoid this type of bullying. In the "old" days we could go home after a rough day and at least get away from a bullying situation that was taking place at school. With technology and connections everywhere, this is so much more difficult.
We all know that bullying, of any kind, is devastating and can have major impacts for the victim. I was bullied by a particular boy in elementary school. 25 years later I can tell you exactly what the bully said to me, how he made me feel and how no one did anything about it.
Fundraising, awareness and net proceeds from official Pink Shirt Day shirts, texting gloves and other accessories (sold exclusively at London Drugs) goes to support youth anti-bullying programs- including local Boys and Girls Clubs. Previous to my becoming a mom, I worked for Boys and Girls Clubs and I can tell you first hand the amount of work that goes into these programs and that they have the power to change a child's life!
Pink, it's my favourite colour:)
Purchase your official Pink Shirt Day t-shirt, texting gloves & more from London Drugs and wear it on February 28th to stand up to cyberbullying! Net proceeds of the official t-shirts will support youth anti-bullying programs. This year, Pink Shirt Day is encouraging everyone- no matter what age- to think twice before posting something negative online, and instead use the internet to spread kindness. Nice needs no filter!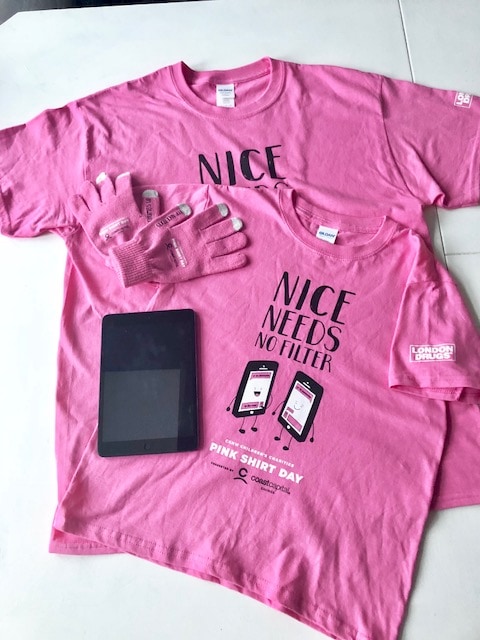 We've teamed up with London Drugs to support Pink Shirt Day and we've got a $50 Gift Card for one lucky winner! Enter below via Rafflecopter. Good Luck!