Self-care during the holiday season is almost impossible with all the things on our to-do lists. But, getting run down over Christmas is a very real risk if you don't carve out a little time for yourself. Relaxation has never been easier with an at home massage with Mobile Massage YEG!
Here's why we LOVED having an at home massage by Mobile Massage YEG
Booking an appointment
Booking is easy either on the mobile app or online. Simply input your information, choose an available time and wait for the magical experience.
The At Home Experience
The massage therapist arrives with everything- table, linens, lotions, all of it. You can choose which area of your home you would like the service. I preferred the living room since it was beside the fireplace! I asked Camille (my massage therapist) what room people usually chose, she said it depends on the client, but primarily they set up in the basement or the bedroom for the massage. The benefit of having the massage in your room is that you can crawl into bed afterward. Genius.
The experience was very professional and relaxed. The therapist arrived a few minutes early, asked a few questions then set up. When it was time to get on the table she waited in the bathroom while I got changed. I chose a therapeutic massage and the therapist expertly attended to my areas of need as we discussed earlier. She even brought equipment to do cupping on my back, something I had never tried before.
When speaking with Camille about how the travel works for the RMT's on her team, she said each area of the city has their own RMT. This is amazing since you'll always know who is coming to your house, and the RMT's won't have to drive halfway across the city to get to you.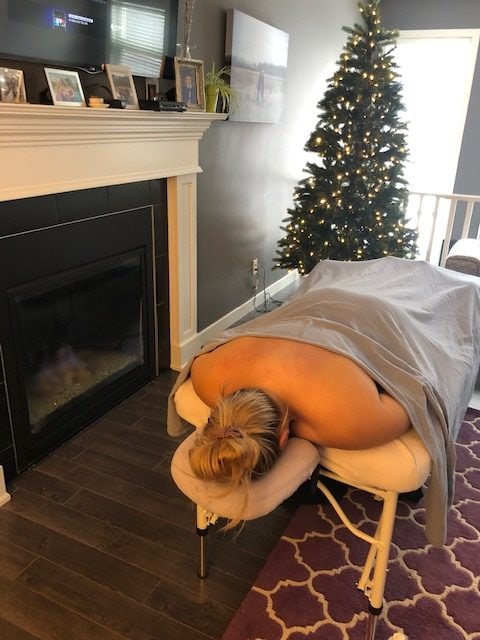 Direct Billing
This for me is huge because it shows the level of attention to detail that Camille committed to when setting up Mobile Massage YEG. Everything has been thought of to make the client's life easy. If you don't have direct billing at your work you simply add your credit card to the app/checkout process so that when you're massage is finished, there's no messing around with money. Your RMT will just pack up their stuff and leave.
We loved the experience. Mobile Massage YEG gets huge bonus points for being pet-friendly and they also direct bill! It was a little weird at first when someone comes into your house at first. My first impulse was to offer them something to drink or eat, but by the end of the appointment I was already visualizing my next appointment and the awkwardness had gone. In fact, all I wanted to do was to have a nap which was perfect because I was so close to my own room. No driving home in the snow and ice to get to my nice bed.
Save your sanity this Christmas, or anytime, and try them out. You will not regret turning your home into a little spa for the afternoon.
Want to save 15%? Use code AlbertaMamas15 when you book your appointment.