By Billi J Miller
During my previous career with Government, I spent two years working directly with First Nations in Alberta. I was fortunate to meet many inspiring people, and to learn things about Indigenous culture directly from Elders and other locals working hard in their communities to continue and pass along their traditions. It is an experience that I will never forget.
I have always been captivated by the connection to nature and seasons in indigenous cultures. Summer is a fantastic season to take in many celebrations that are hosted by Indigenous people and communities in our Province!
If you live in rural Alberta like I do, you may not have as much access to "cultural" events as the larger centers. Keep an eye out, though, you may be surprised! If there isn't much offered in or around your community, take a road trip to your nearest city for cultural events… I make a point of it. For me, it's important to expose my kids to people and ways of life that are different from theirs.
National Indigenous Peoples Day
The 21st of June is known as 'Summer Solstice' and the first day of summer. In Canada, it is also "National Indigenous Peoples Day". A multitude of events take place country-wide to celebrate the heritage, diverse cultures and outstanding achievements of First Nations, Inuit and Métis!
My nearest city (Lloydminster) unfortunately didn't host an event locally, so I packed up the kids and drove the two-and-a-half hours west to Edmonton for the day. There were several events going on in the city, but I chose APTN's Aboriginal Day Live that was being held at Victoria Park. It took a bit of planning to get to the event with kids in tow (as there was no parking on-site) but a quick hop online told me all I needed to know to get there using the free shuttles that were provided.
Find events across the province for the current year in the AlbertaMamas' article about celebrating National Indigenous Peoples Day across Alberta.
The food, tents, dancing, drumming and overall atmosphere of "Aboriginal Day Live" was definitely worth the drive. This was an event that was being simultaneously held and broadcast in a number of other cities across the country. The weather was perfect, and it was a perfect way to celebrate and honour the cultures, traditions and dances of our Indigenous Peoples. I took the opportunity to begin the conversation with my kids (ages four and five) about Canada's "First Peoples" and even at this young age, I love how eager they are to learn about other people and the world around them.
There are so many different types of dancers and they all have special meaning. My youngest daughter's favourite are "chicken dancers".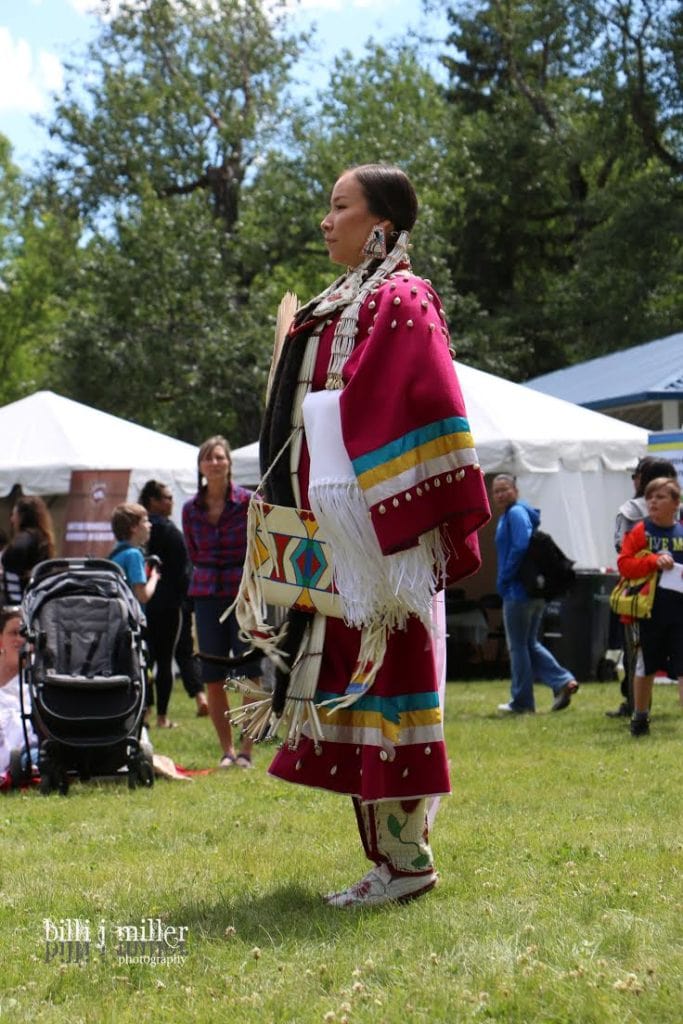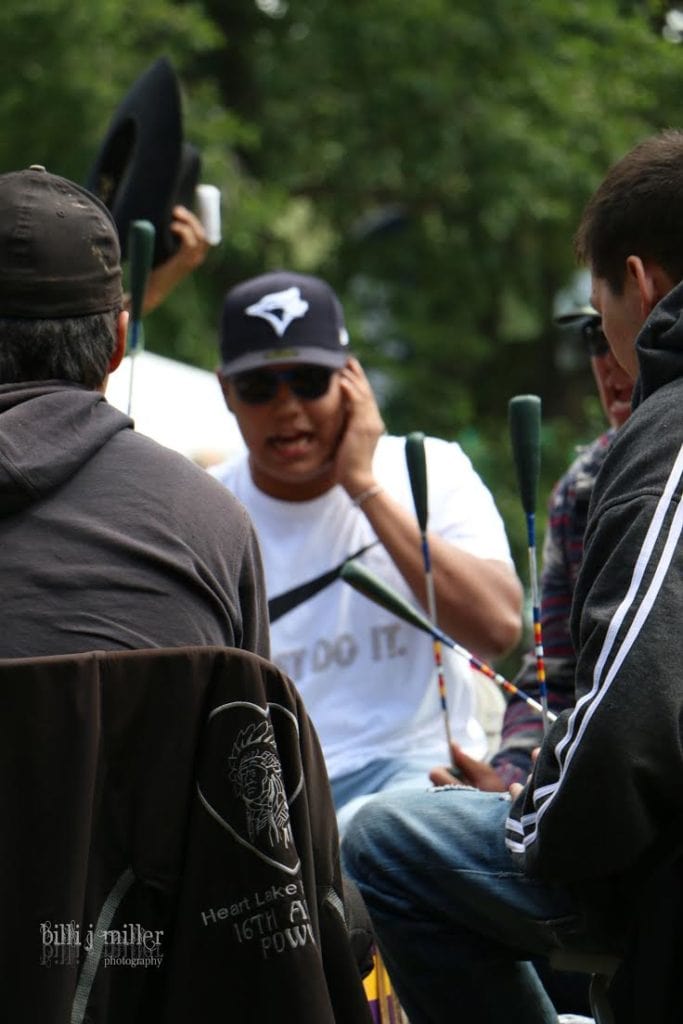 Hands-down, my favourite moment of the day was seeing a group of Hutterite people taking in the event also. It was touching to see some of the dancers come out and bring them into the circle to take part. Everyone ended up joining. It was a great sight and a true celebration of acceptance and inclusiveness.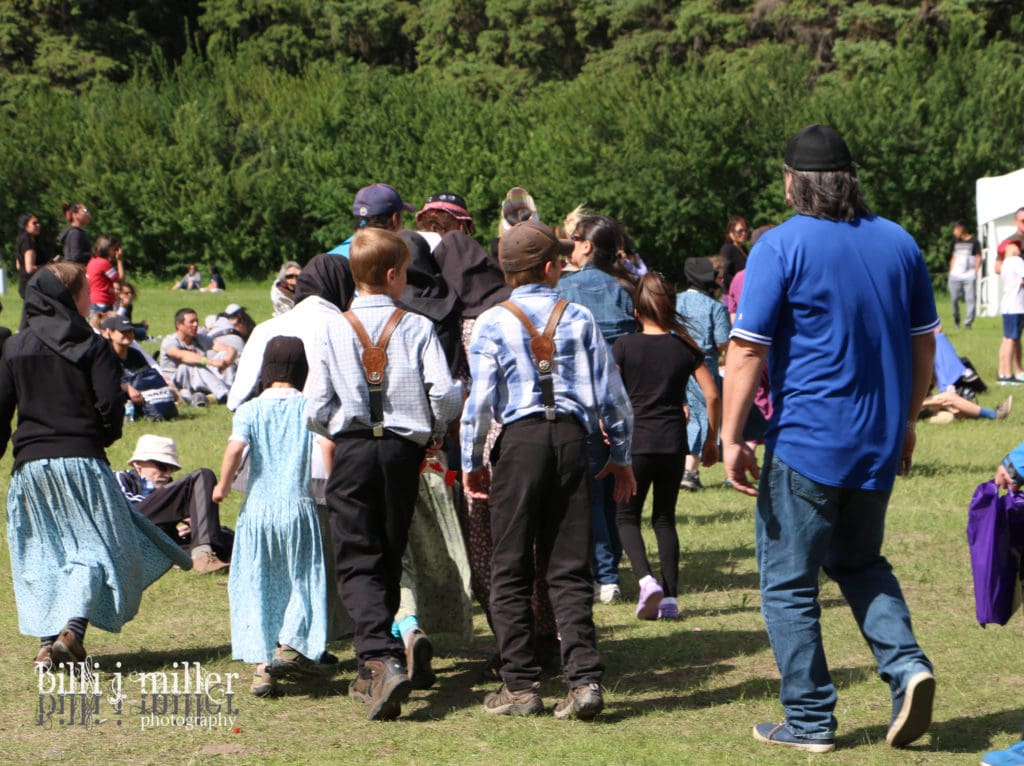 I strongly encourage seeking out National Indigenous Peoples Day events in your area on June 21st. It often brings forth the best of celebrations honouring ALL Indigenous cultures from Canada.
Summer Pow Wows
Next up, another great event to watch for in summer are "Pow Wows" that are often held across the country. They are public or private – but, if public – they are a great way to experience a celebration that showcases Indigenous music, dances, dance apparel, food and crafts. They can last a day – or a whole week.
My hometown of Lloydminster is less than an hour from Onion Lake Cree Nation. It is technically into Saskatchewan (Lloydminster is a border city). Their Annual Pow Wow was held from July 15-17, 2017 when we visited. I hadn't had the opportunity to visit that Nation before, so I knew this event was one I wanted to go to. Again, I packed up my four and five year old girls and we drove there early on Sunday to get a good seat in the stands for the afternoon.
The Grand Entry of this Pow Wow was probably one of the most spectacular I'd ever seen. My girls couldn't stop watching, and the drumming and singing were breathtaking. Even a brief, but fierce, rain storm didn't stop the beauty of the afternoon, in fact, maybe that's what made it all the more powerful.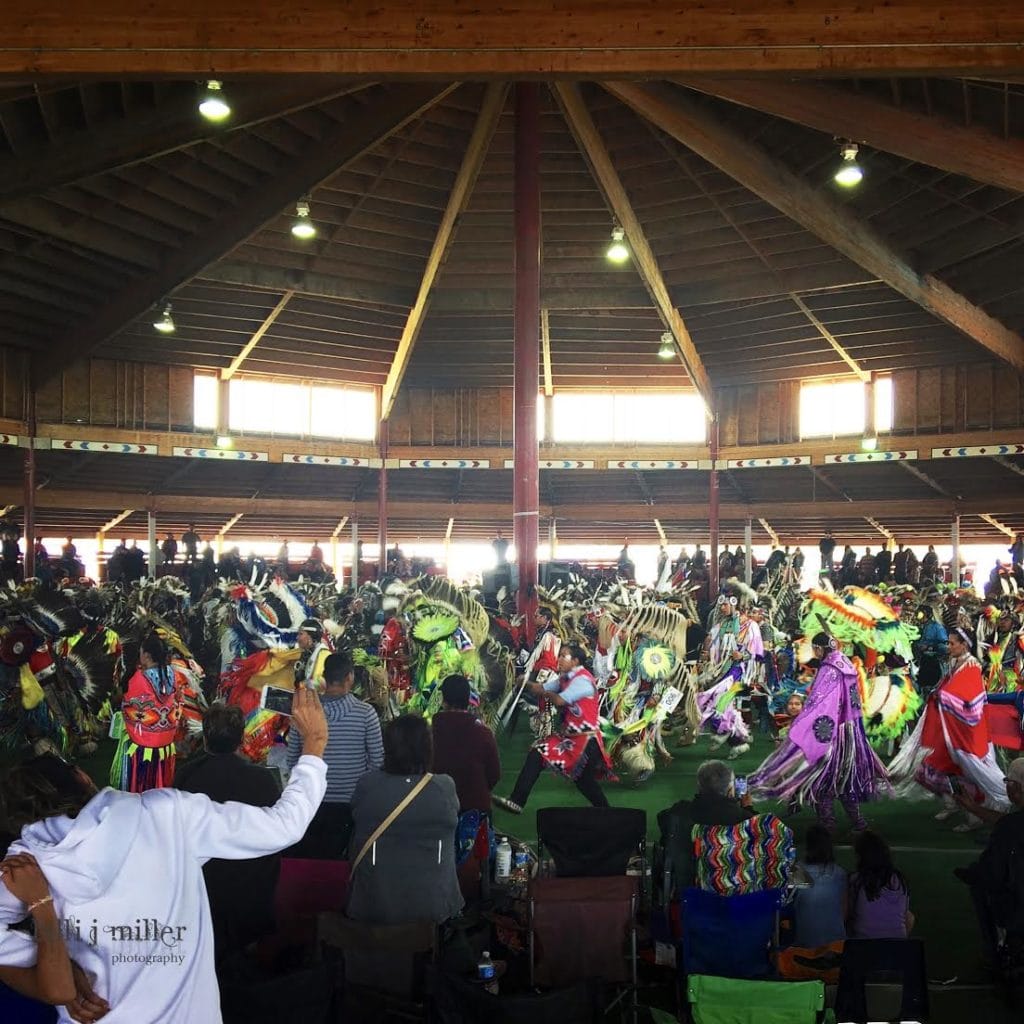 I encourage everyone to attend a powwow in your local area. Here are some useful resources if you are a first time attendee.
Billi J Miller is a freelance writer, photographer + published author who works from her home office on a 106-year old farm near Lloydminster, Alberta, Canada. She is convinced she's found the work she is meant to do, and has no plans to stop telling the stories of inspiring Canadians. Find Billi online at Billi J. Miller | Author, Photographer, Speaker.