How do you thank the person who taught your child to read? The person who somehow managed to put up with not just your child's "quirks" but also, 24 other students. The teacher who, at the end of the school year,  still looks relatively normal? With gifts. Really good gifts.
Here are some of our favourites:
Useful Gifts
Teachers don't need another mug. Seriously. Put down the mug. Styling water bottles from Swell are good for the environment and are way better looking.
Gift Cards! 
Starbucks, Chapters and teacher supply stores are great. Nothing like a little cold hard cash (on a gift card) to help a teacher out.
Wine
"This year we have been giving a bottle of wine and something for the classroom/program.. since lots of teachers had to throw lots out after returning from wildfire evacuation." – Joanne, Fort McMurray
If you know your teacher likes to indulge in a glass of the good stuff, a nice bottle of wine with a little note, or a small token with it is a great touch.
We found a printable for a bottle of wine found from a really cool Albertan business  HERE
Customizable Gifts
Sometimes these gifts need a little more time to prep, but your teacher is worth it, right?
Pamper, Please
If the year was particularly challenging, perhaps pampering your teacher would be the way to go. Chocolate from your favourite local chocolatier along with a nice bottle of wine would be lovely. Perhaps chocolate and bath bombs?  Check out Albertan chocolatiers, Jacek , Violet Chocolate Company. or Chokolat. Actually, while you're there, get yourself that gift too for making through another school year.
Locally made bath bombs are the bomb! We love Rocky Mountain Soap Company's bath bombs as well as Wild Prairie Soap which is made here in Wild Rose Country.
Group Gifts
These are the a) easiest on the parents b) the best gifts! Ask the parents in the class to donate some cashola (we recommend $20 per person if it's feasible) for a combined gift. One (organized) parent collects the money and picks up a gift card for the teacher. In the past, I've been a part of gifts that included hotel stays for a teacher that goes to Seattle every year (it covered the cost of one-night stay), or a spa day!  Easy for the parents and the best gifts ever for the teacher.
Homemade gifts. 
It's important that your child is involved (even slightly) during this process, it was their teacher after all.  Handmade cards reflect all the child has learnt throughout the year as well as put a personal touch for the gift.
If you're feeling crafty,  The DIY Mommy has a great craft for you to do with your child and… free printables too!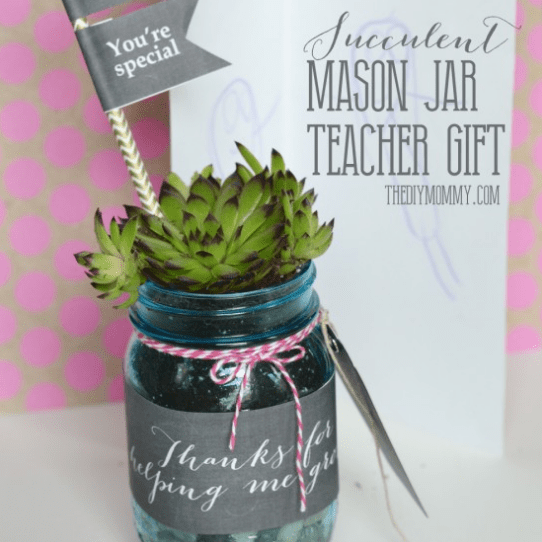 Inspired? Got a better idea? What are you getting your teacher this year?