How do you thank the person who taught your child to read? The person who somehow managed to put up with not just your child's "quirks" but also, 24 other students. The teacher who, at the end of the school year, still looks relatively normal? With gifts. Really good gifts.
We asked our followers on social media, teachers we know, and tapped into our own experience to gather all the best ideas for you to be inspired.
Disclosure: This post may contain affiliate links, meaning I get a commission if you decide to make a purchase through my links, at no cost to you. As an Amazon Associate I earn from qualifying purchases. Please read the disclosure for more info.
Table of Contents
Useful Gifts
Water Bottle
Teachers don't need another mug. Seriously. Put down the mug. Styling water bottles from Swell water bottle are good for the environment and are way better looking.
Customizable Gifts
Sometimes these gifts need a little more time to prep, but your teacher is worth it, right? Some ideas include:
Consumable Gifts
I love to give consumable gifts, especially to someone who gets a ton of smaller gifts – like a teacher! We all want our gifts to be enjoyed, and sometimes, as well meaning as that plant in an adorable planter is, it just adds clutter to the teacher's home or classroom (and don't be surprised if it's dead by the end of the summer!).
Liquor
If you know your teacher likes to indulge in a glass of the good stuff, a nice bottle of wine with a little note, or a small token with it is a great touch.
Check Etsy for wine label printables and support a small business (we've already filtered for Canadian makers) – or hit up Pinterest to try your luck at finding a free one!
If you don't want to send booze to school you can always grab a gift card to a local liquor store!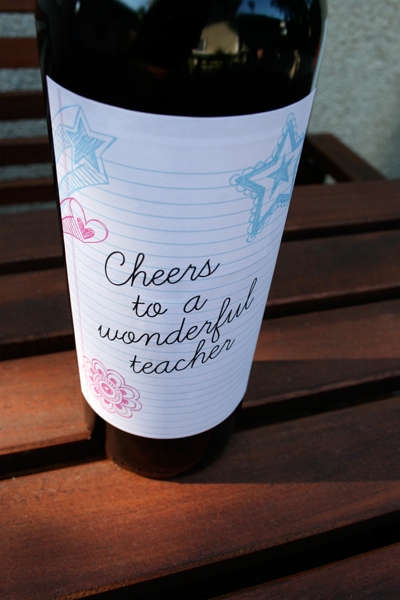 Chocolate
Chocolate from your favourite local chocolatier along with a nice bottle of wine or fancy bottled mocktail would be lovely. Perhaps chocolate and bath bombs? Check out Albertan chocolatiers, Jacek, Violet Chocolate Company, or Chokolat. Actually, while you're there, get yourself that gift too for making through another school year.
Fun Snacks
If you know the teacher's favourite snacks, grab them some! Or make some fun tags to show your appreciation. Some great phrases include:
You're all that and a bag of chips (on a bag of chips)
We appreciate all you DEW (on a can of Mountain Dew)
Have I told you REESE-ntly you're awesome? (on Reeses Peanut Butter Cups or Pieces)
You are CRUSHing this teacher thing (on a bottle of Orange Crush)
This place would be a zoo without you (on a box of animal crackers)
Thanks for going the EXTRA mile (on a package of EXTRA gum – this 10-pack is great if you have a lot of teachers to gift!)
You're SIMPLY the best (on a bottle of Simply Lemonade)
Bath Products
Locally made bath products are the bomb! We love Rocky Mountain Soap Company's bath bombs as well as Wild Prairie Soap which is made here in Wild Rose Country. Consider getting:
Bath salts, bombs, or fizzes
Fancy soaps
Moisturizer or body butter
Bath poof or loofa
Group Gifts
These are the a) easiest on the parents b) the best gifts! Ask the parents in the class to donate some cashola (we recommend $20 per person if it's feasible) for a combined gift. One (organized) parent collects the money and picks up a gift card for the teacher. In the past, I've been a part of gifts that included hotel stays for a teacher that goes to Seattle every year (it covered the cost of one-night stay), or a spa day! Easy for the parents and the best gifts ever for the teacher.
Homemade Gifts
It's important that your child is involved (even slightly) during this process, it was their teacher after all.
Homemade Thank You Card
I've been told by several teacher friends that these are some of their favourite things to receive, and what they are most likely to keep. Handmade cards reflect all the child has learned throughout the year as well as put a personal touch for the gift.
Succulent Flower Pot/Pencil Jar
If you're feeling crafty, The DIY Mommy has a great craft for you to do with your child and… free printables too!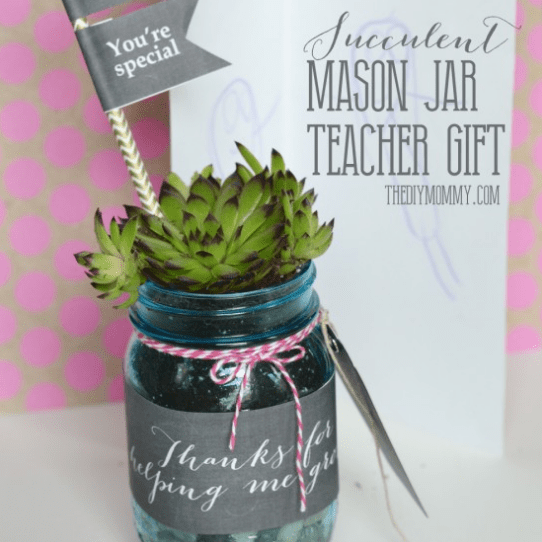 Garden Bouquet or Plant
Do you have some beautiful flowers growing in your garden or indoor plants that you can divide? Make a cut flower bouquet or grow your own plant for teacher. Try to get the bugs out before sending it to school, please!
Home Made Greeting Cards
If you love paper crafts, consider making some cards for the teacher to give out. Cover a range of occasions, or stick to birthday cards (because who doesn't need some of those sitting around?!).
Gift Cards!
There's nothing like a little cold hard cash (on a gift card) to help a teacher out. Some popular options include:
Local shops or restaurants
Their favourite coffee shop (Starbucks, Second Cup, Tim Hortons, or a local treat)
Chapters or a local bookstore (though Chapters carries much more than just books)
Amazon.ca
Teacher supply stores (Staples, Education Station, or a local store)
Looking for More?
Need some more gift ideas? Check out these posts!
Can you make this article better?
We're always looking to improve! Have you noticed a spelling or information error, know of something we left out, or would like to share anything else, reach out to us!