Last week we were invited to Metis Crossing which is Alberta's first major Metis Cultural Interpretive destination. Located about 1.5 hours North East of Edmonton by the Town of Smoky Lake, it is an easy day trip through some beautiful country.
With Covid cases rising we are on the lookout for more things to do with the kids that create a sense of "normal" for them without risking being exposed. We were reassured by the Metis Crossing staff that protocols have been put into place to still get the experience you want with the safety you need. Plus, with all of this online learning from home, the trip is kind of like a field trip!
Groups of people within the same cohort can now book tours at Metis Crossing. (To see how bookings work click HERE ) Tours leave every 30 minutes and work kind of like golf times. Each group leaves separately with their interpreter who stays with your group the whole time. Staying 6 feet apart is very easy as it is mostly outside. When you do go into a building there is hand sanitation stations in place and the interpreter stays outside the door to answer questions while maintaining social distancing.
Throughout the tour you visit different "stations" where you may meet some other interpreters who are in period clothing and share stories and experiences to enhance your visit. We found the access to knowledgable staff who were keen to answer any of our questions about Metis culture invaluable.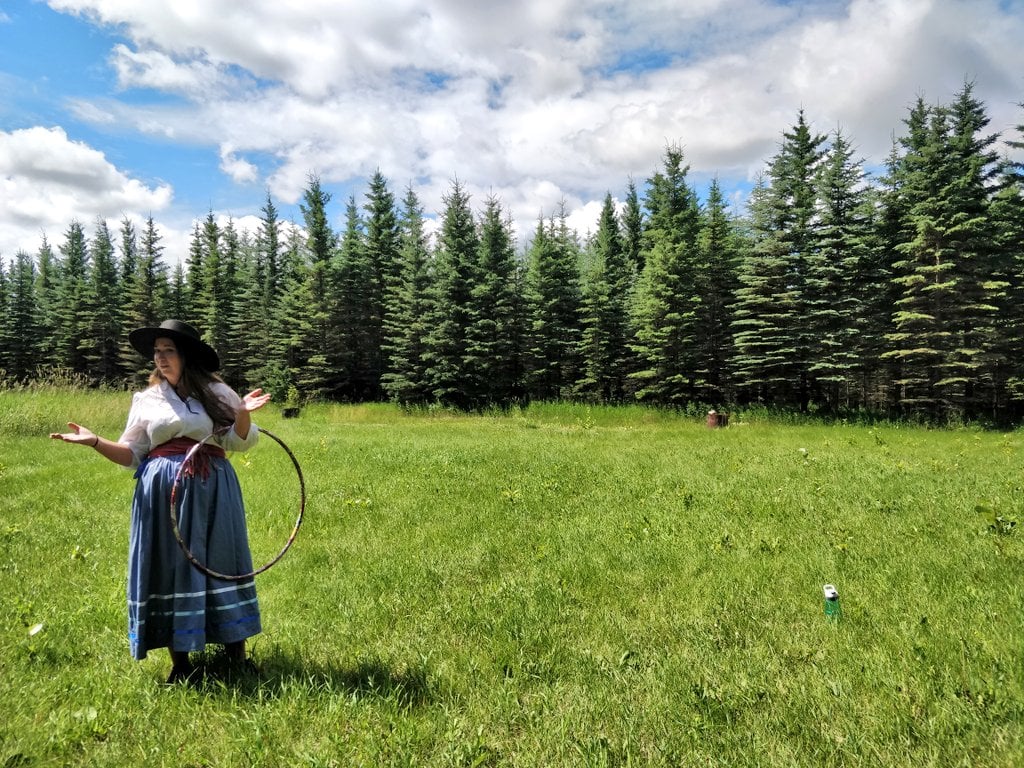 Throughout the tour there are hands on interactive activities to learn more about the Metis Culture. The kids loved looming bracelets, listening to the fiddle, learning the Red River Jig, finding plants used in traditional Metis medicine, cooking bannock over the fire, and practicing Metis hunting skills in a fun and simple game with sticks. Each activity was pre-set up so no contact is needed between groups. When we were there we were even lucky enough to sample some jackfish one of the Elders caught that morning and smoked on the fire.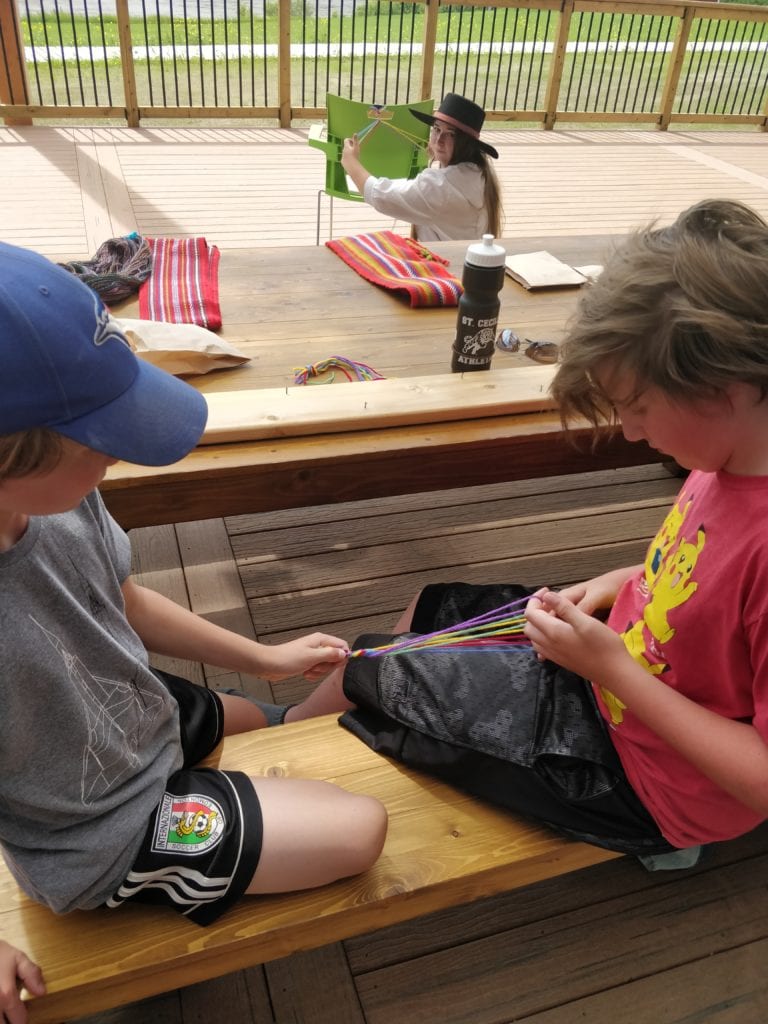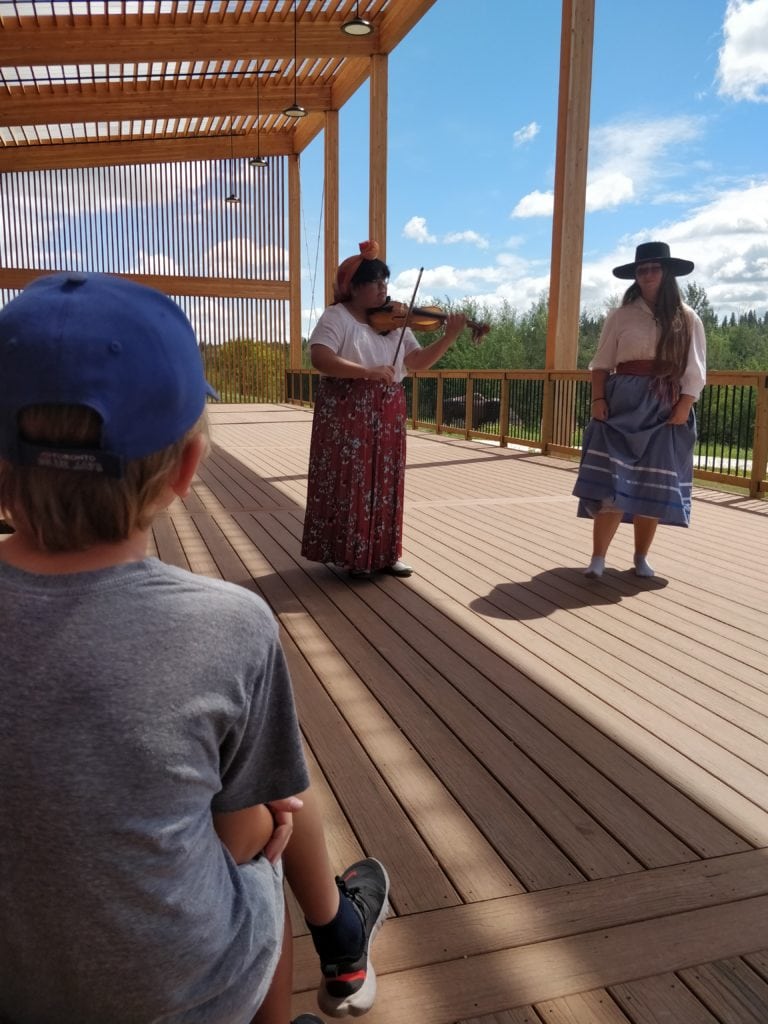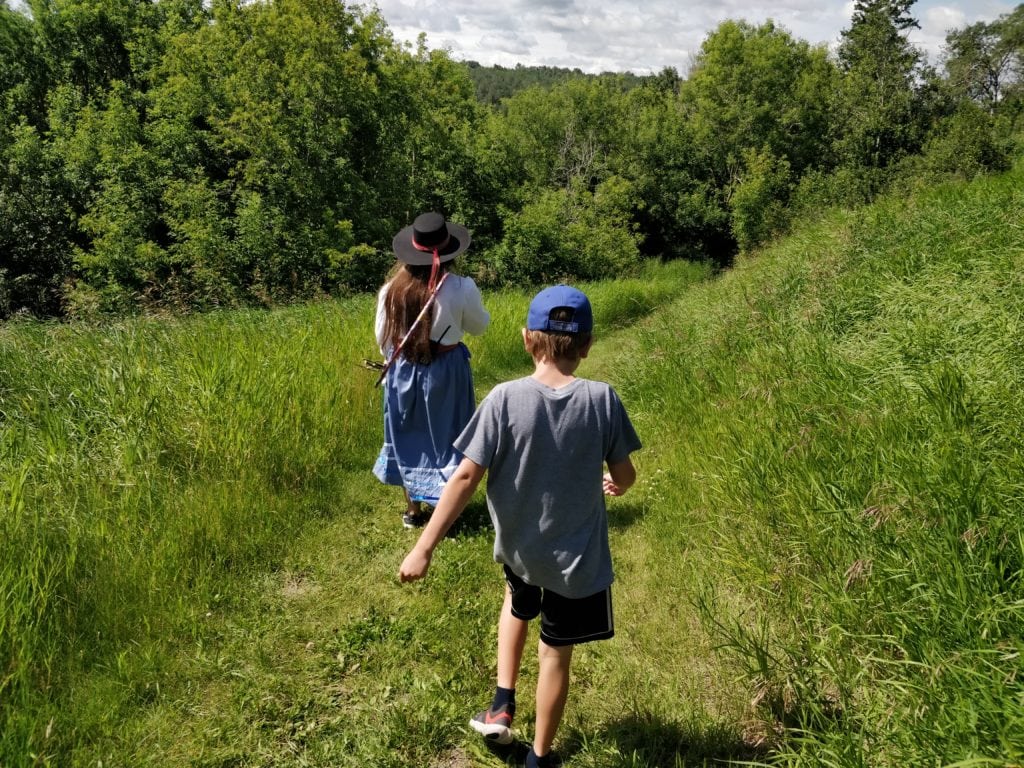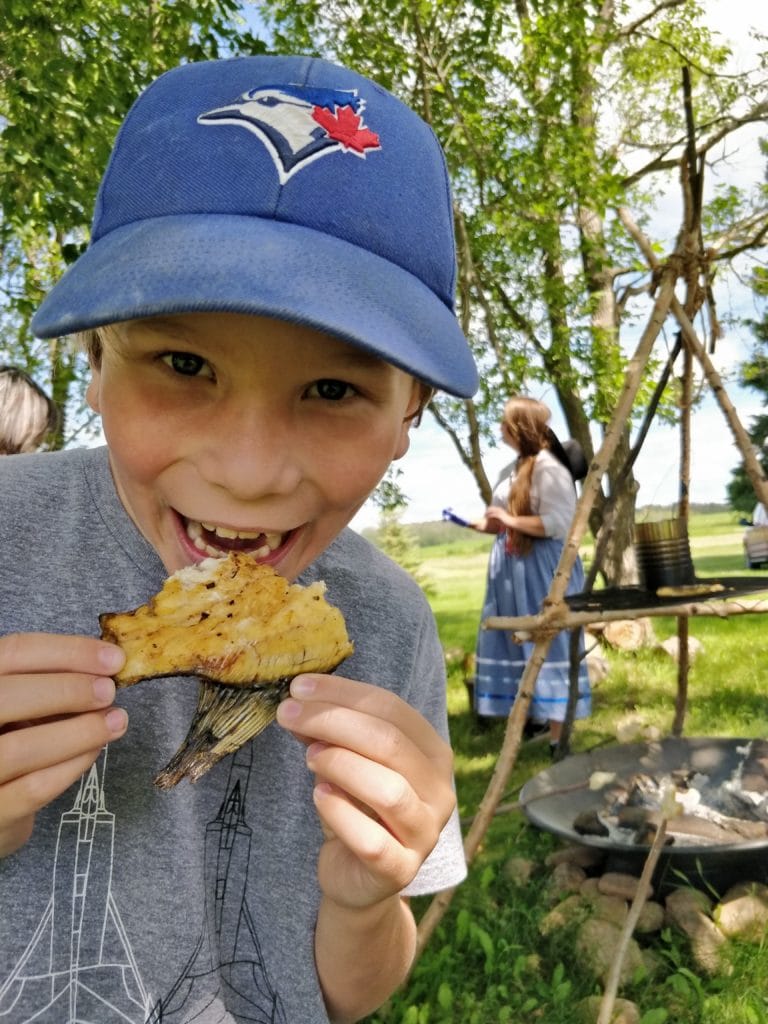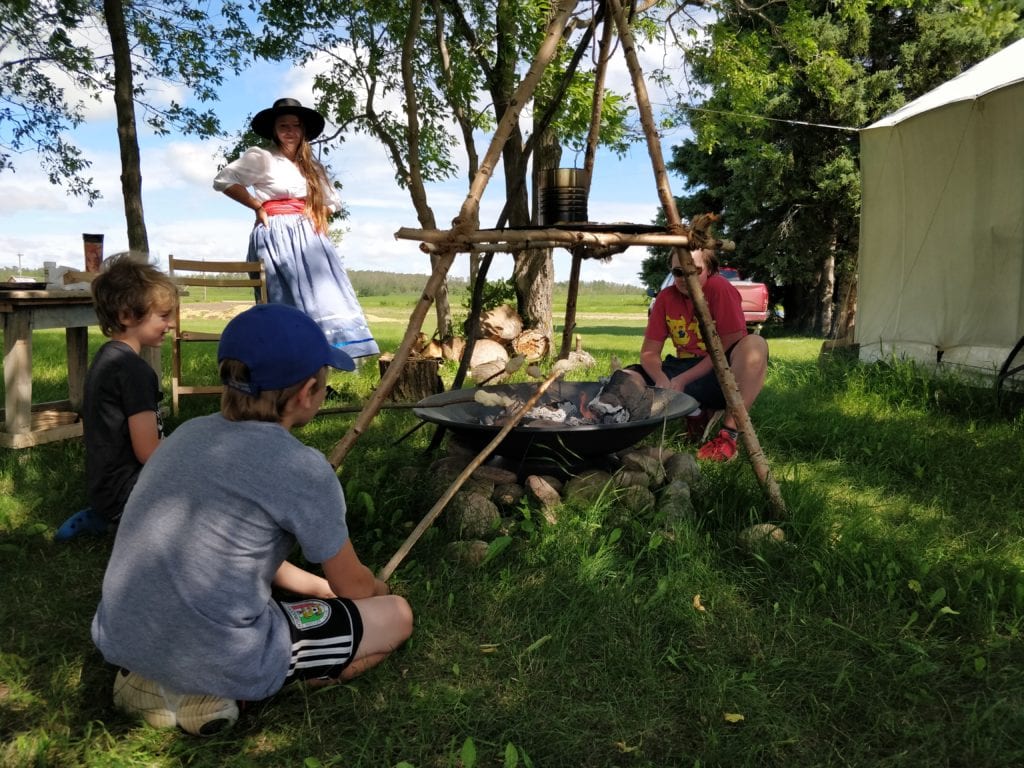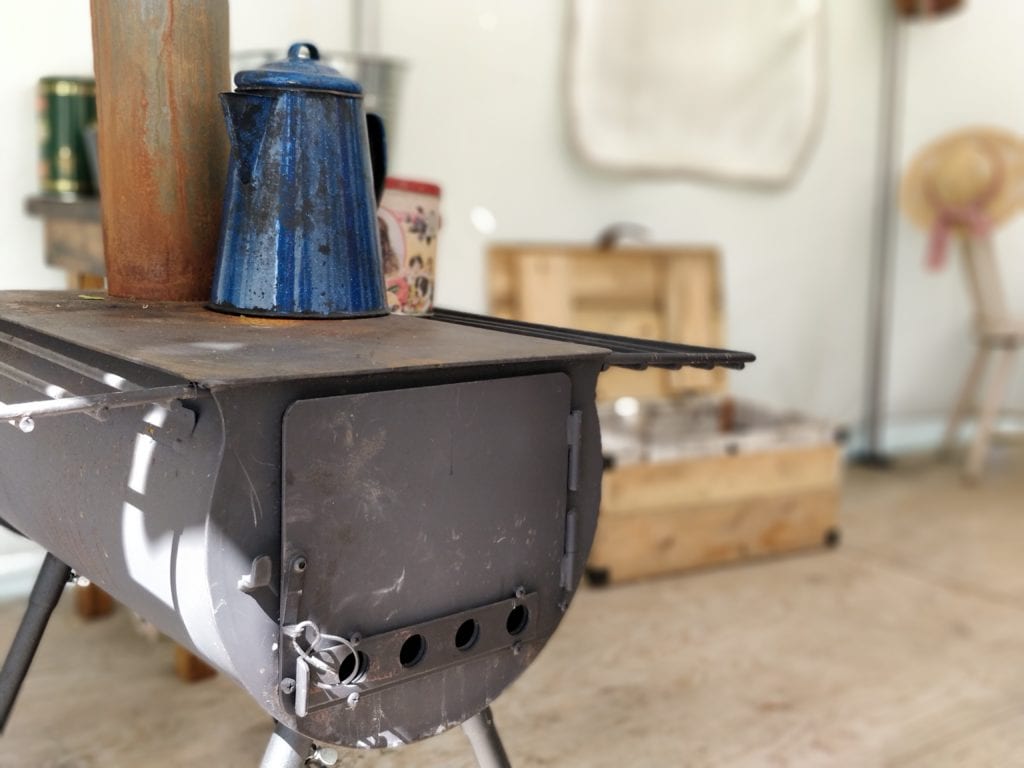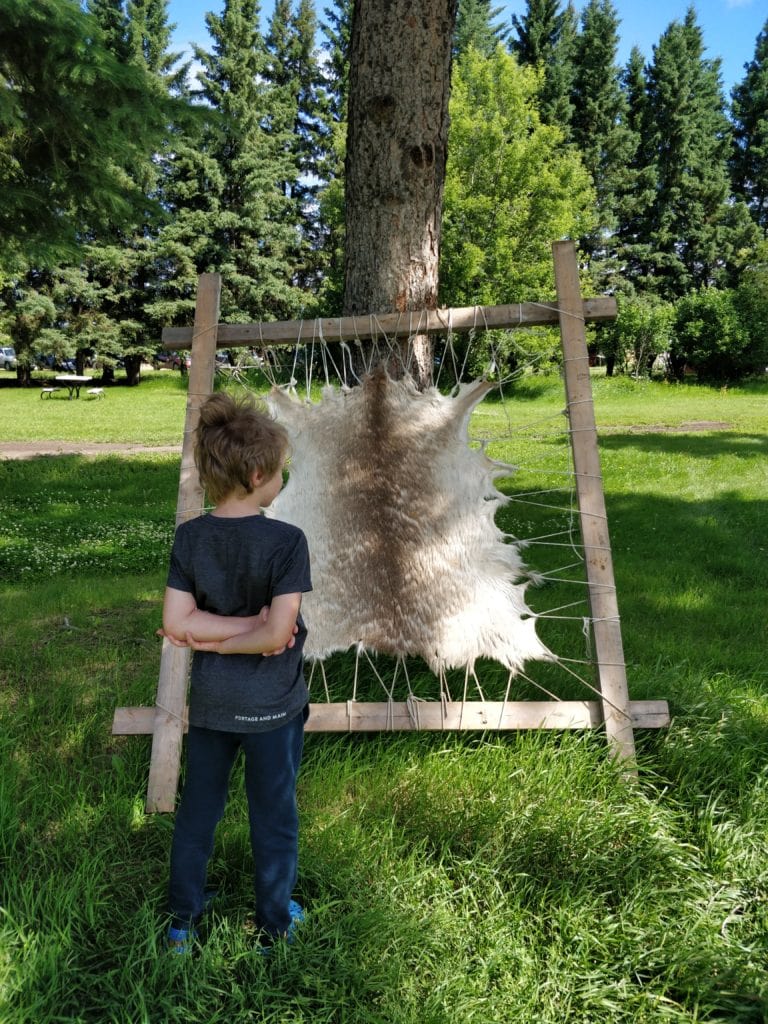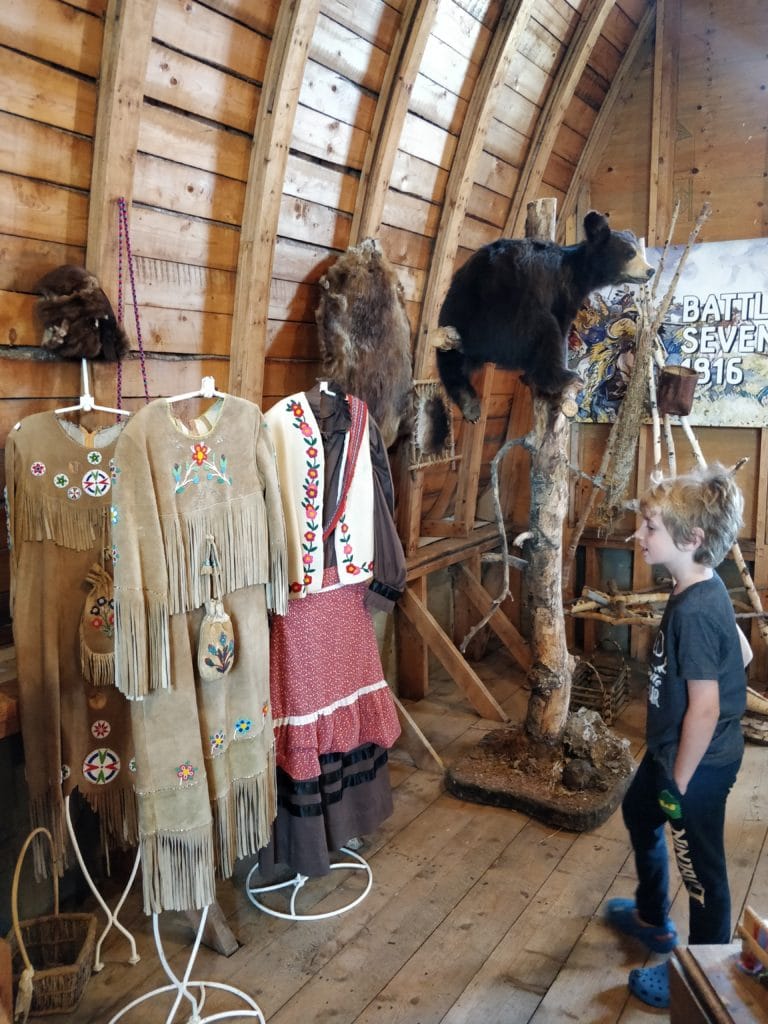 Overall it was a lovely way to spend the day. The scenery in itself is amazing as Metis Crossing is located on the banks of the North Saskatchewan River! After experiencing Metis Crossing we do have some tips and tricks to help get the most out of your experience.

Top 10 Tips For Your Visit To Metis Crossing:
BUG SPRAY! Mosquitoes are one of the worst parts of Alberta summers. A lot of where you are walking is OK but there are parts of the tour where you have to go through longer grass and more trees so load up on the spray or bring some with you on the tour just in case you need it.
Bring a water bottle especially for the kids. There are no places to stop mid tour to go back to your car so just bring the water with you in a backpack.
Bathrooms are open in the main hall so make sure the kids go before the tour starts. The tour is not short and the bathrooms in the main hall are the best ones onsite.
Reconsider leaving the smaller kids if you want to get the full experience. It is a longer tour (it took us about 2.5 – 3 hours) and while the older kids we had with us (almost 9 & 12) were fine the younger one in the group (7) was ready for a lunch break by the end. Thankfully the hands on activities are properly spaced out between the more information dense stations which helps keep that attention span in check. You can also spend less time with the interpreters than we did!
Wear shoes not sandals. The paths and trails are just grass and you are wandering all over the property so proper shoes are a must.
Pack a snack even if you get the picnic lunches offered on site. The food we tried was delicious (Saskatoon Lemonade + Bison Sausage + Trout!) but portion size was not huge.
If you don't want to get the picnic lunch there is a ton of room for you to sit down after your tour and enjoy the food you bring for yourself. They even have a beautiful spot right down by the river to enjoy lunch.
If you have a sweet tooth we recommend planning to try their ice cream that is locally made. The rhubarb and white chocolate raspberry were our group's favourites!
Take the time to do a quick review of Metis history before you go. The interpreters are all brilliant and can answer any questions you throw at them but having a bit of understanding on who the Metis people are will help you get more out of the tour. There is SO much to learn!
Go with a cohort family if you can. The kids loved being their with their friends and it is more fun if you can go as a small cohort group.

Cost:
$45 per family with kids 4 and under FREE.
For a more detailed price list including individual tickets and seniors click HERE
What cultural experiences are you adding to you summer? Tell us!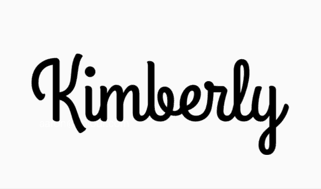 *Our visit to Metis Crossing was complimentary. As always all opinions are our own.