The Canadian Rockies are a dream destination for many families because of the fresh air, the gorgeous views of nature, and the abundance of family-friendly activities like hiking, boating, and picnicking. But what's meant to be a relaxing vacation can easily turn more than a little bit stressful if you're not prepared.
Unpredictable weather is one of the hallmarks of the Canadian Rockies, and this should be one of your primary considerations when packing a suitcase for a mountain escape there.
The average temperature in the summer—which is the most popular time to head to locations like Banff, Jasper, Canmore, and Yoho—may be bearable at first. But mountain environments can still be quite cold, and the seasons tend to blend into one another. As such, you need to be ready for any shifts in the weather and pack a little bit of everything when you visit.
Basic Alberta Rocky Mountain Packing List
Heading up to the Canadian Rockies or a similar destination for the perfect mountain escape with your loved ones? Here are twelve essential items that you should definitely bring with you on your getaway:
1. Sleepwear
Sleep may not be high on everyone's list of priority activities during a mountain vacation, but it's still important to get a good night's sleep during your downtime. After all, you have to give your body time to recover from physically demanding and exciting activities like skiing, snowboarding, and trekking.
To facilitate a good night's sleep, pack a pair of comfy men's or women's sleepwear with you. Make sure you also bring all the tools you need to carry out your nightly self-care rituals before you hit the sack.
2. Short and Long-Sleeved Shirts
Summer days can get hot – as can indoors (especially when you come in from the freezing winter air!). Having short sleeves available is important to regulate body temperature. They also make a great base layer.
Long sleeves are ideal to wear not only if you anticipate cold weather. While a long-sleeved shirt can certainly offer a measure of warmth when the temperature takes a dive, it can also be quite useful when the sun is out and about. If it's summer and you're hiking, for example, you can wear long sleeves to protect yourself against the sun's rays and avoid getting sunburned.
3. Long Pants
In the same vein as a long-sleeved shirt, a pair of long pants can do you some good no matter the weather. It can help you stay warm when it's cold, and it can shield you from the sun's rays when it's hot and sunny. If you want to play it safe, pack convertible pants that can be turned into shorts when needed.
4. Day Pack
Bringing a day pack for your adventures is common in the Rockies. You can use this bag to pack your valuables and essentials when you're exploring rugged terrain or heading to a ski resort, for example. While you're at it, make sure that your day pack has lip balms, sunglasses, sunscreen, insect repellent, emergency kit, and other small accessories that will come in handy no matter the season.
5. Water Container
Bring a refillable water container with you on your mountain adventures so that you can stay hydrated no matter where you are. Remember to hydrate regularly, especially if you're indulging in physically demanding activities under harsh weather conditions.
6. Hat
If you intend to visit the mountains in the winter, you should also bring a snug and warm hat. In the summer, bring one with a wide brim to protect you from the heat of the sun.
7. Neck Gaiter
A neck gaiter (name brand Buff) is an all-rounder accessory. You can wet it and wrap it around your neck or head in the summer to cool you down and serve as a layer of protection from the sun's rays. You can also wear it around your neck to cover the areas that your brimmed hat and jacket cannot. In winter, it's an accessory that can help you retain body heat. Wrap it around your neck or use it to add an extra layer to your winter mountaineering getup. In desperate need of a ponytail holder? It does that, too!
8. Cushioned Socks
Be kind to your feet by packing a pair or two of comfy cushioned socks during your holiday up on the mountains. These will serve you well whether you want to go hiking or running in summer or learn how to snowboard and ski in the Rockies during the wintertime.
9. Jacket
The best way to prepare yourself for unpredictable weather, especially in the Canadian wilderness, is to layer your clothes. A lightweight puffy coat or jacket will help you safely face lower temperatures in the middle of summer. It can also serve as an additional layer for your winter outfits.
10. Comfy Shoes
With comfy shoes on, you'll cover a lot of distance without putting a lot of strain on your feet. Paired with cushioned socks, your hiking or walking shoes will help you make the most of your holiday in Jasper, Banff, or another iconic mountain location of your dreams.
11. Rain Gear
While Alberta is a pretty low-rain destination, some days can be wetter than others. It's best to be ready for unexpected showers by bringing a water-repellent jacket with you from April to November (outside those months any precipitation from the sky is going to be snow). Keep your rain gear thin, you can always layer it over a sweater or even you every day jacket.
12. Mitts or Gloves
Near freezing temperatures are possible in the middle of summer, and you'll want a way to keep those fingers warm! No matter what time of year you visit Alberta's mountains, make sure you have a way to keep your hands warm that doesn't rely on hiding them in your pockets.
Some Last Tips for a Dream Mountain Getaway in the Rockies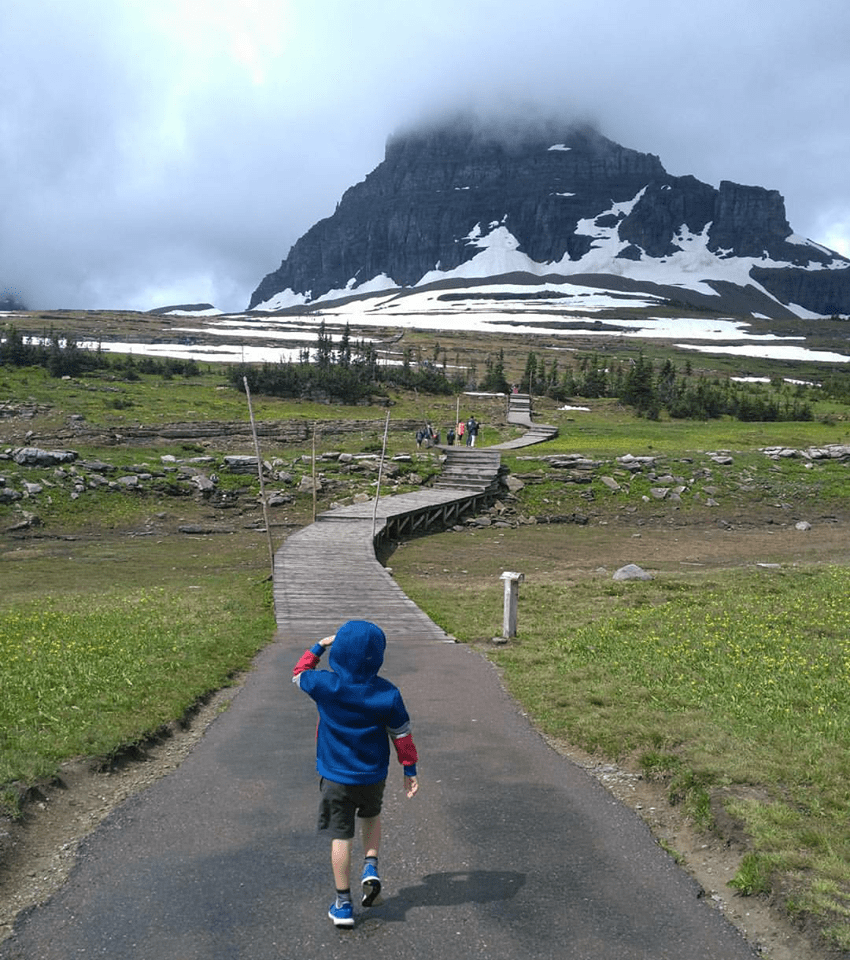 Remember that you can't rely on the time of the year to give you an accurate picture of what to expect in the mountains, so it's important to check the weather forecast on your holiday dates. Knowing what the weather will be like on the days of your visit will help you plan your activities better and empower you to make informed decisions when packing your suitcase.
Some people fall in love with mountain vacations and end up dreaming of the next one they can embark on with their loved ones. If you achieve good timing and even better preparation, your upcoming trip to the Rockies may be the first of many memorable mountain escapes!
Trix is a full time writer who loves fashion and exploring. Whether at the beach or hiking a mountain, you can find her, her pup, and whichever nieces or nephews she can wrangle off on a great adventure!