There's been a lot of buzz over the last bit about the Pomeroy Kananaskis Mountain Lodge. It's been renovated, revamped and a major attraction with the new Kananaskis Nordic Spa as its neighbour. (More about that experience in an upcoming post.) We needed desperately to get away and escape for a few days this Fall and wanted somewhere that we could easily drive to. Our curiosity had been peaked from the advertising, so we decided to give it a try.
Disclosure: This post may contain affiliate links, meaning I get a commission if you decide to make a purchase through my links, at no cost to you. As an Amazon Associate I earn from qualifying purchases. Please read the disclosure for more info.
Here's what we loved about the Kananaskis Lodge:
The Isolation:
On this trip I did not want to deal with traffic, over planning and a busy mountain town. The lodge is located at the end of a quiet road after a bit of a climb up the mountain- so there is no where else to go. It is quiet, dark and serene. Perfection. The entire place kind of feels like a resort or camp- everything you need is there with little reason to even think about leaving.
The Vibe:
I would call it upscale mountain hotel with a casual family vibe. Not once did I find it pretentious or uncomfortable. Guests ranged from lounging around in outwear and yoga pants to the fabulous plaid fleece lined Nordic Spa robes you get to enjoy during your stay (if you book the spa package) to somewhat dressier at dinner time. The staff are warm and helpful.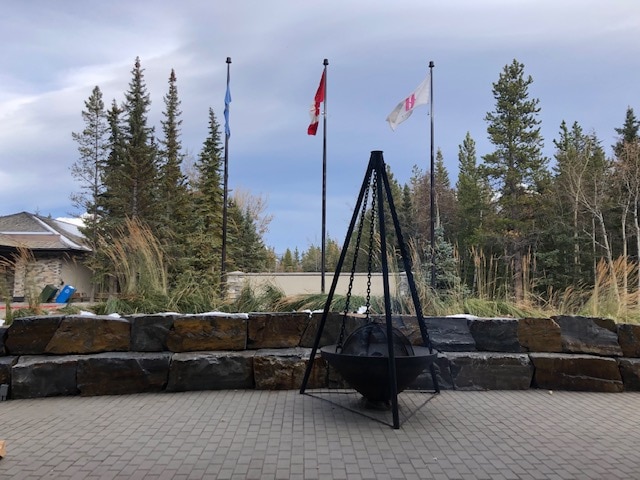 The Decor:
As you drive up to the lodge you are greeted by a huge outdoor cauldron like firepit that smells amazing and is always burning (in the fall/winter at least). This just sets the stage for comfy, cozy, mountain relaxation. The inside lobby/lounge area is impressive as well with a wonderfully curated selection of living room furniture, table top games and another inviting fire. Standard rooms are basic and neutral, but modern and comfortable. We enjoyed the balcony where we watched wildlife; including a deer and of course many squirrels. There are also larger loft style rooms if you desire more space.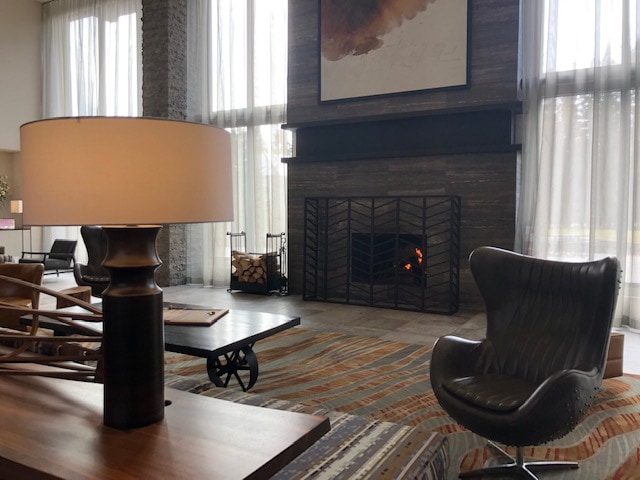 The Activities:
The Pomeroy Kananaskis Lodge is very much a family friendly place. Kids were everywhere, and they definitely cater to those with little ones. There's a kids club with games/crafts/supervisors, kids eat free at the on property restaurants with the purchase of an adult meal, and there's special programming on certain days just for families. We enjoyed a magic show, movie and popcorn and more. AND- they have free smores in the evening around yet another beautiful outdoor fire! Adjacent to the property you can rent outdoor equipment such as bikes and snow shoes. Once it gets cold enough there is a toboggan hill and hockey rink. There's some adult activities too, I enjoyed a blissful yoga class one afternoon and if you really need to get away from munchkins the Kananaskis Nordic Spa is 18+.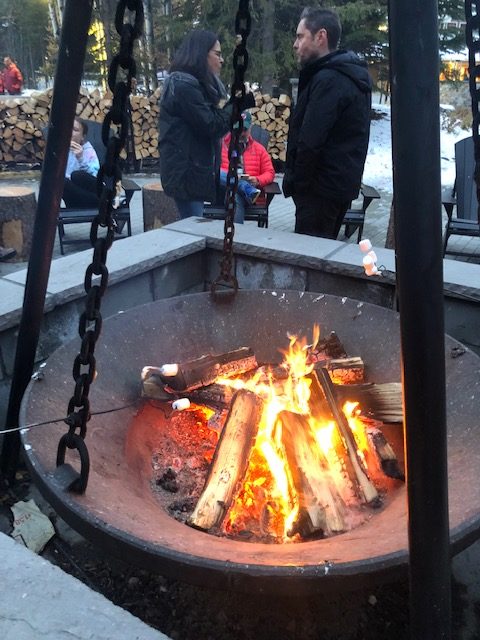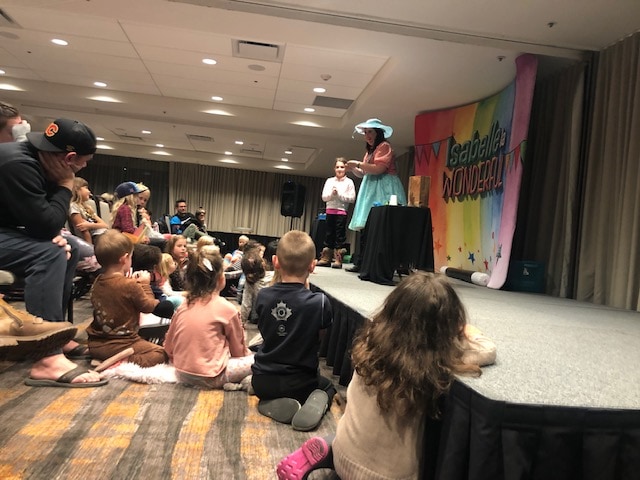 The Pool:
Staying in a hotel with kids commands a pool. The Kananaskis Lodge does not disappoint here. The entire area is impressive with good change rooms, lots of dry seating for non swimmers, a waterfall, waterslides and a shallow play area. There's also a large indoor/outdoor hot tub that is stunning at night. Another hit was the eucalyptus steam room and the dry sauna.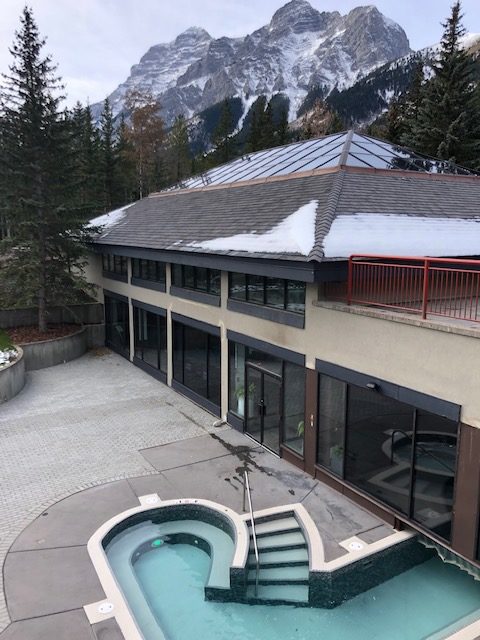 The Food:
Unless you want to take quite a drive, you'll be doing most if not all of your eating at the Lodge. This is ok because there's options ranging from a casual market, family dining, upscale steakhouse and cozy lounge. We really enjoyed the atmosphere (and the servers) in the Blacktail Lounge, along with the free housemade potato chips! A word of warning if you are headed to the Lodge on a busy weekend/occasion- make dining reservations. We didn't think of this until the day before Thanksgiving and our turkey meal didn't work out so great as they were fully booked and started to run low on the special menu items.
The Location:
Anywhere in Alberta's Rocky Mountain range is stunning and Kananaskis is no exception. The views are easy to snag almost anywhere on the property and there's a paved trail seconds from the hotel that offers dramatic views of the valley and landscape. There's lots of hiking options nearby (family friendly hike to Troll Falls post coming soon), a golf course about 5 minutes away and Nakiska Ski Area nearby as well.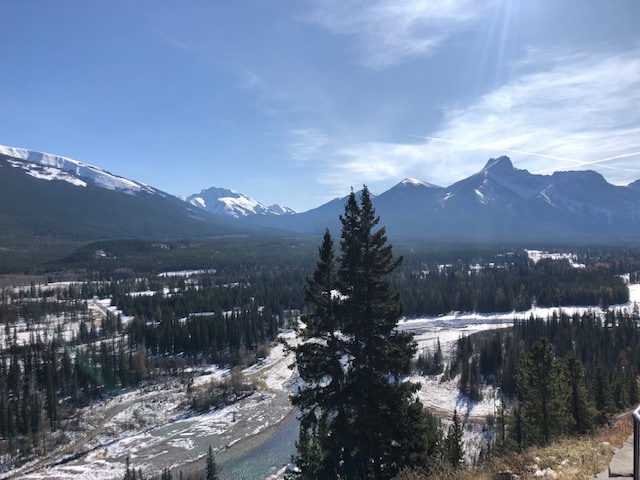 Overall our 4 night/5 day stay was exactly what our family needed. The price was more than we usually pay for a hotel in Alberta, but given all the amenities we felt that it was a good value. There is a parking charge, but you can also elect to self park and walk a bit further to the free public parking lot. Bring your own wine or beer for the room- there's mini fridges and wine glasses waiting for you. Also, bring snacks so you don't have to rely on the marketplace hours. If you are planning a romantic trip as a couple I would consider going midweek. The families with kiddos leave after the weekend and there are better prices when the hotel is less busy. A few guests looked like they were trying to celebrate kid free, but it's just hard to do when everyone else has young ones!
Book now through Agoda or Booking.com. Or check out the reviews on TripAdvisor!
Other posts you may be interested in:
Be sure to check out some of our other posts!
*This post was NOT SPONSORED in any way. All opinions are those of the writer.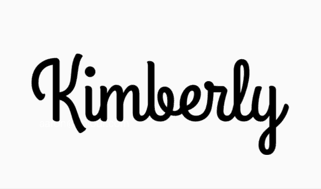 Kim Ouellette is a Co-Founder of Alberta Mamas and an Edmonton Realtor with Schmidt Realty Group. She is a wife, mom, daughter, friend and adventure seeker who loves to explore Alberta and beyond. Connect with her at kim@weselledmonton.com