We recently had the opportunity to camp at the Rocky Mountain House National Historic Site in a Metis Trappers tent which you can read about HERE, but there's so much more to do than just camping at the site.
If you haven't heard of the Rocky Mountain House National Historic Site, you're not alone. Tucked away off HWY 11, in Rocky Mountain House, the park was completely unknown to me and I was completely blown away when I arrived at how amazing this National Park really is.
Here are 5 reasons you need to go before school starts:
It's Easy to Get There!
Just an hour from Red Deer, 2.5 hours from Edmonton and 2 hours and 15 mins from Calgary, Rocky Mountain House is a quick (we live in Alberta, 2 hours is fast) and is relatively easy to access if you're in central Alberta. Live further away? Plan a camping trip at the site or the many camp sites in the area. You can find directions to the site on the National Site website.
It's not that big
You love Fort Edmonton and Fort Calgary right? Well, Rocky Mountain House National Historic Site is Fort Edmonton/Calgary "light." If you have small kids, it's the perfect combination of not being overwhelming, and lots of spaces to run. Bonus points: It's not really busy!
Because Rocky Mountain House National Historic Site it's still a hidden gem, when we went in July, there were a handful of people there. Go now before other people know about it.
It's interactive
I'm sure you know a kid that likes Minecraft right? My kids are obsessed, so it was really cool to see a  VR version of the site that was created and donated to the park by local YouTubers.  I don't have to tell you that despite spending the day at the park learning about local history, this was the kids favourite part. Sigh.
History that you can touch
This part blew me away. You see the image below? It's an excavation spot from the original Rocky Mountain House. The site is hundreds of years old and kids are welcome to run around in and out of the small holes. Literally playing in the areas where fur traders hung out in the late 1700's. Knowing that this was a historical landmark I was trying to "shoo" my kids off it, and I was told no, let them play.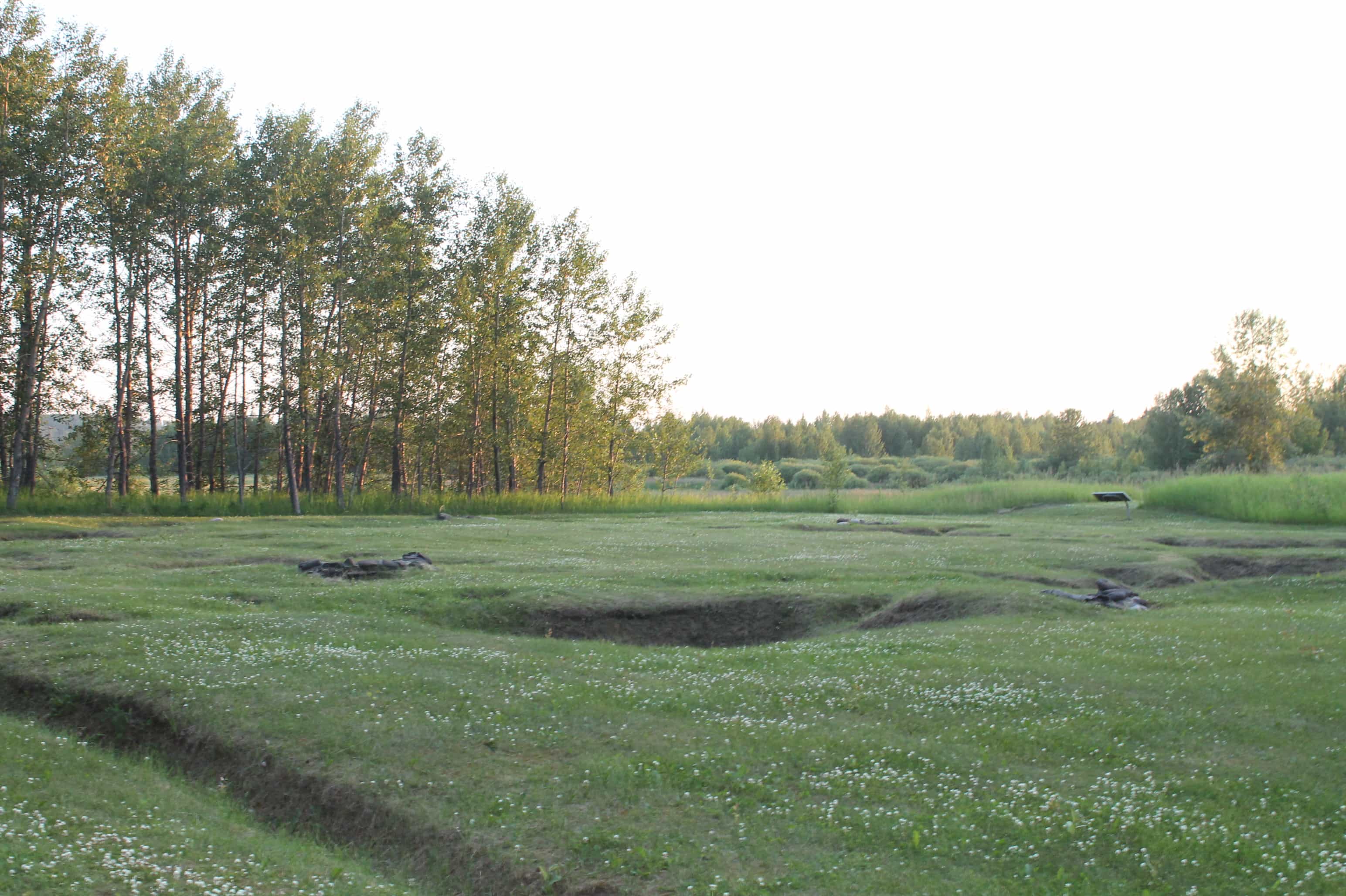 Unlike Fort Edmonton or Fort Calgary, the historical touch points are not in one area, but rather spread out. As you're walking down David Thompson trail at the south west corner of the park, you'll run into candle making interactive sites or other craftspeople telling you what life was like for the fur-traders and the Metis living in the area that that time. Travel north up the David Thompson Trail and you'll pass by a small fort perfect for kids to climb as well as a daily puppet show depicting the life of David Thompson. Further north is a Métis village (hello bannok making) and another of the Forts created by the Hudson Bay Company. In all there were 4 Forts on the site at any given time between the years 1799 and 1875.
It's Beautiful
Situated next to the North Saskatchewan River, the park is the perfect spot for central Alberta scenes. Take the kids down to the water! Follow the David Thompson Trail south of the park to find easy access to the water.  Add that to the proximity to the prairies, and fields of bison, it's an amazing place to hang out.  We skipped rocks and then took our shoes off for a little wade in the river.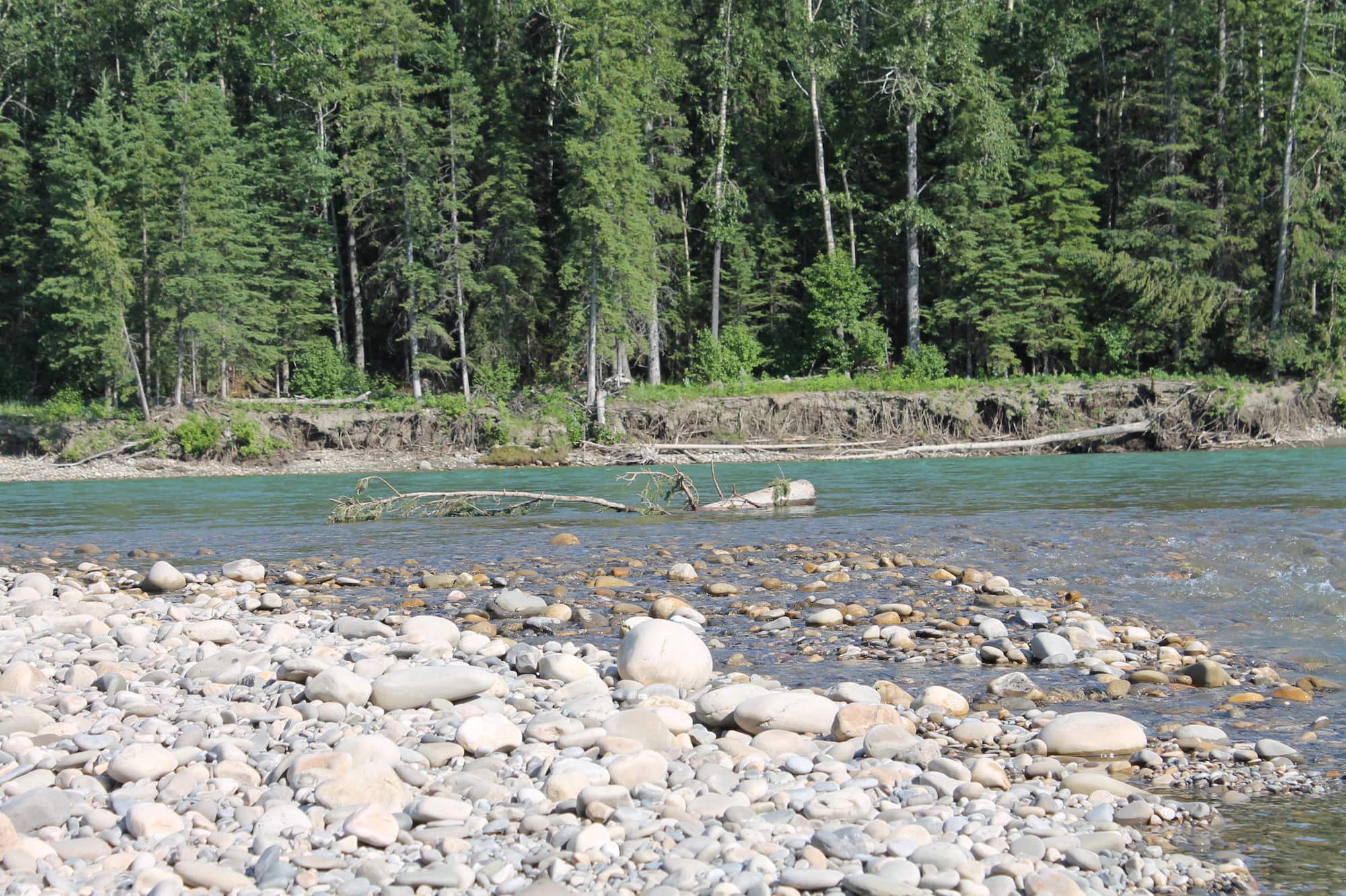 Rocky Mountain House National Historic Park Tips
Before you head out here are some things you need to know:
Like anywhere in the summer in Alberta, there are mosquitoes so you'll need sunscreen and bug spray.
The park is stroller friendly!
Bring a picnic. There are lots of places to sit by the river to stop and have a snack.
Don't forget it's FREE admission for 2017 with your Parks Pass!
The hours change in early fall and the site is closed October 1-May … so you need to head on down before the end of season!
If at all possible, and you have older kids, see if anyone is available for a quick tour. There is so much to learn at the historical site, and well worth it for kids in higher elementary – junior high.
Have you been to Rocky Mountain House National Historic Site before? Tell us your trip experiences in the comments below.