There are a few quintessential "Alberta" songs, but I have to say that "The Last Saskatchewan Pirates" by Captain Tractor just isn't a good Albertan song, it's a great song and was a staple in University pubs when I was in school not that long ago (ok fine, it was 20 years ago). For those not familiar with the legendary song here's the video in all it's 1990's CANCON glory.
Now, imagine the excitement of singing this song while floating down the actual North Saskatchewan River pretending you're a Prairie Pirate "…stealing wheat and barley and all the other grains."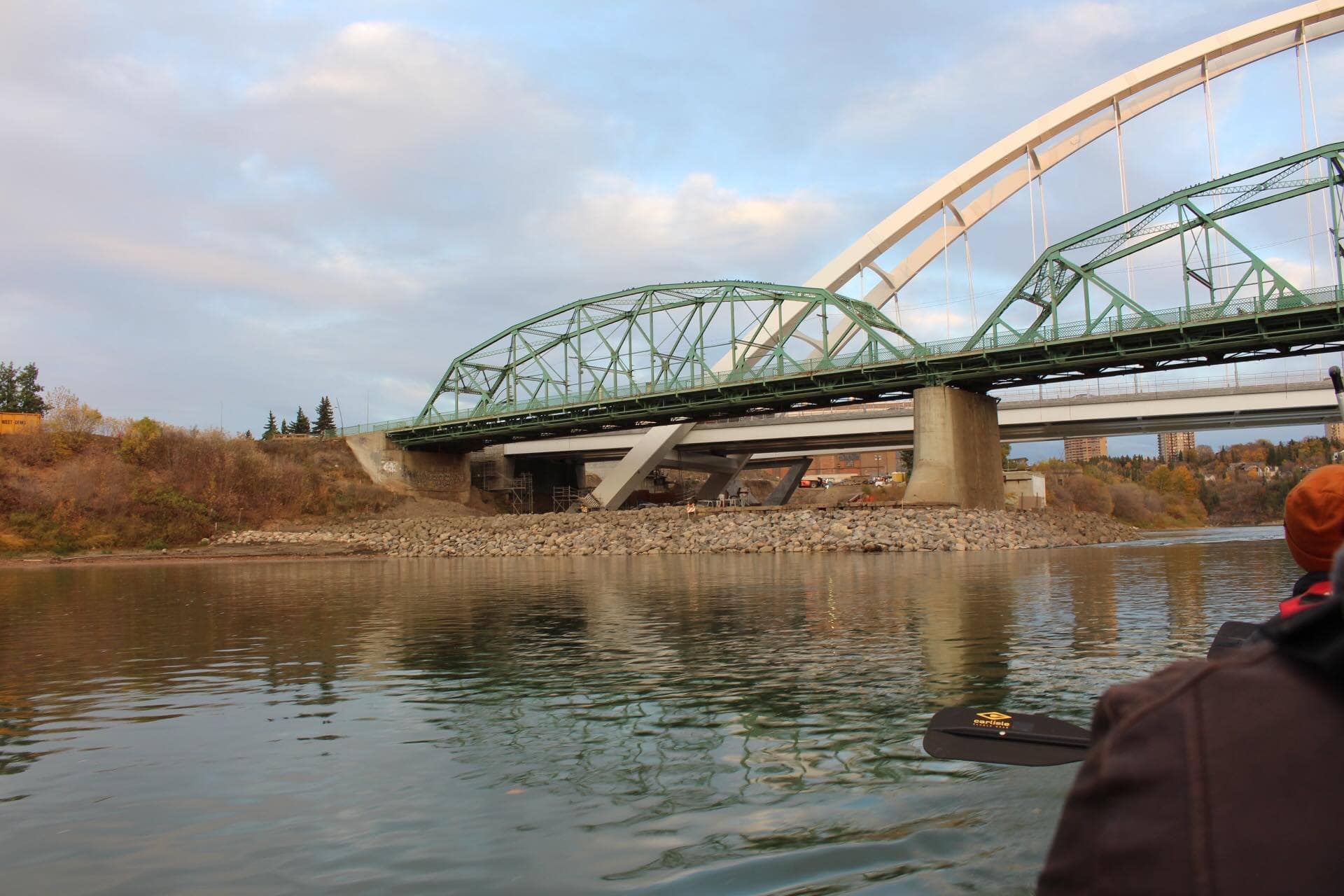 Epcor and the River City Alliance invited the Alberta Mama team to #BaskontheSask and experience the river up close and personal on a Haskin Canoe tour.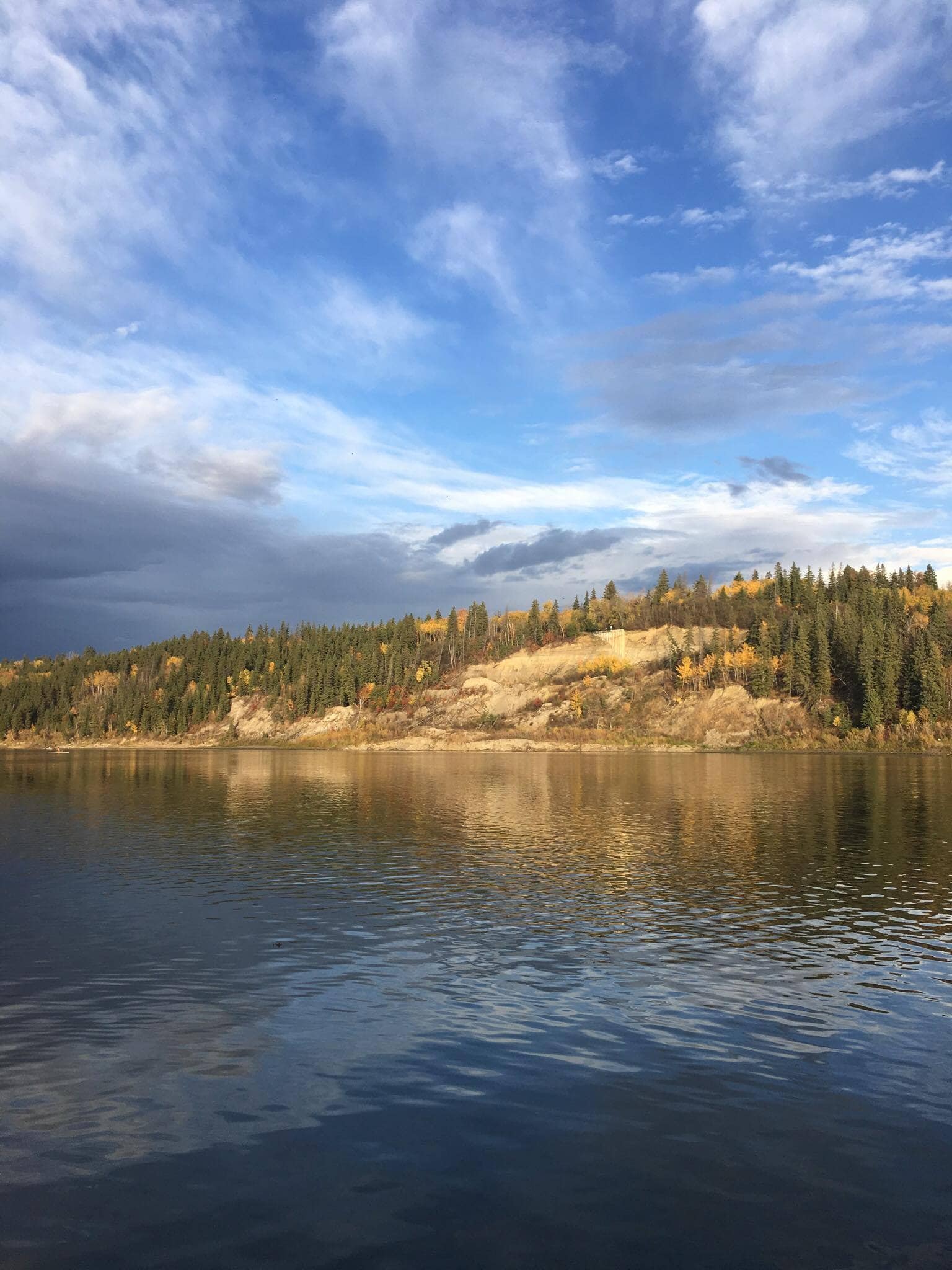 Here some North Saskatchewan River facts
The North Saskatchewan River is 1,287 kilometres long.
It starts at the Saskatchewan Glacier at the Columbia Icefield and goes through Banff National Park, up through Abraham Lake (via a short visit with the David Thomson Highway) up past Rocky Mountain House, then onto Edmonton, Smoky Lake, and then off to the Alberta-Saskatchewan border where it finds itself visiting North Battleford, Saskatoon and Prince Albert finishing its journey in Lake Winnipeg . (Source)
It's the home to 12 types of fish including another 90's and another North Saskatchewan reference, the Northern Pike 
If you like bridges, canoeing on the North Saskatchewan in the Edmonton River Valley means you'll see lots of bridges.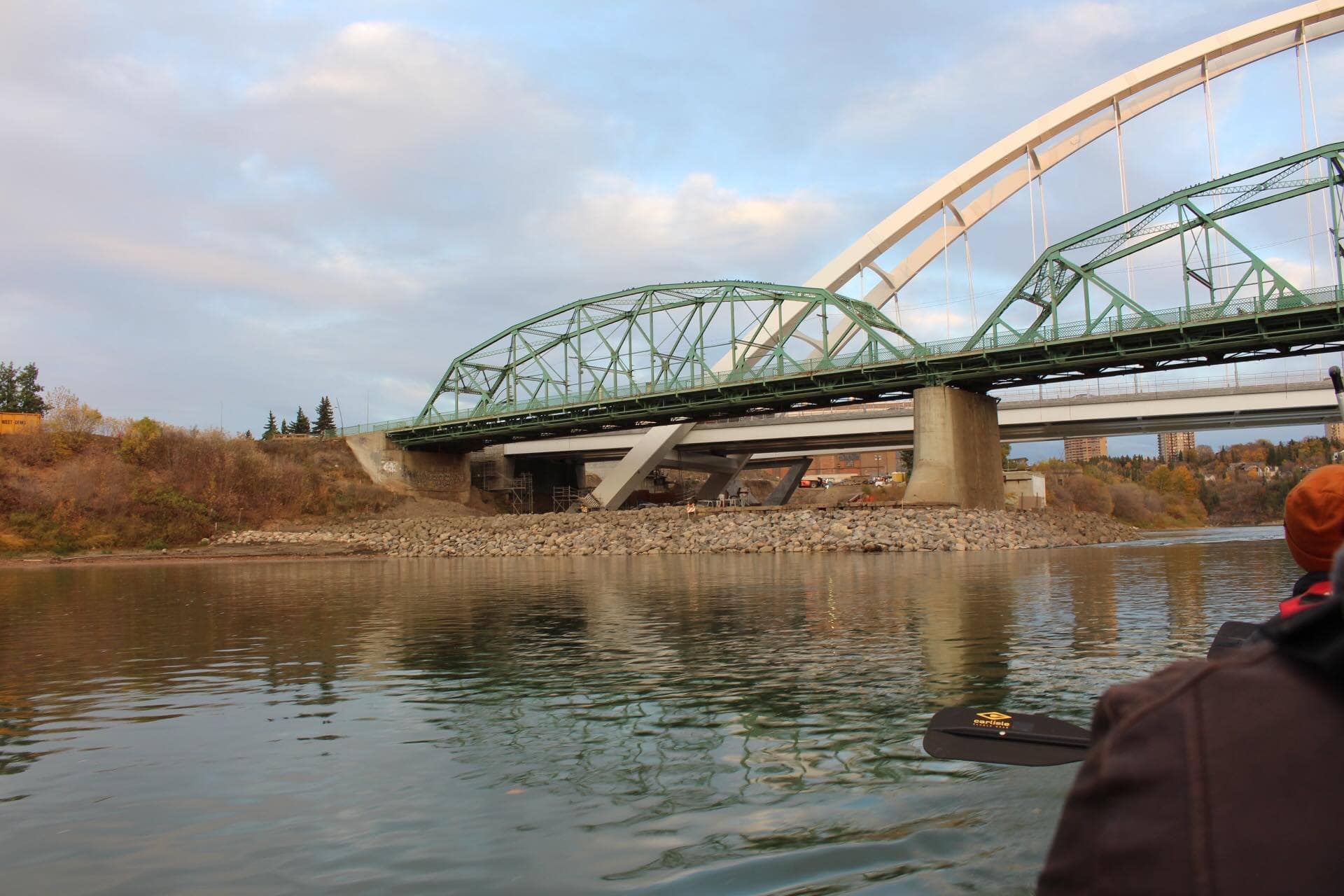 There are a LOT of misconceptions about the North Saskatchewan, including that the river is dirty, doesn't have any fish and is completely unusable, but when we were meandering down the river we found this to be completely untrue.  We didn't take a water sample and test it in our private lab, but Epcor has some fun facts about the quality of the water here. 
Much of the water was so clear you could see the bottom of the river which was a complete surprise to me because I believed that the water was dirty and muddy.  I've lived in Edmonton for 10 years, I've never been near the North Saskatchewan River except for this summer in Rocky Mountain House,  because I believed it to be dirty and not safe for humans. The whole time I was on the river I kept thinking, why hadn't I done this before!  It was so relaxing and this whole time I've had the great big river that's easy to access quite literally right there on my doorstep to enjoy.
We did see a lot of people fishing on the shores of the North Saskatchewan as well as gold panners. That's right, people still pan for gold and they're right there on the shores of our river. In fact there were many red chairs on the banks of the river, not sure why they all seemed to be red…maybe just a coincidence.
If you've been living in Alberta and haven't been on the river you NEED to do this. Whether it's jumping on the river in Rocky Mountain House (hop on at Nordeg) or in Devon (Haskin canoe does a trip from Devon) or even in Edmonton. It's definitely one of my "to-do's" for summer 2018 to make sure I'm taking advantage to make sure my kids know the incredible natural resources in our own backyard.
For a map of how to access the North Saskatchewan around Edmonton, the River City Alliance has made some handy maps which can be accessed here.