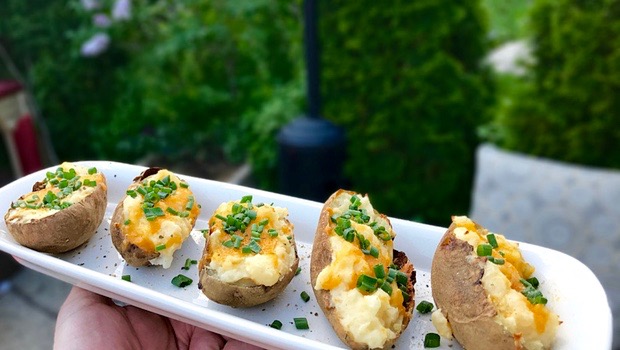 One of our favourite sides for summer BBQs are Double Stuffed Potatoes. The perfect thing about them (aside from being delicious) is that they are easy to make, and they also freeze great so grab your ingredients and let's get started.
Double Stuffed Potatoes Ingredients
10 Potatoes
2 1/2 shredded cheese
1/2 cup of Sour Cream
1 Tbsp of Butter
Salt to taste
Pepper to taste
Directions
Wash the potatoes and place them on a baking sheet lined with foil
Set the oven to 425°
Pierce the potatoes with a fork to ensure the potatoes can cook through
Place in the oven for 60 minutes
Once out of the oven let cool for a few minutes and cut in half lengthwise
Scoop potato filling out of the potatoes and put into a bowl with sour cream,  1 1/2 cups of cheese, butter, salt and pepper
Mix well and spoon potato mixture into the potato skins and sprinkle remaining cheese over top
If you are planning to serve them right away place them in the oven for 5 minutes or until the cheese melts. Serve with fresh green onion or some crumbled bacon and enjoy. If you are making these for future meals, place them in the freezer while still on the baking sheet. Once they are frozen divide them into freezer bags and enjoy whenever you want.
What are some of your favourite BBQ foods? Join the conversation on Facebook, Instagram, and Twitter.