It's beach season and when you're a landlocked province finding a bit of beach can be a challenge. Lucky for us we have lake beaches! YEAY ALBERTA!
If you're in Calgary looking for a bit of beach action, here are some beaches to explore around Calgary.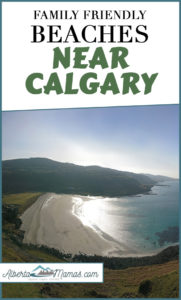 While not a sandy beach, Bowness Park is a great place in the city to bring your kids to dip there cute little feet in the water. Situated along the Bow River between Stoney Tr. and 85 St. N.W.
Things to know:
Cost: FREEEEEE
Facilities: So much! Bathrooms, picnic benches, playgrounds and walking paths
Activities: There's a boathouse at Bowness Park operated by the University. Here you can rent paddle boats, canoes and kayaks. There's a train ride also at the park and you can purchase tickets from the boat house. Information on rentals can be found here
Food:  There are BBQ stands and fire pits at the park, but if you'd like something a little different, there's the Tea House. Sit and eat your lunch looking over the Bow River.
Located at Fish Creek Provincial Park, Sikome Aquatic Facility is a man-made lake/beach with water an unlike other beach areas in Calgary, the water isn't fed by glacier water which is good if you don't like your water extremely cold.
Things to know:
Cost: There is a fee to go to Sikome Beach. Family passes (2 adults and kids) is $10 for the day. You are able to get a seasons pass if you think that you'll be spending more time there than the occasional visit.  You can purchase your pass ahead of time, which is great if you're into time-saving and being efficient.
Facilities: There is a flush toilet as well as  change rooms; picnic tables.
Activities: Beach fun, playground, and drop in activities. You can take swimming lessons at Sikome Beach! Drop in activities are free for adult and youth with the cost of your day pass.
Food:  If you plan on bringing a picnic, gas-only BBQ's are allowed and on the grassy area only. If you didn't plan ahead, there is food available to purchase there.
Accessibility: Accessible facilities AND a beach wheelchair available for use at  the main (north) entrance.
Other notes: Only small inflatables are allowed at the park. If you have a giant inflatable flamingo, check with the park before you inflate it. There isn't a lifeguard at the beach, make sure you're at arms length from your children in the water and life jackets are recommended for children under 7.
Quarry Lake
While not technically in Calgary, Quarry Lake, in Canmore, isn't too far away and it's worth it for the views.
Things to know:
Cost: FREEEEEEE
Facilities: Quarry Lake is pretty rustic, but there's an outhouse. The Nordic Centre is nearby if you need something with a flush.
Activities: Beach fun! The water is chilly, and can get deep in areas, but it
Food: For this beach you'll need your picnic blanket and your packed lunch, but you can not pick a more perfect place for lunch with views of Mount Rundle, Ha Ling Peak and Fairholme Range.
Accessibility: There is a path, but again it could be considered "rustic" so take precaution if there are accessibility issues  with in your party.
Other notes: I first went paddle-boarding on Quarry Lake, which if you're with your kids, you might want to hold off on, or try lessons from local Paddle Board companies.
Did you know that Ebeling Beach is one of the largest beaches in Alberta? It is! Again, not a beach that you can access right in Calgary, but it's totally doable for the day (naps for kids on the way there and naps for kids on the way home). It's approximately  2 hours from Calgary depending on where you're coming from. Ebeling Beach is in Aspen Provincial Park and there is a campsite.
Things to know:
Cost: FREEEEEEEE
Facilities: Washrooms and change rooms,  picnic tables and grassy areas.
Activities: Beach fun, playground, boats are allowed as is fishing.
Food:  Bring your own picnic or bring cash for the concession.
Other notes: Ebeling Beach gets BUSY and parking will fill up by 11. If you're bringing your boat the Lakeview Campground boat launch is suitable for small vessels only.
Which beaches (sandy or rocky) do you like to dip your toes in Calgary in the summer?