Heading out of town with the kids can be expensive but if you're willing to get outside, there are lots of winter activities in Jasper for your family for free.
Hiking
Jasper has lots of hikes, but not all are great for kids. If you're going in winter and you don't already have ice grips for your shoes, rent some from a local sports store and that will help with the icy conditions (we rented ours from Jasper Source for Sports). 

Two quick hikes we've taken are the Athabasca Falls and the Maligne Canyon.  If you've been to Jasper in the summer, no doubt you've seen either of these falls but in winter, it's a completely different experience. It was -30 the week before our trip so we assumed that all the water would be frozen, and the kids were blown away (I was too) to see the water flowing under the ice at Athabasca Falls.
The hike to the top of Athabasca Falls isn't actually a hike but a walk from the parking lot, but once you've seen the falls from the top, you absolutely have to walk down to the bottom of the canyon and see what's down there….it's worth it.
Maligne Canyon is a 5-10 minutes drive from the  Jasper Park Lodge, during the winter is used for ice climbing which is amazing for the kids to see, and the hike itself isn't hard and is easy for bigger kids. For smaller kids you might want to make sure you've got a good eye on them, there are some really narrow parts of the path.
We started at bridge 5, and hiked up, but you can also drive up to bridge 6 and hike down. There is lots to see and the views of the ice are beautiful. If you want to go ice climbing there are lots of companies that will guide you through the canyons,
If you're planning on going hiking in Jasper with the kids, Parks Canada is a great resource with trail lengths and trail etiquettes.
Skating
Skating at Mildred Lake and Pyramid Lake is free! All you'll need are your own skates, which are inexpensive to rent for the day if you don't have them (we rented ours from Jasper Source for Sports  for $8/pair). Mildred Lake, although it looks like it's part of the Jasper Park Lodge, is actually public property, skating on a lake with the mountains in the background is the ultimate Canadian thing to do and there's even an area to play hockey on the ice.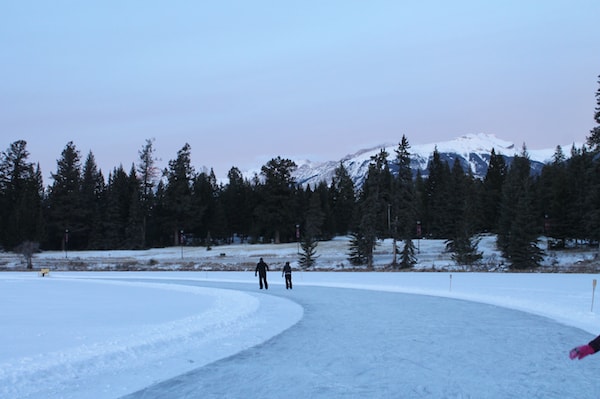 Pyramid Lake
Just 5 minutes from downtown Jasper, Pyramid Lake has many activities hosted by Pyramid Lake Resorts. There are free skating and sleigh rides, but my favourite part is driving a little way down the road and stopping to see Pyramid Lake Island which is a tiny island that you can canoe to in the summer, but in the winter you can walk on the lake to get there (or use the bridge).  Pack yourself some hot chocolate and let the kids run around on this tiny island, there is lots to explore and you can easily see them if you're having a seat to take in the views.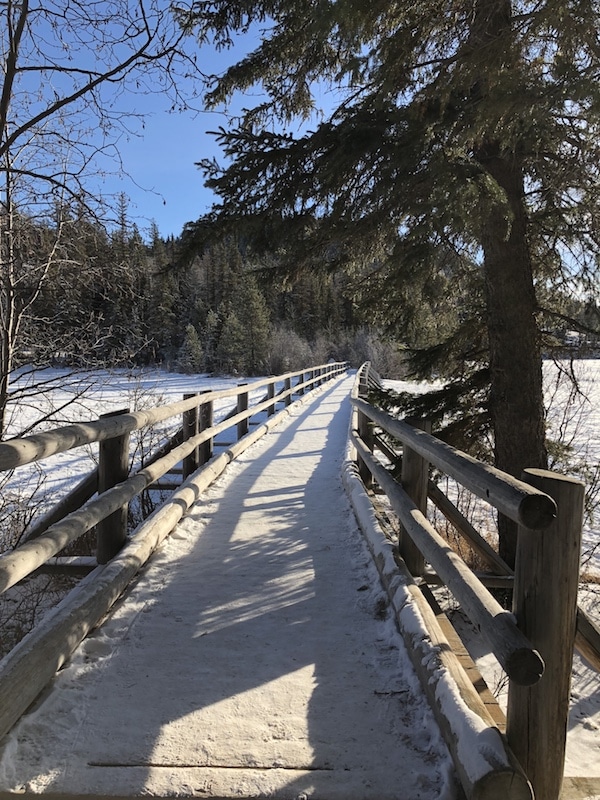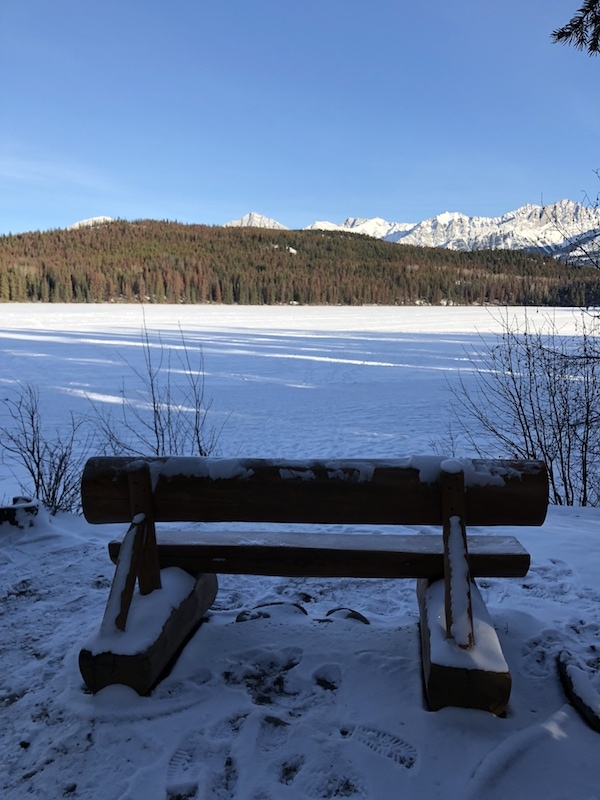 Need something a little more adventurous? Parks Canada has an amazing list of winter activities on their website including many different hikes that might be great for a trip to Jasper with older kids that can hike for longer than an hour. Jasper is amazing in the winter and there are lots to do if you've got a few extra dollars to spend like the Miette Hot Springs,  or skiing at Marmot Basin.
Other posts you may be interested in:
Be sure to check out some of our other posts!