This weekend two of the Alberta Mamas went on a road trip down to Calgary for some fun in the sun. We teamed up with
Spruce Grove Hyundai
to take the Sante Fe XL for the ULTIMATE test. A road trip with four kids!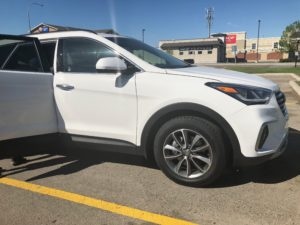 Deanne and I packed up our 4 kids aged 9, 7, 6 and 5 and headed to Calgary's Calaway Park and then to the Abbey Centre in Blackfalds. This of course meant that we need stuff for walking around the grounds, but also stuff for a day of swimming and such outside.
We left early in the morning on Sunday to make sure we had a lot of time at Calaway park. First thing of course is that there is third row seating. This was key since we had to fit 4 kids in the car. We split up the kids, one of Deanne's sons and one of my daughter's per row. They all had enough room to have their stuff and even the two younger ones had room for their booster seats. Next to each other!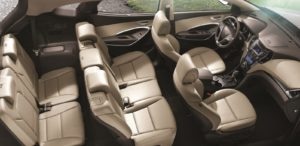 Since the third row is where the trunk is, I was worried we wouldn't have the space for our suitcases and extra stuff, but honestly it all fit. We had a suitcase and a duffel bag fit no problem in the back behind the third row. The middle row was adjustable to move forward or back, so when the taller kids got into the third row, we were able to pull the middle seats forward to allow for them to have some leg room. I really love the way we all fit comfortably in this car.
It drove like a dream, super easy to use without complicated settings and adjustments. There was the option for sport, eco or normal. I had it put in eco the entire time and I was amazed we went to Calgary and back on basically a tank of gas! Which of course with current gas price fluctuations is sort of a big deal to me.
Overall we had a blast driving around with the kids in this fun car. I must admit I am certainly not a minivan person (sorry minivan users!) and I like how beautiful this car looked and still fit all the kids! Without the minivan…….
Thanks again to Spruce Grove Hyundai for letting us test out the Sante Fe!
More road trip ideas
Why not check out these other road trips: